Estimated read time: 6-7 minutes
This archived news story is available only for your personal, non-commercial use. Information in the story may be outdated or superseded by additional information. Reading or replaying the story in its archived form does not constitute a republication of the story.
LOS ANGELES — Cam Rising has always been that guy.
Each time Rising returns to his home state, the quarterback puts on a show — he's done it elsewhere, too, but California has been special. Utah has been to the Golden State three times this season and each one has had Rising's hands all over it for various reasons.
For his fourth and final act this season in the state, Rising has the potential to lead Utah to history.
But to get to the end, it's important to look back at the beginning, or the "turning point," according to head coach Kyle Whittingham, to Utah's season.
Down 24-10 with 5:24 left in the third quarter against San Diego State, Utah was going nowhere fast and on the verge of back-to-back losses in nonconference play. Whittingham said the team "needed a spark" and so the decision was made to bench starting quarterback Charlie Brewer for Rising, the 2020 starter before suffering a season-ending shoulder injury.
Utah still went on to lose the game in triple overtime, but it was clear that Rising was the guy as the entire identity of the program shifted in an instant when he trotted out onto the field.
"We ended up obviously losing the game, but it was very apparent that he was what we needed," Whittingham said. "He proceeded to start the rest of the season and just got better and better as the weeks went on."
"I think when Cam switched to quarterback, not only did he bring an energy about him, but it also helped us go back to our identity," receiver Britain Covey said. "Charlie Brewer was a great quarterback but we tried to, I think, mold to his style a little bit. And when Cam came in, it just brought this breath of fresh air.
"I think he's always been that guy."
Rising has the respect of his team — offense, defense and special teams — and his move to starter was the spark Utah needed to jumpstart a season that was going south quickly. Tight end Brant Kuithe, who decided to return to Utah in part because Rising was under center, said: "I really do think if we had Cam right off the bat we probably would have went undefeated."
But winning wasn't the only reason for the respect given to Rising.
"His leadership and his interaction with his teammates is beyond reproach," offensive coordinator Andy Ludwig said. "You know him. His personality jives with every player, with every position group. No one is an outcast with Cam Rising. He's everyone's confidante. He's everyone's friend. They listen to him. He's not a rah-rah guy, but he's a great communicator, and being a great teammate is very important to him."
Rising's greatest challenge came on his next trip to California against an opponent Utah had never beat in their home stadium. A week after suffering another tragic loss to the program with the death of Aaron Lowe, Rising was tasked with leading the team into battle with more than the weight of his team on his shoulders.
But Rising didn't blink at the opportunity.
With an accidental flea-flicker play-call and an explosion of offense, Rising led the Utes to their first win in the Coliseum against USC. And it was at that moment where Utah knew it could win the conference. With Rising at the head, nothing could stop the Utes in their pursuit of a Pac-12 championship and Rose Bowl appearance.
"I think Cam is kind of a symbol for our team in the sense that we had a slow start and we finished strong, and when he got here, he had a slow start," Covey said. "He got injured the first game last year against USC and battled his way back, didn't play the first three games and now he's finishing strong. They are similar stories."
Nothing can match Rising's personality or his care for the stewardship he's been assigned — not only as a chosen captain on the team but as a leader of the offense that has the respect of all players on the team.
"I think the biggest thing is the way he prepares, the way he works day in and day out in terms of film study," Ludwig said. "There's no question that his system knowledge of what we're doing is beyond reproach, more than any coach, myself included, in the program.
"He has great ownership, but the way that he is learning to dissect defenses, dissect opponents, and then translate it on game day, I saw this exact look on film, and there's no hesitation and no doubt in his mind. That to me has been one of the most pleasant, enjoyable things to watch with his development as a preparer for the football game."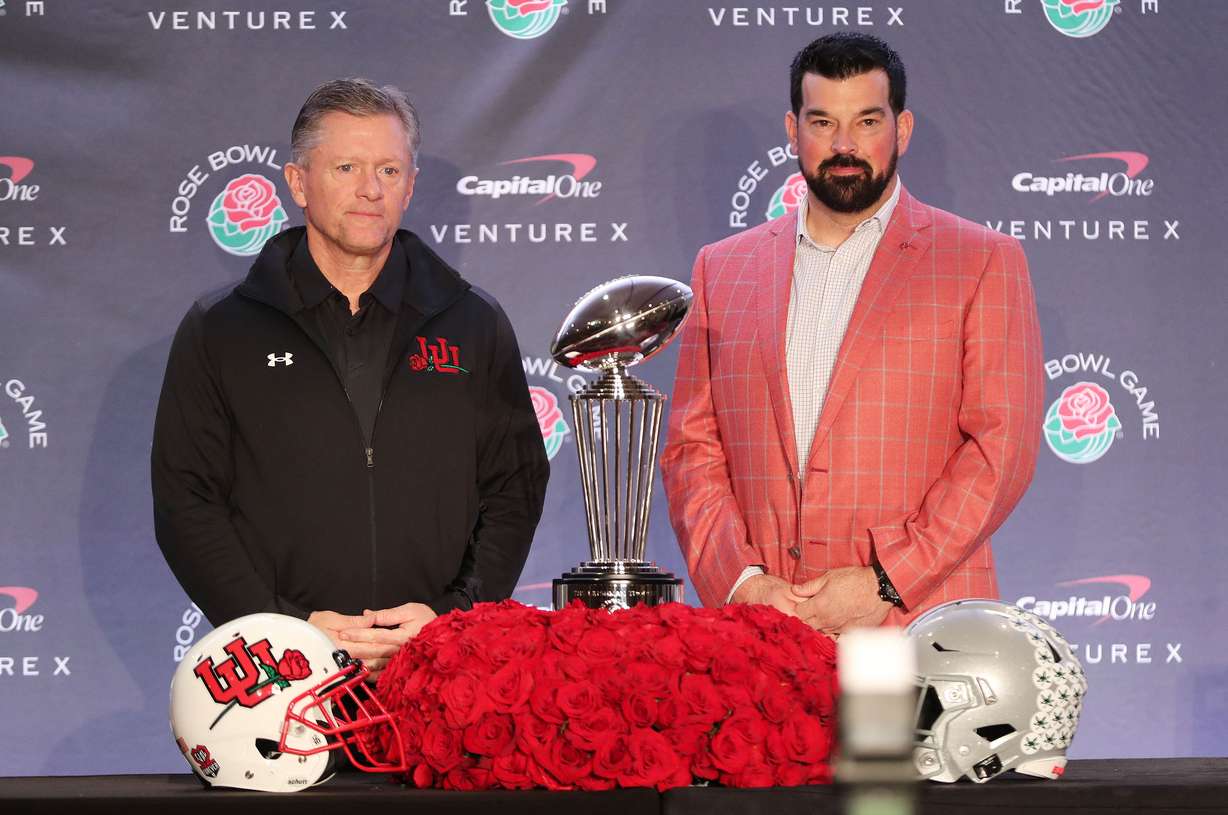 Ludwig was instrumental in helping Rising develop the right habits and the ability to pick apart defenses with his arm. As Rising waited out the 2019 season on the scout team following his transfer from Texas, Ludwig invited Rising into the box with him on game days.
From there, Rising learned how an offense is developed from a coaching standpoint with a birds eye view of Tyler Huntley dissecting opposing team en route to a near playoff berth.
"I think it just showed me how coach Lud thinks and kind of how he wants to call the game and go about the game, and really how to control the ball and do all that," Rising said. "Just that process kind of showed me what football is more about from that standpoint and has slowed it down really for me.
"Once you kind of know that structure, you get to see the structure and learn from it. So then you kind of know what call is going to be coming before you get it. That slows down the game."
Rising said those opportunities even helped his relationship with Ludwig, who builds the identity of a team off the playmakers he's got readily available. Now, there's complete trust in what Ludwig calls, and that trust goes both ways with what Rising sees on the field.
"He showed me so much about football, and I just really appreciate him," Rising said of Ludwig. "Throughout the years, it's just gotten better and more trust has been built. It's still getting better to this day."
"We have a good relationship," Ludwig added. "We communicate very freely, very openly. I think he may have developed an appreciation for the view from the box and the approach from the box where it's very removed and very quiet, very detached from the emotion of the game. I know it has not hurt him, that much I'm confident of."
All of that has led Utah to the Rose Bowl, with Rising looking to lead the Utes to a win over Ohio State. If California is where Rising shines, Utah's happy to have him under center on Saturday.
×
Photos
Related stories
Most recent Utah Utes stories