Estimated read time: 5-6 minutes
LOS ANGELES — Brant Kuithe knew the question was coming.
In fact, the question was posed to him at least three times in as many ways in the matter of 15 minutes as media members came and went as part of a morning media session in a ballroom of the Residence Inn in downtown LA ahead of Saturday's Rose Bowl.
What went into his decision to return to Utah after all signs pointed to him leaving a year early to pursue an NFL career?
Kuithe said he didn't want to make a "decision based on impulse" and looked at the returning roster, which included fellow tight end Dalton Kincaid who announced his return a day after Kuithe, and he couldn't leave — not with a team making its first Rose Bowl appearance and one positioned to have another strong season in 2022.
Could there be more? Could Utah repeat as Pac-12 champions? What about the College Football Playoff?
"I have one year left and I'm not really old — I'm only 22 — so staying another year is not going to affect anything," Kuithe said. "So I decided to come back. Having me and him back is definitely a big plus for the offense and definitely helps, and especially having Cam (Rising) back under the quarterback position for another year, it's great."
Seven Utah players announced their decision to forego another season in Salt Lake City to pursue an NFL career, but the return of two of the team's three starting tight ends came as great news to a program that features one of the most efficient offenses in the country — ESPN's Football Power Index ranks Utah 13th in the country in offensive efficiency.
And as much as quarterback Cam Rising has been a breath of fresh air and a revitalizing figure to Utah's offensive rise, it's the three tight ends that have given Utah an effective and dangerous offensive identity. That identity will be largely in play Saturday when Utah looks to combat an Ohio State team looking to rebound from a rivalry loss to Michigan and an end to the Buckeyes' playoff hopes.
The theme from Ohio State's defensive players and coaches is that Utah plays a physical style of play — much like Michigan — and the tight ends factor in heavily in the team's ability to dominate teams.
"Yeah, I'll tell you this, they're all more athletic than any tight end should be," Ohio State assistant coach Matt Barnes said. "I think they've done a really good job — whether it's recruiting or developing.
"They are very, very talented, so it's a matchup issue. It's who do you put on them? Is it a linebacker? Can that linebacker cover him if he flexes out? Is it a safety? Can that safety go play in the run fit when they're in the core of the formation?"
It's all part of Utah's strategy on offense designed by offensive coordinator Andy Ludwig to keep teams guessing. Utah has utilized 11-, 12- and 13-personnel looks (simply put: one, two or three tight ends in the game) to win the battle in the trenches and to open up the run and passing game.
Barnes said the more tight ends that are on the field, the harder it is on a defense because there's more gaps to defend. A traditional unit without a tight end has six gaps, but that can balloon to 10 with three tight ends on the field. And that's assuming one doesn't line up as a slot receiver.
"It's just different," Barnes said. "It's not something you see a ton in college football."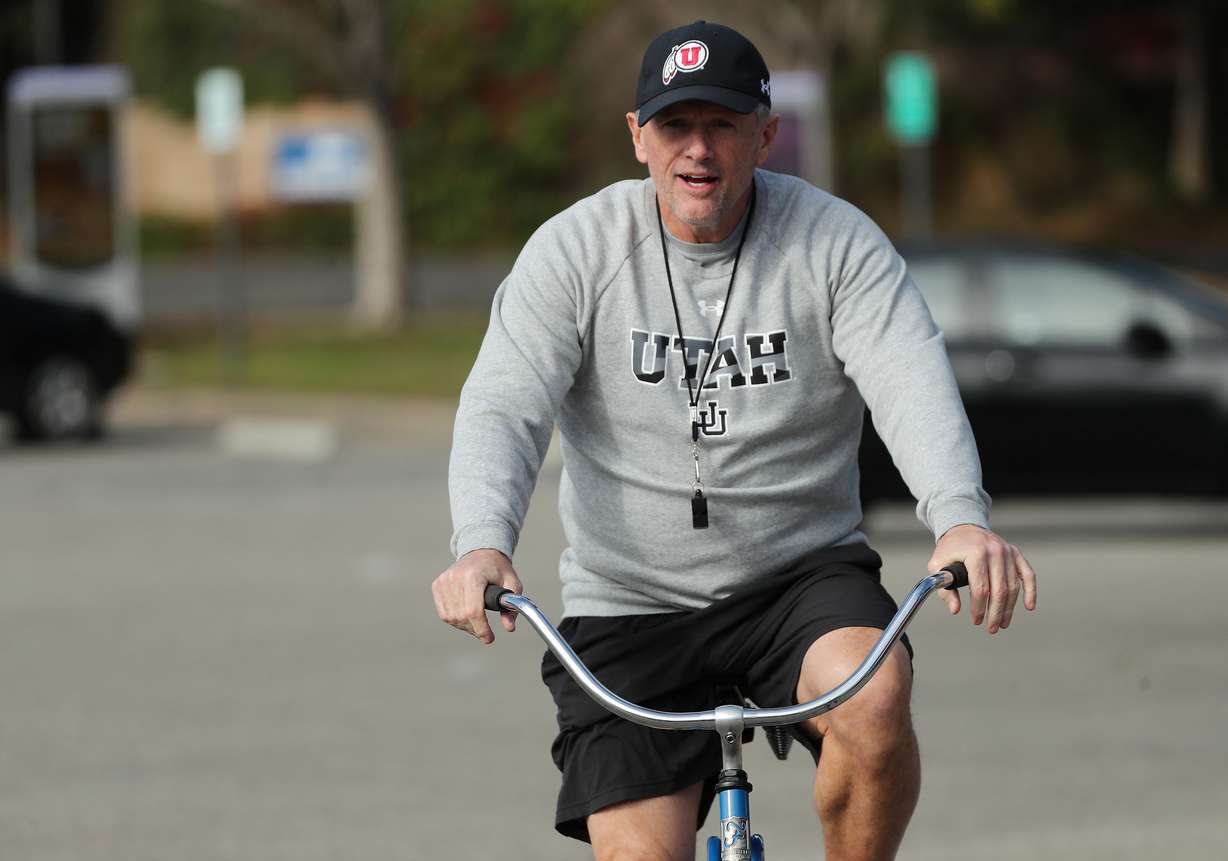 To Ludwig, it follows his philosophy of scheming an offense around his most dynamic players.
"The way that we put the system together for a long time, it's all based and designed — what we do offensively is based on the players and the program and their strengths," Ludwig said. "We are very fortunate to have three very talented tight ends. People say we've got to throw the ball to wide receivers more. We're just trying to utilize our best players. That's what gets us into a three tight end look very frequently."
Cole Fotheringham, who declared for the NFL draft earlier this month, is the "prototypical tight end," Kuithe can be utilized in several situations on the line or as a "detached move tight end," and Kincaid is "a nice blend of the two," Ludwig said.
All of that is a nightmare for opposing defenses — to say nothing of dynamic running back Tavion Thomas or the other skills players on the roster.
"It's kind of hard for a defense to scheme up against it, because you have three tight ends in the game and who are you going to put in?" Kuithe said. "You're going to put in nickel personnel, you're going to put in base personnel with an extra linebacker, so no matter what they're going to be, one of us is going to be matched up with a linebacker.
"It's kind of hard because not many guys can match up with us, and it's kind of schematically imbalanced because they're not going to be able to do nothing like that."
That puts pressure on an Ohio State defense that will be without defensive tackle Haskell Garrett (opted out for NFL draft) and has already been thin at the linebacker position this season, but even more so late in the season.
Starting middle linebacker Cody Simon was not present during Ohio State's open practice Tuesday and Cade Stover moved over to linebacker in practice after two years at tight end seemingly to add depth to the room.
"I think that gives us an advantage because they have to make their best-educated guess on if we're going to be running the ball, throwing the ball, whatever it is, because our tight ends could either be in the formation tight or out wide," Utah offensive lineman Nick Ford said. "That's a big advantage to us. It's a lot of credit to Brant, Cole and Dalton and the entire tight end room."
Added Kuithe: "If we get in 13 personnel, we can really do anything. We can spread them out, we can run down their throat, we can do anything. It definitely helps with the tight ends we get."
×
Photos
Related Stories