Estimated read time: 5-6 minutes
ANAHEIM, Calif. — As Britain Covey sat in a chair in the Opera House along Main Street in Disneyland, he was a little fidgety like a kid on the night of Christmas Eve as he talked to media ahead of the 108th Rose Bowl game on Saturday.
The star Utah slot receiver will be playing in his last collegiate game Saturday against Ohio State in the "Granddaddy of Them All" and said he was "antsy" just sitting there.
It wasn't because the game is in five days; it was because Covey was sitting in the "Happiest Place on Earth" and he wanted to get out of the building as fast as he could to ride all the rides in Disneyland with his teammates. Even the rain in Anaheim couldn't stop his excitement to get out into the park.
"My teammates make fun of me because I'm so antsy right now," Covey said. "I just want to go on the rides. I'm the biggest Disney nerd of all time. I used to come to every ride, I know where all the hidden Mickeys are in the park. I kept getting mad at my teammates who acted like they weren't excited for Disneyland — they're not too cool for it."
For Covey and a lot of the players, it was the perfect way to start the festivities surrounding the oldest bowl in the sport. Sure, football is the most important aspect of the week, but Disneyland and all the week's events leading up to the game are an opportunity for the team to bond one final time before some go their separate ways.
And given the adversity the team's faced over the last two seasons, a trip to Disneyland seemed like a dream escape from it all. So if it means the team is paraded down Main Street as spectators catch a glimpse of their favorite players, then it's all worth the moment.
"It's nice to be able to go out and do things like go to Disneyland and whatever else we'll be doing throughout the week as a team and enjoy being with one another for the last time," said Utah linebacker Devin Lloyd, who is expected to be selected in the first round of the upcoming NFL draft in April.
"This time is a time for us to enjoy each other's company," defensive end Mika Tafua added. "We wanted it in the championship game and that was our goal. And now we have opportunity to win one more game, but this one is a little bit different because we get to enjoy the trip a little bit more than we do."
The team has treated each game this season like a "business trip" — a phrase coined by the team for years each week they play a game. But the Rose Bowl is different. There's still business to be taken care of at the end of the week, but there's a time to compartmentalize the fun with the serious.
"During the season I would try to keep my head down and just focus on everything and not worry about what happens after football or anything like that," Covey said. "But now this is my last game and I'm kind of starting to soak it in and appreciate all the moments. ... It's one of those things where I feel like I didn't let myself do throughout my career and now I'm kinda indulging in it a little bit.
"You definitely have to compartmentalize bowl games, because I feel like you've earned the right to enjoy this experience and not just say we're here for a business trip. ... But here, it's like a business trip with benefits," Covey added. "You've earned the right throughout your season to enjoy these things, so it just comes down to being able to compartmentalize it — put your head down when you need to and then enjoy when you can."
Here come the Utes pic.twitter.com/6iC5IRS7yJ

— Josh Furlong (@JFurKSL) December 27, 2021
It's a tricky balance to let the fun creep into the daily grind of preparing for a large stage, but it's one that both teams have to navigate.
"I feel like you just have to know when is the time that you have to focus on football and when is the time you have to have fun," Utah quarterback Cam Rising said. "When we go into our meetings and stuff like that, and we go to practice, that is all football; and the team has been talking about that for a while now, and I think we have a understanding of what we need to do in those situations.
"But, yeah, we're here to also have fun throughout the week and make sure that we're enjoying the events that go on. I'm just happy to be at Disneyland right now. Just enjoying this and get ready to lock in tomorrow."
As players and coaches made their way through Disneyland Monday afternoon, football things were still happening, unbeknownst to Utah. Ohio State coach Ryan Day announced that four of his players had opted out of Saturday's game as they prepared for the NFL draft.
The players include two of the Buckeyes' trio of star receivers, Garrett Wilson and Chris Olave, and defensive tackle Haskell Garrett and offensive tackle Nicholas Petit-Frere. The four players are major contributors to Ohio State's overall makeup as a team and will have implications on the game.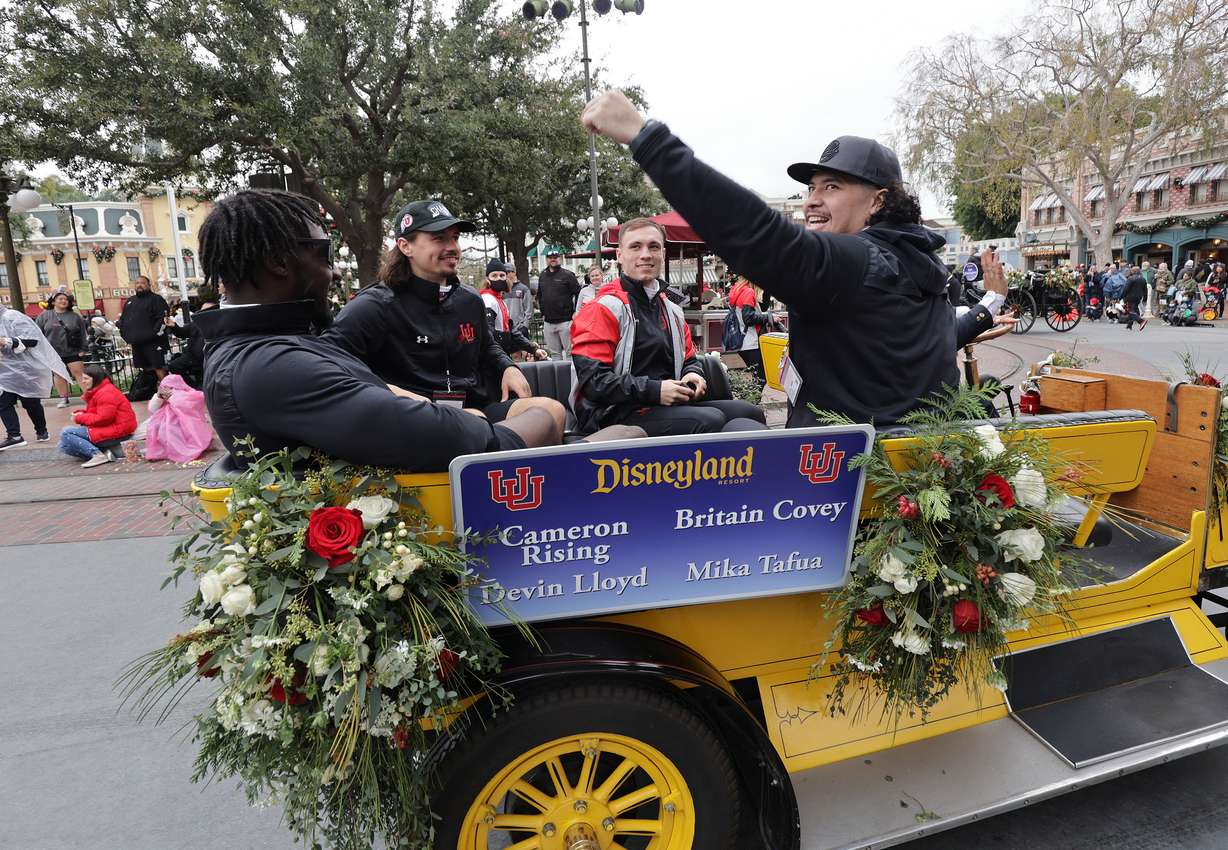 But Utah head coach Kyle Whittingham, who learned of at least one of the players opting out during the media session, said it won't drastically change how the team prepares for Ohio State.
"Well, you care, but you can't become preoccupied with it," Whittingham said. "I mean, it might tweak your game plan a little bit, but for the most part, you prepare for the schematics of the offense, as well as individual players, but more the schematics of what you're going to see offensively and defensively."
The game never stops, even when the team is having fun.
And while several players for Utah have declared early for the NFL draft, there are no players opting out of the program's first-ever Rose Bowl.
"This is a game that you're gonna remember for the rest of your life, especially being our last ride," Lloyd said. "We're just gonna make sure that we do everything in our power to make it a memorable one."
You'll never forget your first time.
×
Photos