Estimated read time: 6-7 minutes
This archived news story is available only for your personal, non-commercial use. Information in the story may be outdated or superseded by additional information. Reading or replaying the story in its archived form does not constitute a republication of the story.
LOS ANGELES — Utah quarterback Cameron Rising wanted a do over.
A year ago, Rising suffered a season-ending shoulder injury in the first half of a delayed and shortened season defined by COVID-19. But on Saturday night, it was the Rising show as he led his team to its first-ever victory at the Los Angeles Memorial Coliseum in a 42-26 win.
His 17-yard rushing touchdown in the third quarter where he broke a couple tackles was just icing on the cake.
"It's always a good feeling, especially when you come to the school in this area, just being from this area," Rising said. "They didn't really recruit me, so it's always a special one to get that."
With Rising's leadership on the field, Utah (3-2, 2-0 Pac-12) ended a losing streak on the road in Los Angeles that dates back to 1916. And most importantly for the team, it keeps them undefeated in conference play with a vital matchup against Arizona State next week.
The sophomore quarterback finished the night throwing for 306 yards on 22-of-28 passing, including three touchdowns, and had a 78.6% completion percentage in the win.
And while Rising had what Utah head coach Kyle Whittingham called "an outstanding night," it was a mistaken play call that may have been the momentum-changing decision that won Utah the game.
With just a minute left before the halftime break and the Utes holding a 14-10 lead, conventional wisdom was that Utah would wear out the clock and go into the break with a lead and the ball to start in the third quarter. Whittingham said the plan was to pick up a first down on a rushing play and set up for a field goal going into the break.
Utah marched down the field with all its timeouts in check and worked the clock until the team got to a fourth-and-1 situation at USC's 37-yard line. And with nothing to lose, Utah executed a flawless flea flicker, with Rising hitting Devaughn Vele in stride for a 37-yard touchdown in the end zone to take a 21-10 lead into the break.
Rising had misread his wristband on the play call and thought the coaches called for a flea flicker.
"I heard one call and I called that because I was like, 'Wow, this is a great play to call.'" Rising said. "I didn't know that they were calling it and then they called the timeout, and they wanted to stick with it right after they called it, so that's how we got to that."
Whittingham said that during a timeout right before the touchdown, he asked Rising why he was lining up for a different play than what was called. Once he learned that Rising had mistaken it for the flea flicker, "I said, 'Great call, let's go with it.'" Whittingham said.
"That was a huge momentum play," Whittingham added. "Getting that momentum coming in halftime was gigantic and I wish we could take credit for that play, but it was Cam Rising misreading the wristband and us finding out about it and then sticking with it because it seemed like the right thing to do."
Ahead of Utah's end-of-half heroics, Rising marched the team down the field 75 yards in five plays on the preceding drive to score the team's second touchdown of the game, a 12-yard toss to freshman Money Parks for his first career reception at Utah. Earlier in the drive, Rising found receiver Theo Howard on a 42-yard pass on third down to put Utah in USC's territory and the eventual score.
In total, Utah had six different players score a touchdown for the Utes on a night where the offense put up 486 yards of offense, including 306 passing yards. The passing lanes were open and Rising was taking full advantage — to the effect of 13.9 average yards per passing attempt.
"It's always fun when you've been able to spread the ball around and make sure everybody's getting included, getting touches, and just making sure that we're just having fun out there — just playing football and doing what we do, what we're supposed to do," Rising said.
Defensive end Mika Tafua, who finished the night with four total tackles, two sacks and one pass breakup, said, "It was fun to see on defense, too." For once this season, Utah's defense didn't have to stay on the field for a majority of the game.
That defense, which held the Trojans to just 10 points through three quarters, wanted to get in on the fun, too. On a fourth-and-8 call on Utah's 35-yard line, USC quarterback Kedon Slovis was picked off by Vonte Davis. Slovis finished the night throwing for 401 yards on 33-of-53 passing, including two touchdowns, and an interception.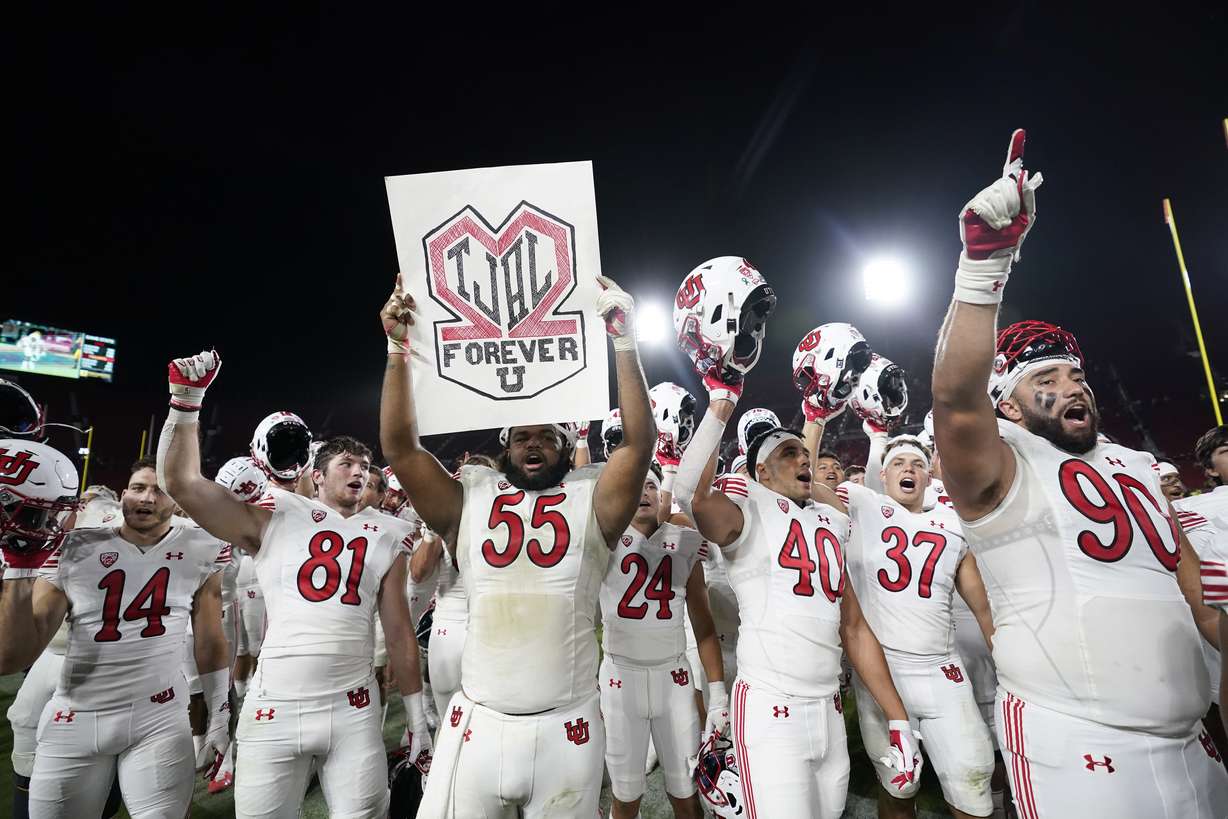 And as good as Utah was in the win, Drake London was equally impressive for the Trojans. London finished the game with 162 receiving yards on 16 catches, including a 20-yard touchdown that had London leaping over a defender into the end zone for USC's first touchdown during a two-score fourth quarter.
The win, though, was more than just breaking a losing streak in the Coliseum. It was Utah's first step in moving forward after teammate Aaron Lowe was shot and killed during the team's bye week. A win Saturday night was a chance at healing.
"We said in the beginning of the week when the things happened, it's either gonna divide us or it's gonna bring us closer together as a family, and we're choosing to let this bring us closer," Clark Phillips III, who stepped up to the task of guarding the nation's leading receiver in London, said after the game.
"It's super special," he added. "I feel like the guys played with a lot of passion with the recent events that took place. And it was just good to get a victory, man; it was special to us, and I'm just glad that we came out of here victorious."
Whittingham said the team struggled during the bye week to process the news, but he felt a renewed energy in the week leading up to the USC game. And though he'll never give up celebrating a win, it was more of an opportunity to celebrate his players and give them a win in life after a trying two weeks that will take more than just Saturday's win to overcome.
"Proud of the guys, that's the bottom line, so proud of them and how they hung in there and just played with such passion and such inspiring football," Whittingham said.
"To see them have the success they had tonight, it was great. I think this team needed that. I know it did."
×
Most recent Utah Utes stories