Estimated read time: 7-8 minutes
This archived news story is available only for your personal, non-commercial use. Information in the story may be outdated or superseded by additional information. Reading or replaying the story in its archived form does not constitute a republication of the story.
SALT LAKE CITY — Utah's 2022 water year is only 3 months old and it's already been one wacky ride.
It opened to a very strong start only to end up near record lows to start December. Thanks to several large snowstorms to close out 2021, increasing Utah's snowpack sevenfold, the state will enter the 2022 calendar year with an above-average snowpack.
Exactly how long that lasts will depend on the next few months to remain stormy, though.
"We're sitting good right now but we need to continue (more storms) in a similar fashion," said Glen Merrill, hydrologist for the National Weather Service's Salt Lake City office.
And, unfortunately, some long-range forecasts indicate a potential slowdown in the not-so-distant future, especially for some parts of the state. It leaves into question how large the snowpack will be at the time it runs off into Utah's reservoirs that have suffered from a yearslong drought.
Utah's 2022 snowpack rollercoaster
Saturday may be the start of the new year but it's roughly the halfway point in Utah's 2022 snow collection season — well, at least based on averages. The normal peak is normally around April 4, which is when the snow in Utah's mountains starts to melt and head into the state's streams, rivers, lakes and reservoirs.
Snowpack is a measure of how much water is in the snow. It's important because snowpack and spring runoff account for over 90% of Utah's water supply. A good snowpack year is vital for Utah to get out of its current drought, which began all the way back in 2020. Every winter storm is crucial for the state water supply.
This time last year, a mixture of a dry fall and below-average snowpack helped lead to the state's collective reservoir system to fall to 50%, even below half at points.
It's different this time around thanks to a rapid turnaround in the final weeks of the year after a strong start to the 2022 water year.
"It's been a rollercoaster," Merrill said, describing the past few months of snow collection.
The water year began on Oct. 1, and Utah's collective snowpack reached 262% of normal by the end of the first month, according to data from the Natural Resources Conservation Service.
But that didn't last long. A series of high-pressure systems set up over the West, resulting in one of Utah's warmest and driest Novembers on record. This meant that Utah wasn't just failing to pad its early snowpack, some of it had already melted.
"We pretty much lost all the snowpack from October at elevations below 9,500 feet on all aspects — except for high, north-facing upper-elevation terrain," Merrill said. "By Dec. 9, we were at an all-time minimum snowpack across the state for that date."
This, by the way, is also the reason why ski resorts suddenly delayed opening days.
Data show snowpack levels reached near-record high levels in mid-October and then fell to record-low levels during the first week of December. The statewide snowpack level fell to 31% of normal by Dec. 6.
Then something happened, almost as if someone turned on a hose at full blast.
The high-pressure patterns that dominated the region in November and early December strengthened but started to move west toward the eastern Pacific Ocean and then north toward Alaska, Merrill explained. This opened the door for storm activity in the western U.S.
"So on the east side, the downstream side of that high pressure, we developed a long-wave trough — a broad area of low pressure with all our storm activity essentially originating in the Arctic and then dropping down the West Coast and rotating through us," he said. "It was one storm after another because the strength and size of the high pressure were opposed by the strength and size of this mean low-pressure system over the Intermountain West."
When that happens, he added, it's harder to break down the patterns. The end result in this case was a series of storms that blasted the entire region that so desperately needed snow for the past three weeks.
Lake Tahoe by the California-Nevada border, for example, broke a December record with over 193.7 inches (over 16 feet) of snow, according to the University of California, Berkeley Central Sierra Snow Lab. The region will close out the month with over 210 inches of snow.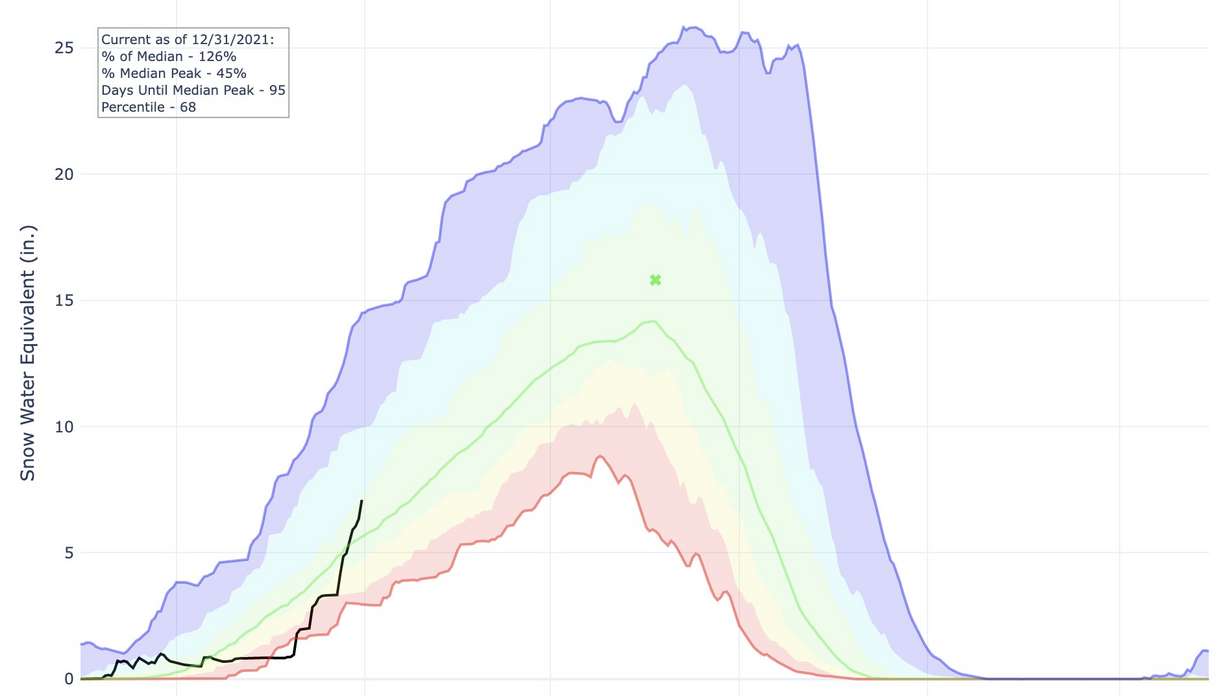 Utah also got a large serving of snow. The Natural Resources Conservation Service snowpack collection meter drastically changed after Dec. 9, as the first of several storms arrived in the state. Utah's statewide snowpack currently holds about 7.1 inches of water, seven times more than it was on Dec. 9, according to data collected at noon Friday — with more snow forecast to fall through Saturday morning.
It surged from 31% of normal to well past the normal for New Year's Day in a matter of weeks.
It now stands at 126%, according to data collected at noon Friday — with more snow forecast to fall through Saturday morning.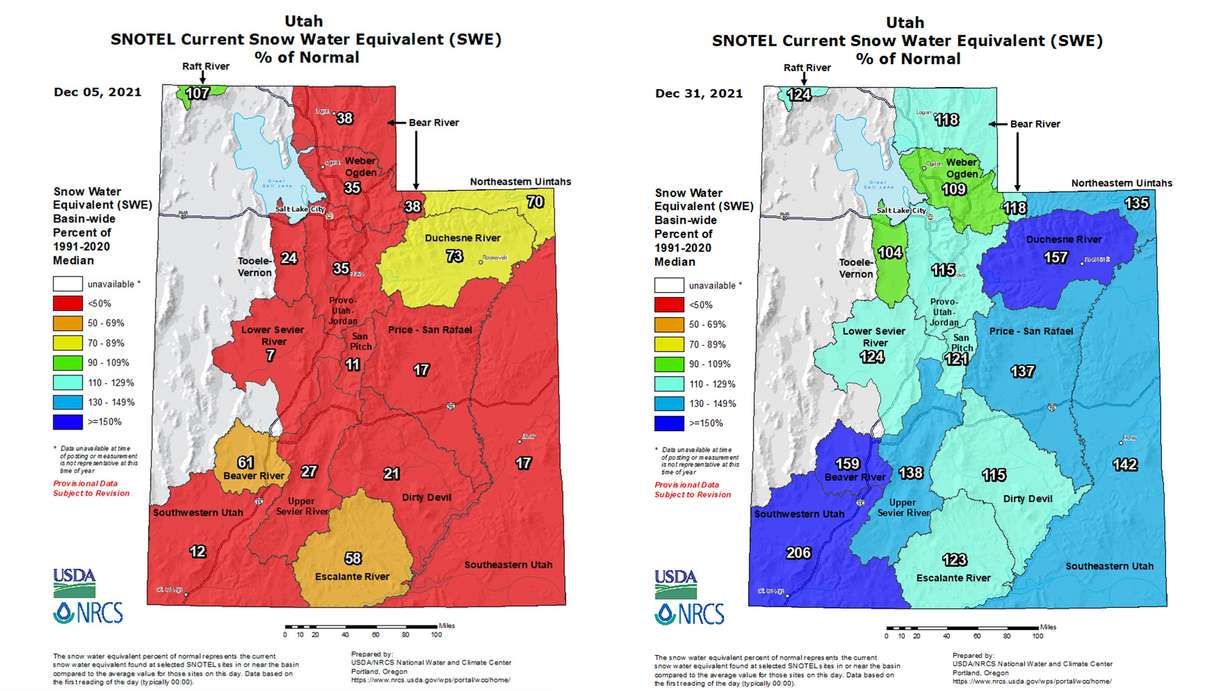 But as Merrill points out, there are still three months left in the snowpack collection season and much more snow needed to remain on course for the snowmelt season. Utah's statewide snowpack currently holds about 7.1 inches of water. It's normally about 15.8 inches by the time snowpack typically begins to melt in early April.
"We've got a long ways to go," he said. "We're not even halfway there yet."
How long will the storms last?
There's a shift in the patterns emerging across the Eastern Pacific that will still produce storms in the West in the near future but northern parts are more likely to receive them.
The National Weather Service Climate Prediction Center's long-range forecast indicates a more traditional La Nina pattern emerging after the series of December storms. Its 10-day and one-month outlooks paint a promising picture for northern Utah, with odds leaning in favor of above-average precipitation to start the 2022 calendar year. However, the graphs also show stronger odds for a slowdown in southern Utah.
"That's the pattern that's looking to be more favorable persisting through January, February and March, moving forward," Merrill said.
The center's three-month outlook show there are stronger odds for a drier-than-average end to the snow-gathering season in central and southern Utah, while northern Utah is considered "equal chances," or that it's still unclear if the winter and early spring will be wetter or drier than average.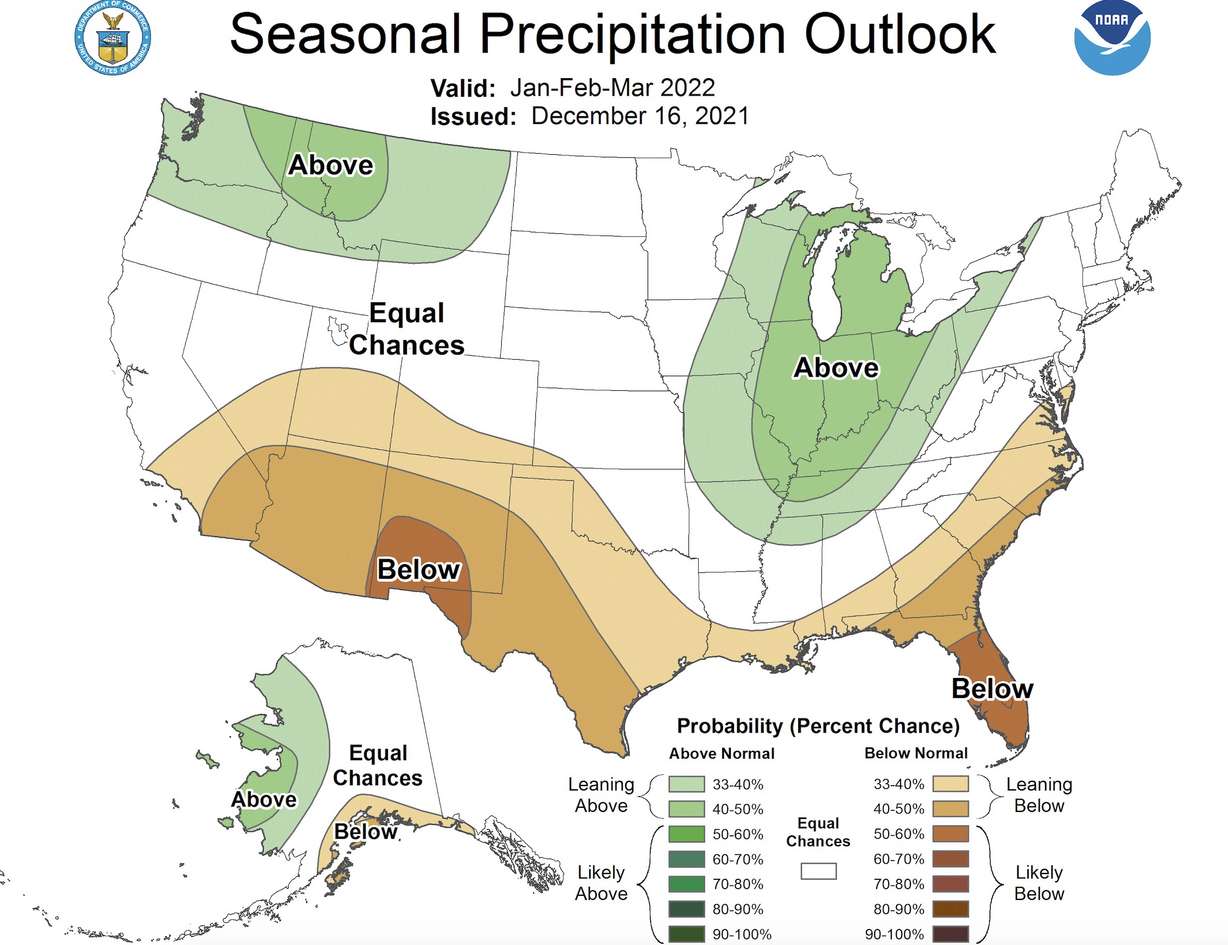 None of this is to say there won't be storms anywhere in Utah to close of the snow collection season. What it does mean is that the statewide snowpack that's experienced a massive turnaround will likely begin to level off.
The biggest question heading into 2022 is by how much.
Merrill said an average snowpack melting at the average snowmelt time will still help ease Utah's drought conditions and refill the state's reservoirs; it just wouldn't be a "drought-buster." That's because drought has been that severe and well-above-average temperatures evaporated some of the moisture that has fallen since 2019.
It would help refill some of the smaller reservoirs return to full capacity. Hydrologically speaking, he said multiple years of above-normal snowpack seasons are likely needed to refill larger reservoirs like Lake Powell, which has fallen to record-low levels, and "fully recharge the system."
On the bright side, the moisture over the past few months does ensure the likelihood of a more efficient runoff in spring 2022.
As for how much water will end up in the reservoirs, hydrologists like Merrill are still in a wait-and-see mode. They've got their fingers crossed that many more storms are in the forecast to close out winter.
"(The December storms have) been beneficial in the short-term but we're really wanting to see it extending longer than this," Merrill said. "(They're needed) all the way through April to maintain these current values."
×
Related stories
Most recent Outdoors stories