Estimated read time: 5-6 minutes
This archived news story is available only for your personal, non-commercial use. Information in the story may be outdated or superseded by additional information. Reading or replaying the story in its archived form does not constitute a republication of the story.
SALT LAKE CITY — La Nina is officially back.
With that, federal forecasters believe parts of northern Utah may reap the benefits of above-average precipitation expected in the Pacific Northwest over the next few months while parts of southern Utah may suffer from above-average dryness projected in the Southwest.
That's according to a new three-month outlook for December, January and February of next year — the three meteorological winter months — released by the National Weather Service Climate Prediction Center Thursday.
The agency's map shows a sliver of northern Utah within a 33% to 40% probability of higher-precipitation level, which indicates probabilities are tilting toward above-average precipitation this winter. If that holds up, there's a chance for storms to move across the entire region.
A larger section of southern Utah is listed within a 33% to 40% chance for drier-than-average conditions, which indicates patterns are trending in that direction. That could indicate drier conditions across that Utah region, as well.
Most of the state, however, is listed as "equal chance," meaning that there's still no clear signal yet as to a wet or dry winter with a month and a half before meteorological winter begins.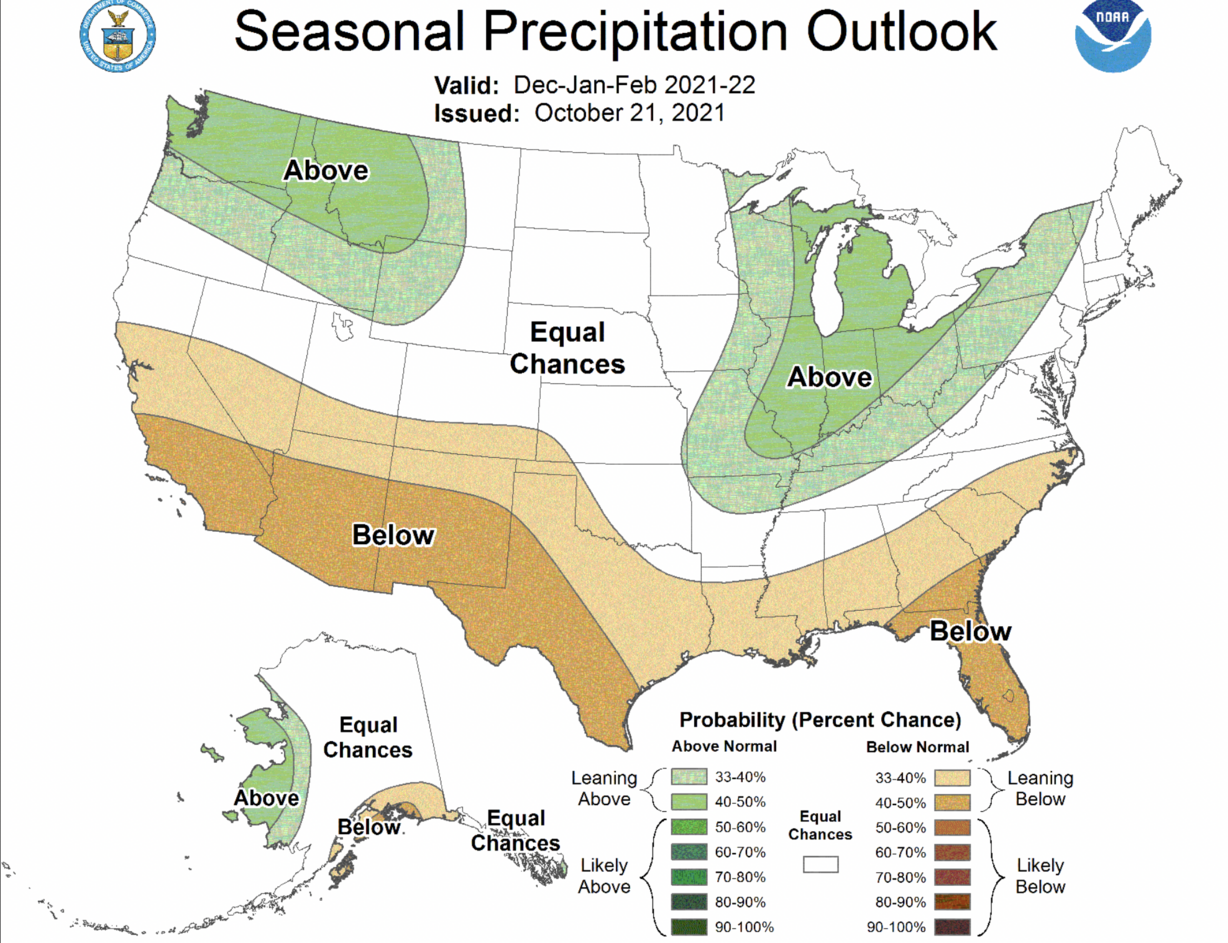 "There's a slight trend toward better than average precipitation across northern Utah and a slight chance toward (drier) than average precipitation across southern Utah. But for the bulk of the area, it could go either way," said Alex Desmet, a meteorologist with the National Weather Service's office in Salt Lake City.
The Climate Prediction Center also projects a 33% to 40% chance for warmer-than-average winter weather across the state, with a 40% to 50% chance for that in southern Utah. Both probabilities are considered "leaning above" average, meaning that is very possible but not certain it will happen. Anything higher than 50% is viewed as "likely."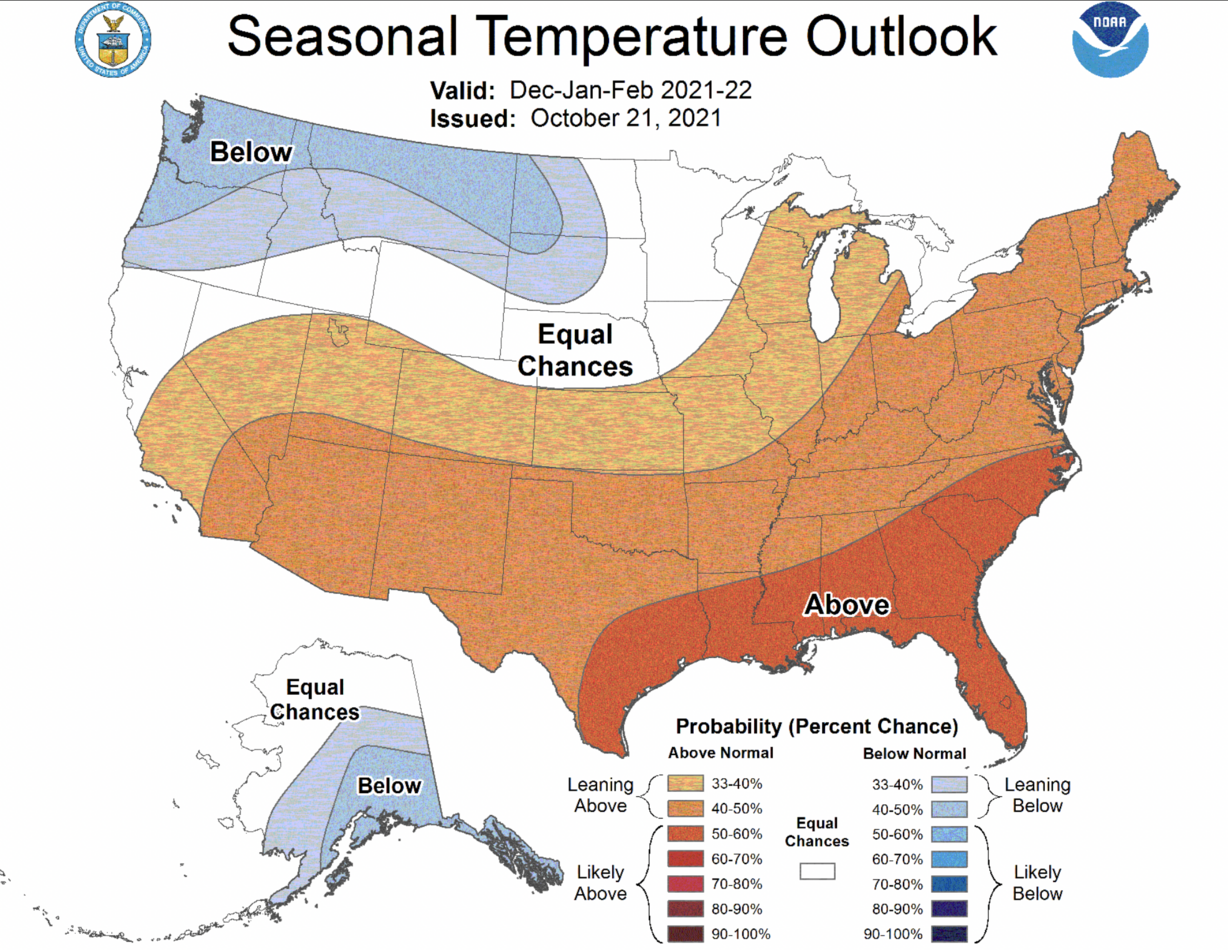 No two La Nina winters are alike in Utah
All eyes turn to winter because that's when Utah's snowpack forms. The moisture from the snow melts in the spring and flows into Utah's reservoirs. It's estimated that upwards of 95% of the state's water comes from snowpack.
The projections released Thursday align very similarly to the average La Nina winter. The weather pattern pushes warm ocean water westward, allowing cooler oceanic water to rebuild off the western coast of South America.
When this occurs, a polar jet stream pattern typically provides wetter conditions in the Pacific Northwest and Great Lakes regions, as well colder air across the northern parts of the West and Midwest. It also results in warmer conditions across the Southeast and drier conditions across the Southwest and Southeast.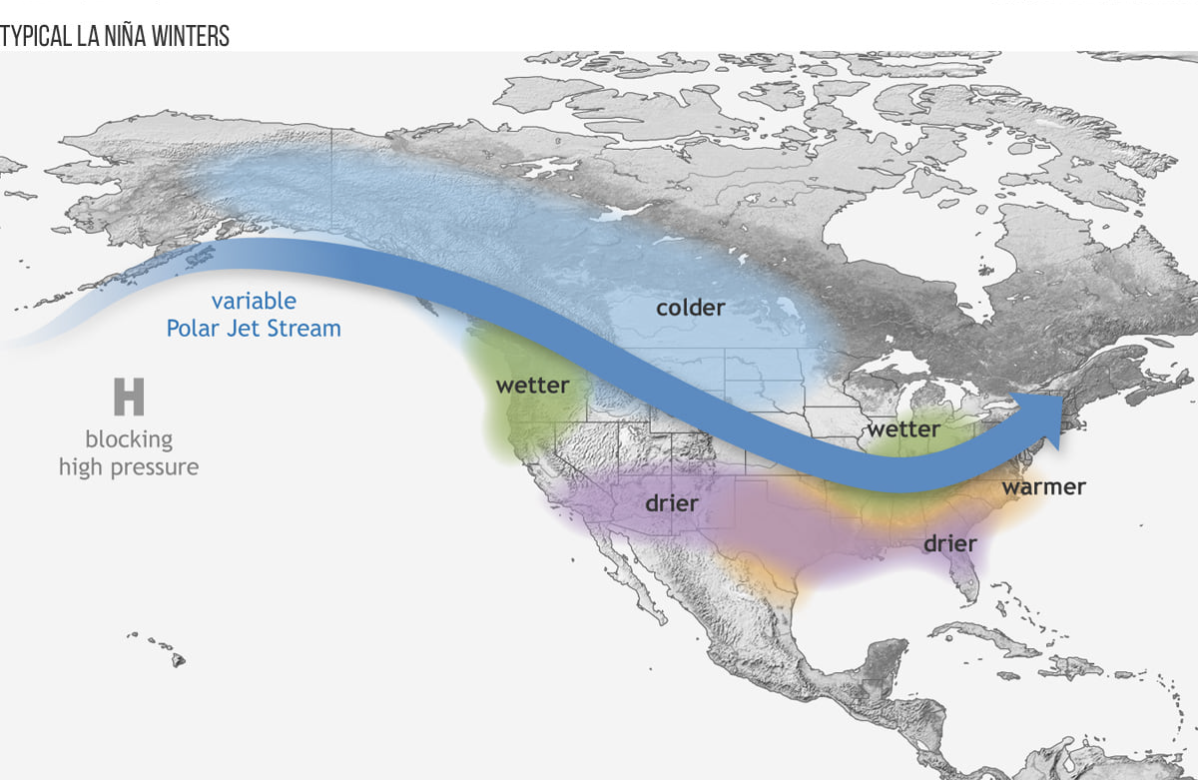 Utah's La Nina winters run the gamut. Desmet points out that Utah has experienced La Nina winters with above-average precipitation and winters with below-average precipitation since 1950. Sometimes it hits the average. The same goes for temperatures.
"No two La Nina winters are the same just like no two El Nino winters are the same," he said. "The signals are weaker in Utah than they are across the desert Southwest or the Pacific Northwest."
There was a La Nina winter last year and it ended with a below-average snowpack in Utah. The below-average snowpack on top of already dry soil — from the driest calendar year on record in Utah — led to Utah's reservoir system to drop to 47% statewide by the end of the 2021 water year, Sept. 30.
All of Utah remains in severe drought but conditions are improving as a result of recent fall storms. The U.S. Drought Monitor on Thursday lists about 14.1% of Utah in an "exceptional" drought, the driest category, down 3.44 percentage points from the previous week. It had been close to 70% at its worst earlier this year.
Will this year's La Nina winter be different?
Ultimately, the fate of Utah's upcoming winter will depend on how the jet stream sets up this winter. That, Desmet says, can essentially "override" the patterns emerging in the winter outlook.
If the jet stream is anything like it has been the past few weeks, which have dumped plenty of snow in Utah's mountains, the state is in for a good winter. Desmet said more precipitation is expected in the coming weeks, which will help improve soil moisture levels heading into the winter. This will allow for the next spring snowmelt to flow into the reservoirs and not into the ground.
The issue is jet stream patterns change, so you end up with an "equal chance" situation. Desmet explains there's "little if any correlation between the jet stream patterns in the fall months and the jet stream patterns in the winter.
"We really can't say if (the storms over the past few weeks) is a sign for things to come," he said. "That's because looking at past events, we've had wet falls followed by dry winters and wet falls followed by wet winters."
But if not all La Nina winters are the same, will that mean this winter will be better than last year's?
Only time will tell.
"We can certainly hope we're above-average precipitation to help restore our soil moisture, our groundwater deficits, our reservoir deficits and our streamflow deficits, which are all running below normal and have been for a couple of winters," Desmet said. "But right now there's not enough confidence to say that precipitation will go either way at this point."
×
Related stories
Most recent News stories