Estimated read time: 5-6 minutes
PROVO — Kalani Sitake knew the question was coming, but that didn't mean he had a different answer.
When the sixth-year BYU coach's name became attached to the Washington head coaching vacancy as soon as Jimmy Lake was fired by the university Sunday afternoon less than two years into his tenure, he had to figure he'd be asked about it.
Sitake's tenure with the Cougars has been nothing short of a success. He's 46-28 in his first Division I head coaching stop, including a 19-3 record the past two seasons with back-to-back Top 25 rankings — and should finish there, unless something goes wrong in closing out the regular season at GSU and USC.
He's also re-established BYU as a place that can develop NFL players, taking former Boise State quarterback commit Zach Wilson and turning him into the No. 2 overall pick in last April's draft by the New York Jets and molding offensive tackle Brady Christensen into a third-round selection by the Panthers, among others.
After surviving adversity, including a 4-9 campaign in his second season, Sitake has pushed forward — and thrived. That will make him an attractive candidate in a lot of coaching searchings, especially with a cycle that has current openings at Washington and USC leading a wild coaching carousel from coast to coast. Sitake's name was mentioned as a potential replacement for both jobs, and others will likely follow.
But Sitake's focus has remained the same ahead of the Cougars' penultimate game against Georgia Southern on Saturday (2 p.m. MT, ESPN+).
"I know why you guys are asking that question and things like that. But I'm focused on getting our team ready for Georgia Southern, playing this game," Sitake said. "That's been my focus this entire season, whether you ask the question back in August, September, October, now or November, the answer is still the same; I'm trying to take this thing week by week, and focus on getting these guys ready to play at their best.
"We have some changes in lineups with health issues and trying to get some guys back. All of my attention can only go to the boys, and trying to give the fans what they want, which is performing at our best. Only if we do that will we get the result."
Success brings attention, and with it the eyes of more heavily resourced programs looking to make a splash after moving on from a certain era. The state of Utah isn't immune to the need for a change; Southern Utah parted ways with head coach Demario Warren on Monday after 14 years with the program.
Sitake won't be a candidate for that job (some of his assistants might, but we'll save that for another day). But in the college football food chain, the bigger programs often feed off the schools with fewer resources.
Whether the actual on-field results confirm the status or not, that includes Washington over BYU — a school willing to pay out the remaining $9 million on Lake's contract versus one that only recently began paying its head coach north of $1 million, according to informed projections (BYU as a private institution does not release salary information).
Love it or hate it, the carousel can be a distraction, just like AP rankings, College Football Playoff projections, and everything else airing on ESPN during a season where what should matter the most are the games on the field. Which is why it's best to focus on what you can control, BYU tight end Dallin Holker said.
"You love your coaches and the people around you," he added. "But during the season, you just focus on the season and what you can control.
"You just try to live in the moment, and enjoy the season."
Regardless of the attention, the Cougars still have a job to do. Returning from a bye week with success starts Saturday in Statesboro, Georgia, on an east coast that hasn't always been kind to the Cougars.
"We're just focused this week on Georgia Southern, then USC," said linebacker Ben Bywater, echoing his coach with the media savvy of an advertising salesman, "and getting the best bowl game we can possibly get."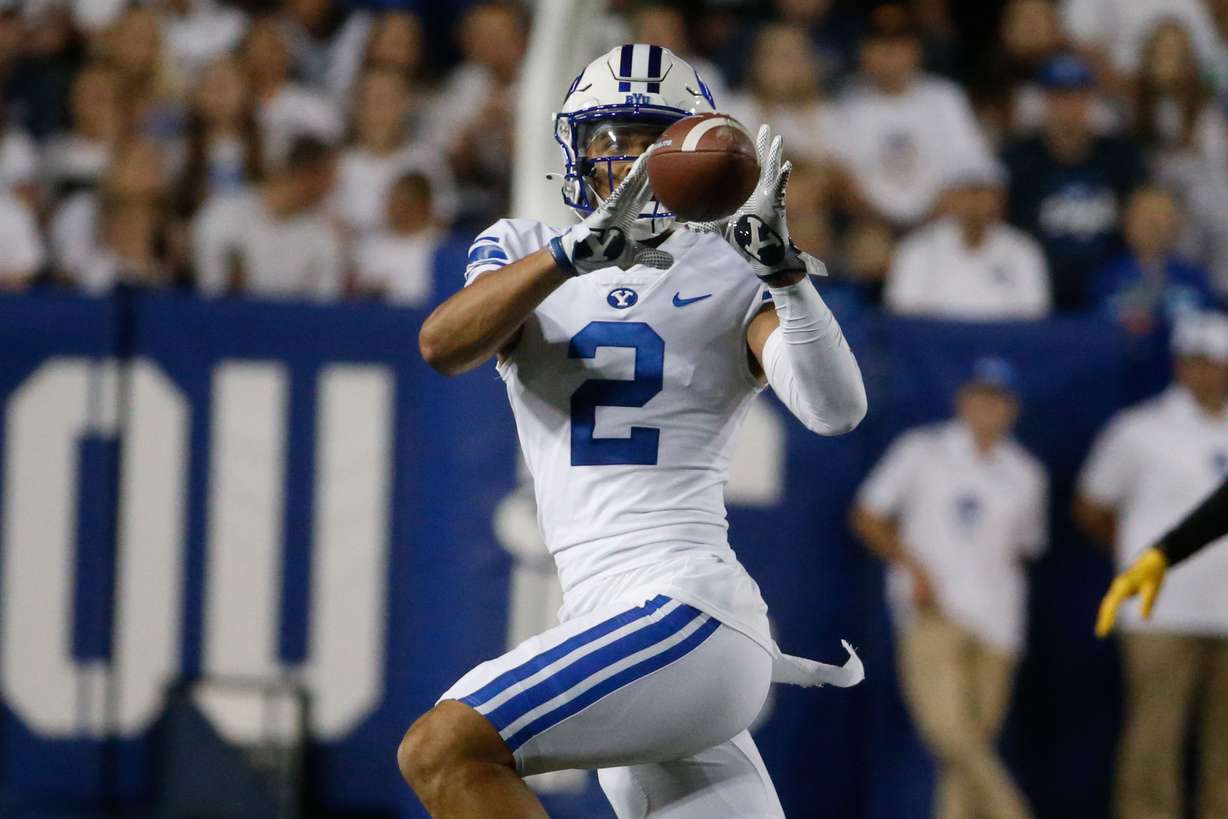 Pau'u out for the weekend
One of those roster adjustments of which Sitake spoke is wide receiver Neil Pau'u, who will not be available Saturday against the Eagles.
Pau'u, who was seen in a walking boot shortly after scoring a touchdown a week ago against Idaho State, was a starting wide receiver who racked up 526 yards and a team-high six touchdowns in what is likely his final season with the Cougars. The redshirt junior with an extra season of eligibility provided by the COVID-19 pandemic has been ruled out for the year, but he's unlikely to play right away.
"Neil Pau'u won't play in this game against Georgia Southern," Sitake said. "I think we're stretching it if he's going to be available for the bowl game."
The bulk of the catches will probably fall on Samson and Puka Nacua, who were both listed as starters on the most recent depth chart, and Gunner Romney, who has been somewhat limited by injuries this year. Keanu Hill, Hobbs Nyberg and Chris Jackson should also see more time.
"Neil's an amazing player; he does a lot of great things for our team. He always has," tight end Dallin Holker said. "It will be tough without him. But we have a great team, and we're deep. If we play our best, I feel like we'll be good."
Final kickoff announced
BYU Has two road games remaining in the regular season, and the finale finally has a kickoff time.
USC will host BYU at 8:30 p.m. MT in the Los Angeles Memorial Coliseum next Saturday, Nov. 27, the two schools announced Monday in conjunction with ESPN.
The game will be broadcast on ESPN.
×
Related Stories