Estimated read time: 4-5 minutes
PROVO — Not all option teams are created equal.
That's the message BYU football coaches are stressing ahead of Saturday's road matchup at Georgia Southern (2 p.m. MT, ESPN+) in the 14th-ranked Cougars' penultimate game of the regular season.
The Eagles (3-7) have run an option-based offense for years, mostly dating back to former coach (and current Army boss) Jeff Monken's tie with the program from 2010-13. And there are plenty of service academy-like elements to the system of a program that finished ranked fifth in the country a year ago averaging 371 rushing yards per game.
But that's not their only identity. There's another team in the Sun Belt that also runs the option — it's being referred to as the "spread option," though the term isn't a perfect characterization fo the offense.
Still, when Georgia Southern lines up against BYU this weekend, replace the navy blue helmets with teal ones and BYU fans might just see some things they recognize.
"It's a very similar style of offense to Coastal Carolina," BYU defensive coordinator Ilaisa Tuiaki said, pointing to the option-from-shotgun used by the only team that out-gunned the Cougars a year ago during their 11-1 campaign. "When you're facing a team like that with elements of option football, it's always challenging.
"They've got good athletes, and do a really good job."
Georgia Southern presents most of its option plays out of the shotgun formation, something BYU hasn't seen since Grayson McCall completed 10-of-15 passes for 85 yards and ran for 68 more in a 22-17 win over then-No. 13 BYU to end the Cougars' bid for an undefeated season in 2020.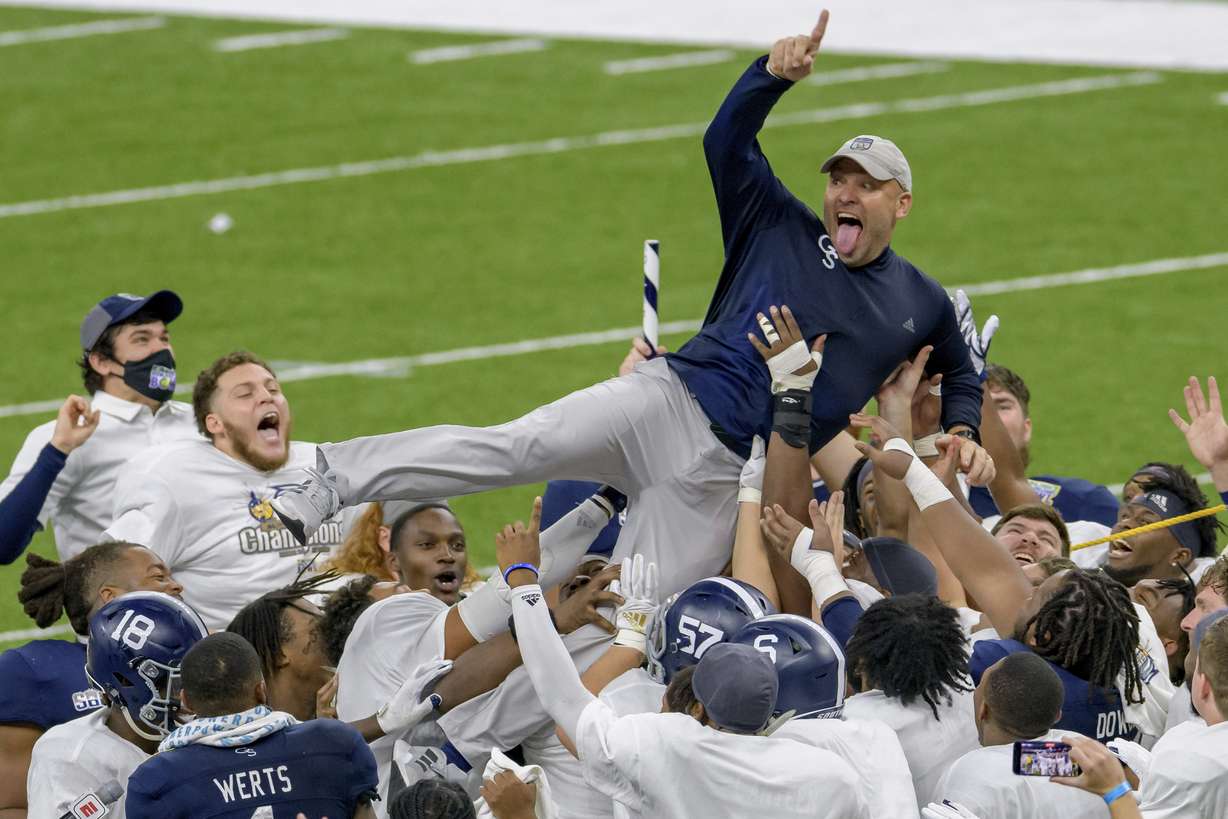 The spread option isn't your grandparents' option, and neither is Georgia Southern.
The Eagles aren't riding into their home finale Saturday with a particular good recent track record. Just 3-7 overall and coming off a 38-30 win over Texas State that moved the Eagles to 2-5 in Sun Belt play, Georgia Southern fired its coach four games into the year and has already replaced Chad Lunsford with fired USC coach Clay Helton.
Helton will be in attendance at Saturday's game in Statesboro, Georgia, but he won't be coaching. The 49-year-old native of Gainesville, Florida, who was originally scheduled to face BYU with the Trojans next week has assumed his new role and begun recruiting for next year. But the school has retained for the remainder of the season interim head coach Kevin Whitley, a former cornerbacks coach who is 2-4 as the top coach.
But the results amid the midseason coaching change don't fully explain Georgia Southern's season. The Eagles have lost three games by 8 points or less.
"It's our job as coaches to make sure our players understand Georgia Southern is a tough team, and I have a lot of respect for them," offensive coordinator Aaron Roderick said. "They could've packed it in this season, but they are playing their best football right now. It says a lot about the character of that team."
Through staff turnover and transition, the Eagles haven't lost who they are. They still average 208.9 yards per game on the ground to just 153.6 yards in the air. They also rank inside the top 40 nationally with 36.3 yards per punt and 72nd in rushing defense at 153.9 yards per game.
Regardless of record or coaching staff, the unique offense remains. And anyone who has ever faced an option team — be it spread or otherwise — knows that the same old defenses don't often work against the uniquely complex system of college football.
Among others, defenders need the utmost discipline to stick to their assignments. And tackling — really sound tackling — to prevent melodic run offense from breaking free for big gains.
It also takes a special quarterback to run, like GSU's Justin Tomlin, a Georgia native who has completed 51% of his passes for 977 yards and two touchdowns with nine interceptions in eight games as a junior for an offense ranked in the top-20 nationally with 208.9 rushing yards per game.
"I think their offense is just more spread out," BYU defensive end Uriah Leiataua said. "So our game plan is probably going to be a little bit different, but also a little weird. It'll be an interesting game."
Like most option offenses, it starts at the line of scrimmage.
"Their O-linemen fire off very hard," Leiataua said. "But what's really important isn't what they do, but what we do and how disciplined we stay.
"Our offense is going to score a lot of points. We need to keep them to a minimum."
How to watch, stream, listen to the game
No. 14 BYU (8-2) at Georgia Southern (3-7)
Paulson Stadium; Statesboro, Georgia
Kickoff: 2 p.m. MT
Streaming: ESPN+ (Danny Waugh, Amy Zimmer)
Radio: BYU Radio, KSL 102.7 FM/1160 AM (Greg Wrubell, Riley Nelson, Mitchell Juergens)
Series: First game
Georgia on my Mind: BYU is playing its first game against Georgia Southern, but fourth game in the state of Georgia. The Cougars have played twice in Atlanta and once in Athens against the University of Georgia.
Fun Belt: BYU is playing a team from the Sun Belt Conference for only the fourth time in its history, a year after opening its tenure against the league for the first time. The Cougars played three Sun Belt teams last season, with wins over Troy and Texas State before a loss to Coastal Carolina en route to an 11-1 campaign.
×
Related Stories