Estimated read time: 4-5 minutes
This archived news story is available only for your personal, non-commercial use. Information in the story may be outdated or superseded by additional information. Reading or replaying the story in its archived form does not constitute a republication of the story.
SALT LAKE CITY — "The sun is shining, one was fun, twice is nice," said Orem High School head coach Jeremy Hill to reporters, standing in the end zone at Rice-Eccles Stadium with his team behind him, celebrating something their school has never been able to do.
For the first time in Orem High School history, they are back to back football champions in class 4A. The Tigers raised the trophy in triumphant fashion after defeating the Dixie High School Flyers 60-13. Orem's defense put together a dominant performance, meanwhile, their electric quarterback and receiver combo featuring Cooper Legas and Puka Nacua made life hard on the Flyers' defense all game long.
With another state championship ring to add to his hand, Nacua also adds his name to the record books after breaking the single-season touchdown reception record with 26, among five other records. Nacua finished the day with 182 yards and 2 touchdowns. The record-breaking touchdown reception came off a 55-yard bomb with 7:17 to go in the game's final frame.
"I still remember my first touchdown," recounted Nacua. "I dove and I caught it. I looked up, I was on my back looking up at the ref and he put his hands up. The rush that came over me is — I just can't explain it. The excitement of high school football — football in general — for me has been absolutely amazing. Especially to do it with these boys I've been playing with for a long time."
After last season's state championship, Nacua joked that the feeling he had after winning his first title was what he imagines having his first child would be like. His second title now brings a similar emotion, but with better athleticism.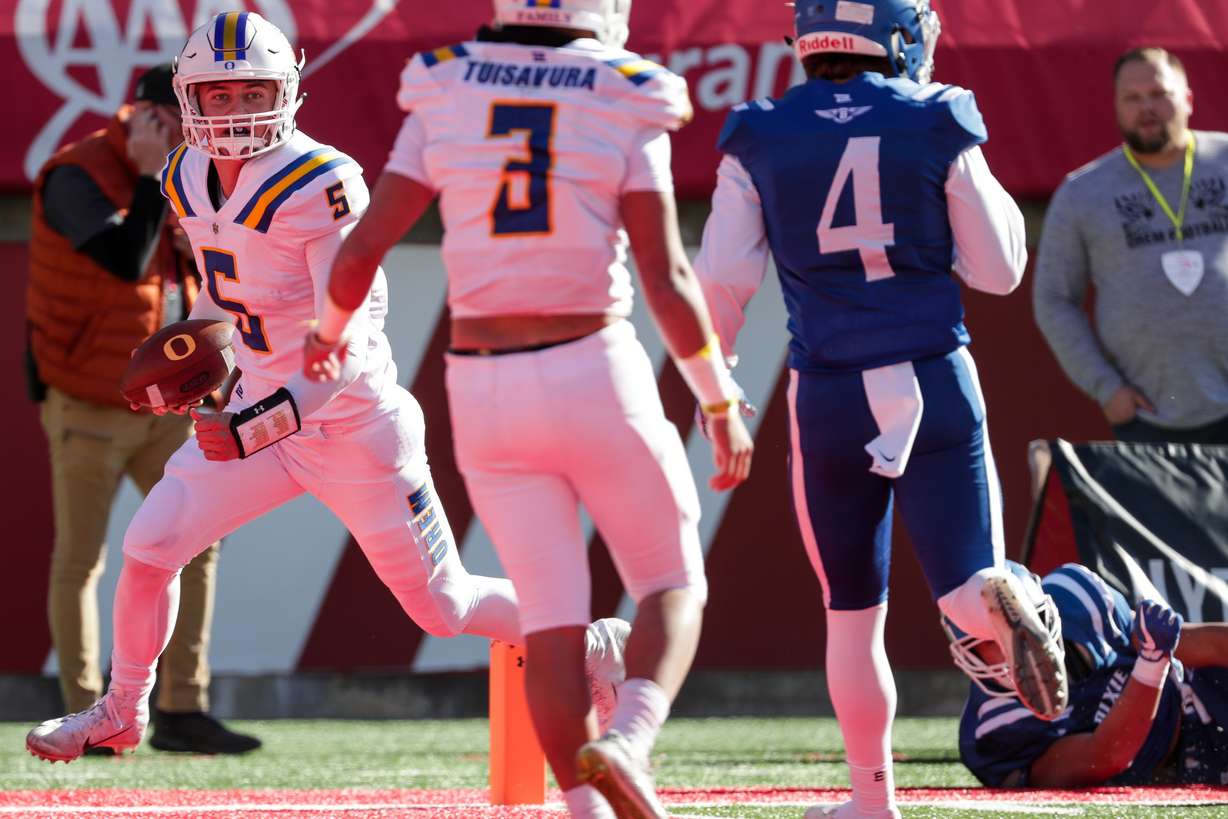 "This is maybe the second son," said Nacua. "He's definitely more athletic. He's the second son so he's gotta wait his turn. The first one it's sweet. Especially winning after a long time."
Orem was unstoppable on every level of the game. The Tigers scored touchdowns on offense, defense, and special teams.
The Tigers jumped out to a 13-0 lead by the time the first quarter ended. The offense had no problem making crucial plays when needed. After multiple penalties by the Tigers, they faced a first and 41, but responded the next play with a 43-yard reception to move the chains. Legas ended the drive with a 12-yard dime to Nacua, with no time left on the clock going into the second quarter.
Legas' first half was outstanding, besides throwing an interception to Dixie's Tyson Miller late in the second quarter. Dixie was unable to keep the Tigers' offense off the field, as Orem picked up 22 first downs and was near perfect on third down conversions (5-of-7). Legas made plays with his arm and his legs, rushing for a team-high 77 yards and one touchdown. He went 24-of-31 with 333 yards and three touchdowns through the air.
"I think it's more enjoyable just because last year the weather sucked so bad," said Legas with a grin. "This is awesome. This year the weather is nice."
He added, "There's always going to be some jitters coming in, it's the state championship no matter who we're playing. I think after the first drive we were like 'we have this let's just go out and play Orem football and we're set.'"
Flyers' junior quarterback Reggie Graff overcame throwing for less than 50 yards in the first half to connect with Joshua Cazier for the 37-yard touchdown to give the Flyers their first points of the game. Graff ran for an 18-yard touchdown in the fourth quarter although the game was already well in Orem's clutches. With those two touchdowns, he closed out the game 13-of-23 for 132 yards.
Junior Buju Tuisavura scored on back to back touchdowns when he intercepted Graff in the third quarter and returned it 33 yards. Next, Tuisavura showed his versatility after running 49 yards for his second touchdown to put the Tigers up 40-6 before the start of the fourth quarter.
Sophomore Joe Smith blocked Dixie's punt on fourth and 22, in their own territory, and senior Jakob Robinson returned it for the special teams touchdown.
"We just got a lot of weapons everywhere and you kind of have to pick your poison when you play us," said Hill. "We're just blessed with a lot of great athletes."
Orem won last year's state title in a convincing manner after they shut out Mountain Crest High School 26-0. Hill earned his two state title rings both as a coach and as a former Orem player in 1994.
---
Marcos Aragon is the Editor-in-Chief of the Salt Lake Community College student publication, The Globe.
×
Photos
Related stories
Most recent High School stories