Estimated read time: 5-6 minutes
This archived news story is available only for your personal, non-commercial use. Information in the story may be outdated or superseded by additional information. Reading or replaying the story in its archived form does not constitute a republication of the story.
SALT LAKE CITY — As the world watched the Taliban takeover unfold in Afghanistan and waves of Afghans evacuated the country, Gov. Spencer Cox wrote President Joe Biden to say Utah was eager to continue its long tradition of inviting refugees to make Utah their home.
Nearly two months later, a group of representatives on Tuesday came before the Salt Lake County Council to discuss how to continue that tradition and support the 140 Afghan refugees arriving in the next week.
Representatives from the Refugee Service Office, International Rescue Committee, Catholic Community Services, and Migration and Refugee Services gave the presentation. Catholic Community Services and International Rescue Committee are Utah's only refugee resettlement agencies and are expecting to receive about 765 refugees this month.
The various agencies involved in the process are a part of the county's community collaboration to meet the needs of the influx of refugees. The group identified three areas of collaboration between the county and groups to help "fill in the gaps." The workgroups include housing needs, basic needs, and community support.
Partner groups, including The Church of Jesus Christ of Latter-Day Saints, the Utah Food Bank and the Utah Muslim League Community, are helping ensure community support and basic needs are being met. The Salt Lake County Health Department and the Utah Department of Health will work to help address health needs, both physical and mental.
The 'critical issue' still being addressed
But housing seemed to be a point of concern for the group. Despite reaching out to and receiving some support from various hotels and housing agencies, the representatives emphasized the need.
"As you know, housing is a critical issue in our state and continues to be an important need for this population," Asha Parekh, of the Refugee Services Office, told the council.
It's an issue affirmed by Natalie El-Deiry, the executive director of the International Rescue Committee.
"We do have a network of really great supporters of people who are opening up their homes, their rental properties, to assist us with securing some of that housing and it's going to be a challenge," El-Deiry said. "I don't want to sugarcoat that in any way but we're doing our best to navigate it and have had some success."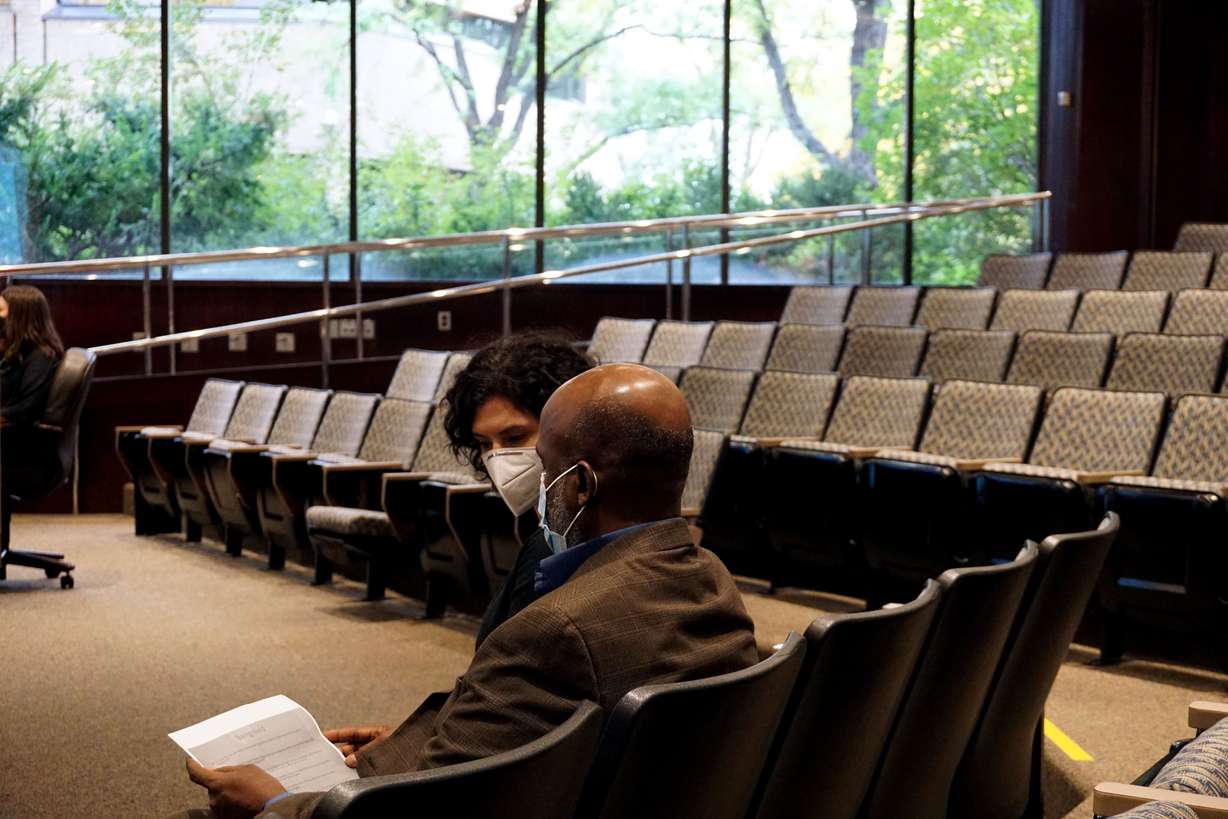 But the process hasn't been without its challenges, she noted. She added the number of incoming refugees was a rapid increase for the agency.
While the agencies are adjusting to meet that demand, the demand may continue to rise. A representative pointed to more than 50,000 Afghan refugees at U.S. military bases waiting to be resettled.
El-Deiry, a first-generation American, said she knows "what it's like to rebuild a life in another country, to maintain pieces of your own heritage while acculturating to it to new life."
She also noted that it was important for the community to embrace refugees amid the process of resettlement.
"It's really important to remember that people don't want to leave their homes. People are fleeing because of a well-founded fear of persecution, their lives are in danger," El-Deiry said. "It's our job to offer people a safe place to rebuild their home."
Sierra Leone refugee among those welcoming new refugees
Joseph Genda, Salt Lake County's New American and Refugee Liaison, knows the feeling of persecution and the process of rebuilding a life away from your home country.
Genda came to Utah in 2007, a refugee from Sierra Leone where he was born and studied.
War broke out when Genda was attending boarding school as a child, forcing some of his family to flee to the neighboring country of Guinea. Sierra Leone was at war with itself and rebels were gradually gaining territories throughout the country. Genda said as the group grew closer, his great-grandmother and grandmother urged his parents to flee.
When his parents hesitated, she insisted that the rebel groups were searching for younger people and that they only needed some food left behind.
"Unfortunately, they were ambushed. They were slaughtered," Genda said. "The rebels killed them with a machete."
The rebel group then tried to kill his uncle, who had stayed behind.
"Fortunately for him, the troops of the Sierra Leone army were very close and there was the heavy bombardment," he added.
His uncle was taken to a local hospital and survived the deep cuts to his neck.
As the war continued, rebel groups eventually cut off main roads into the city, preventing supplies from reaching the outer territories of Sierra Leone. It was as food became scarce, Genda said he knew he had to leave the home of another uncle to join his family in Guinea.
The family lived there in the refugee camp for six years until violence in Guinea forced them to relocate again to a refugee resettlement camp in Freetown, Sierra Leone. The family had expanded by then. Genda had met his wife at the camp, a refugee herself from Liberia. Genda, his wife, their child and families on both sides traveled once more through the jungle to reach Freetown.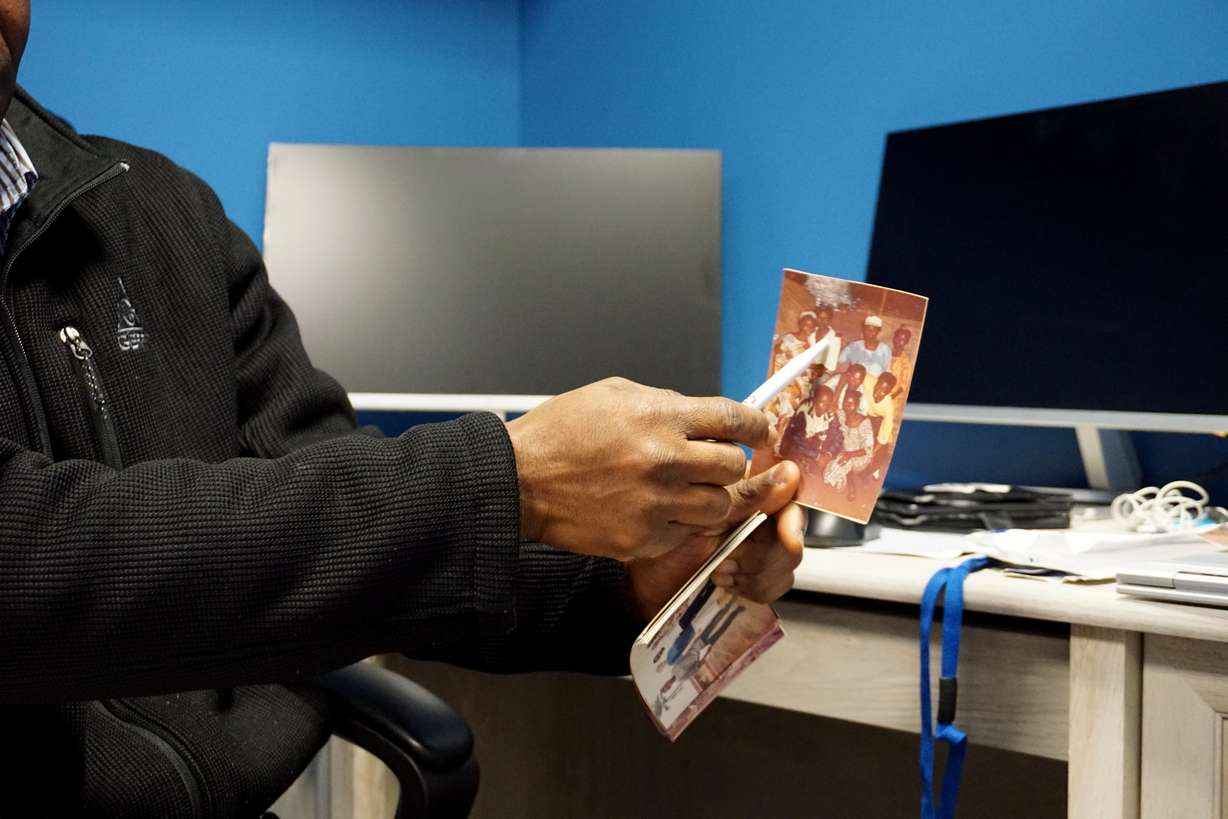 While staying in a displaced refugee camp in Freetown, Genda's wife was admitted to Utah under refugee status in 2005. Two years later Genda and his son were able to join her in the state.
The first thing he noticed, he recalled, was that he was finally able to sleep.
"You had to question yourself because there was bombardment everywhere. Food to eat was not there, there were moments in my life when I just relied on water to drink so I could live until the next day. Here I can sleep without thinking 'will I live until tomorrow?' I have all the resources I need around me. I have community members I can reach out to," Genda said.
Genda has lived in Salt Lake County since his arrival in 2007. The county and the support it's given him is the reason he's stayed all these years, he added.
He's now hoping to pay it forward for the newest refugees arriving in Utah.
"Irrespective of our race or our country of origin — sometimes those things are trivial issues — if we can put that all aside the community that we live in will be a better place to live in," Genda said. "I promise to those that are coming, I can attest to them that Salt Lake County is a nice place to live in and the community support is huge."
×
Photos
Related stories
Most recent Utah stories