Estimated read time: 7-8 minutes
This archived news story is available only for your personal, non-commercial use. Information in the story may be outdated or superseded by additional information. Reading or replaying the story in its archived form does not constitute a republication of the story.
SALT LAKE CITY — The chaos unfolded in 30 minutes.
First they got a call saying the Taliban had entered downtown Kabul. The next call warned they were only 5 kilometers away from Hamid Karzai International Airport.
So 34-year-old Azim Kakaie, an air traffic controller of 11 years, grabbed his things and evacuated the tower.
Kakaie is the first of what will likely be hundreds of recently evacuated Afghans that will soon call the Beehive State home. He spoke with the Deseret News on Thursday at the Catholic Community Service's Utah headquarters about 40 hours after arriving at the Salt Lake City International Airport — 40 hours spent navigating paperwork and a flood of media inquiries.
Leaving Afghanistan
As Taliban fighters enveloped the country's capital, Kakaie moved to a different, less exposed tower on the other side of the runway, along with his colleagues. Over the next two days, he saw firsthand the turmoil at the airport that would later captivate the world.
"The second day at noon (was) when the people came across the runway and held the aircraft," he said, describing the scene of hundreds of desperate Afghans chasing after a U.S. Air Force C-17, some clinging to its side. "They just want to leave the country and be somewhere else."
Kakaie spent several days in the tower providing air traffic support for the military planes shuttling people out of the country. Meanwhile his wife, Shazia, younger brother and mother-in-law were still at home. They had made several unsuccessful attempts to enter the Kabul airport.
Shazia was beaten by the Taliban. Her body started "turning black and swollen." She was tear-gassed by Afghan government forces guarding the airport. Every time she tried to get through the gates, she was turned away.
On the third day, air traffic control was handed over to the U.S. military. Kakaie was relieved of his duties and told by military officials that he should evacuate. It became clear that if Kakaie didn't leave immediately, the situation at the airport could continue to unravel, and he might never leave.
"I was deep under pressure and just crying, and my two American friends, they were holding me from the time that I left my room all the way to get to the (plane). ... It was very difficult," Kakaie said, his voice wavering.
He clasped his hands, and his eyes trailed off toward the floor as he tried to rein in his emotions.
"I cannot imagine ... what's going to happen to my wife and how I should leave and abandon my family like this. It was a very difficult decision."
Kakaie got on a plane and landed in Qatar hours later.
"Whatever I had from the day I was born until that point, I had to abandon," he said.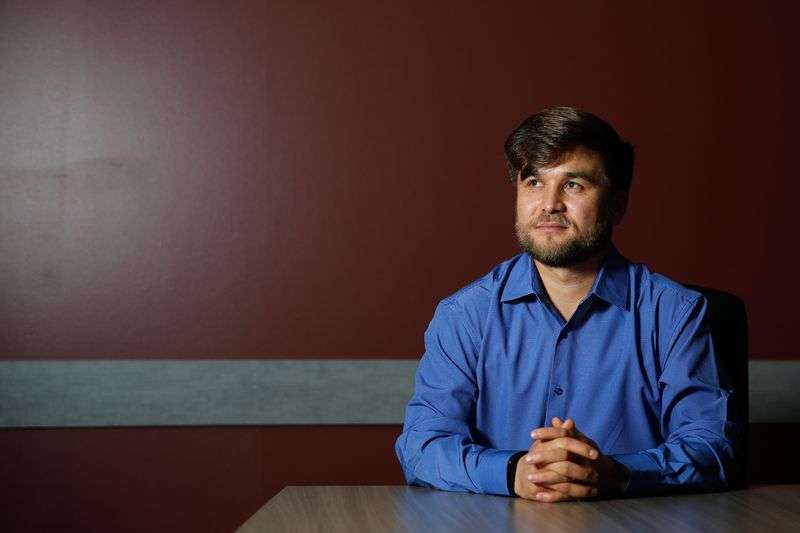 He let out a small laugh when he thought about the car he left behind.
"My vehicle is still at the airport, maybe. Or maybe it's destroyed, I don't know."
The day after he was evacuated, Kakaie's family took a different route to the airport that he said was guarded by "U.S. heroes" who let them in. Thirty minutes later at the same gate, a suicide bomber, later claimed to be an ISIS-K member, triggered an explosion that killed over 180 people, including 13 U.S. service members.
His family eventually boarded a plane. They were flown to a U.S. military base in Germany, where they're still waiting to be resettled in Utah.
One of Kakaie's first orders of business now that he's in Utah is to meet the family of Marine Staff Sgt. Taylor Hoover, a Utah native who was among those killed in the blast.
"I want to say thanks from my heart, that his sacrifice will be with all people ... he was trying to help the humanity of the people to get out of this difficult situation."
After spending several days in Qatar helping the State Department reunify Afghan families, Kakaie was flown to Washington, D.C., and ultimately Utah.
'Be strong'
Kakaie is one of over 110,000 Afghans evacuated from the Kabul airport over the past three weeks, although many of them are still bogged down in a web of bureaucracy and red tape that could delay the resettlement process by months.
Kakaie is a special immigrant visa holder, a status given to Afghans who worked alongside U.S. and allied forces — often as interpreters, translators or contractors — that helped streamline his resettlement process. However, many of the Afghans currently being held on U.S. military bases are classified as humanitarian parolees and likely meet the qualifications for a special immigrant visa, but the U.S. Embassy did not have time to process their paperwork during the chaotic evacuation.
Most parolees will eventually be granted political asylum. But it's "a lengthy and very complex process" that requires help from immigration attorneys and resettlement agencies, said Aden Batar, director of migration and refugee services for the Catholic Community Services of Utah.
"We're not going to get all the refugees at one time; it's going to be spread out over weeks or months," Batar said.
Kakaie's advice to those stuck in limbo? "Be strong."
"Once they are out of Kabul, they will be safe," he said. "I know it's going to take time for them to be in their final destination. They need to be strong, and they shouldn't lose hope."
The challenges ahead for Afghan refugees
Regardless of where they come from, refugees face a mountain of challenges upon their arrival — the language, jobs, culture, food, weather, laws and transportation are all new.
"Everything is foreign," Batar said. "Navigating through all that is going to take time."
Organizations like Catholic Community Services or the International Rescue Agency are tasked with making the transition for people like Kakaie as seamless as possible. Two days in, staff already took him grocery shopping and set him up with basic benefits from the state.
The immigration department is working to resettle his family, the employment team is trying to match him with a job and, if he wants, help enroll him at Salt Lake Community College. Kakaie is currently staying with his cousin, but when the time comes, staff members will help him find housing.
"From the time that I reach Utah, I don't face no challenges. This community is very supportive, they are very good people," Kakaie said.
Many coming from Afghanistan, a country plagued by nearly 40 years of war, might also be struggling with post-traumatic stress disorder, Batar said.
"Anyone that is coming from war-torn countries, mental health challenges are another thing that we need to be watching and assessing and providing any treatment they might need," he told the Deseret News on Thursday.
---
From the time that I reach Utah, I don't face no challenges. This community is very supportive, they are very good people.
–Azim Kakaie
---
Salt Lake City was recently named one of 19 cities where Afghan refugees can choose to be resettled, and it remains unclear exactly how many will land in Utah. Estimates from local advocates range from a couple hundred to over 1,000.
"We are ready to take any case that is given to us. ... We might get a couple hundred, but I don't know," said Batar, who noted the Beehive State can sustain up to 1,300 refugees each year.
'Everything's in danger'
The emotions Kakaie feels when he sees images of the Taliban walking freely through the city he once called home are hard to put into words.
"I want to be as strong as much as I can," he said. "But I cannot say when I am by myself how much I cried for all those people."
During the decadeslong war that cost the U.S. nearly $1 trillion, Kakaie witnessed a transformation in Kabul rife with new schools, towering buildings and paved roads. Now, he says, "it's all gone."
"The presence of the international community brought huge changes in Afghanistan," Kakaie said. "Universities, schools, human rights, democracy, media and communications, all of them were available somehow. But now, all of them, it's zero. Everything is in danger."
Kakaie's primary focus is now on getting his wife, brother and mother-in-law to Utah. The rest of his family is scattered, with brothers in Europe and Australia and a sister now safe in Pakistan. One of his brothers is still in Kabul.
He likes Utah. He says the people are nice, the culture is welcoming, and he's already in contact with several Afghan families. When he looks toward the Wasatch Mountains, he's reminded of the small village where he was born in central Afghanistan's Ghazni district.
"That's the one thing I really like," Kakaie said. "In the morning it's like OK, where am I? Am I in the United States? Or am I still there?"
×
Related stories
Most recent Utah stories