Estimated read time: 7-8 minutes
PROVO — The hardest game is always the next one.
Nowhere may that be more true than with BYU, the presently undefeated, 15th-ranked team in the country that opened the season with three consecutive wins over Pac-12 South opponents — the only team with such distinction in all of college football.
But following wins that knocked both Utah and Arizona State from the ranks of the Associated Press Top 25, the Cougars host South Florida on Saturday night (8:15 p.m. MT, ESPN2) in the ultimate trap game.
The Bulls (1-2) have yet to beat an opponent from the Football Bowl Subdivision, and snapped a 10-game losing streak with a 38-15 win over Florida A&M last weekend. Perhaps unsurprisingly, the Cougars opened as a 23-point favorite — with as much as 86% of the money in Las Vegas flowing in BYU's favor — despite a season-ending injury to their leading tackler.
And that makes USF all the more dangerous, especially with BYU set to face regional rivals Utah State and Boise State on the other side of Saturday night.
In the immortal words of legendary war strategist Admiral Gial Ackbar: "It's a trap" — and one that the Cougars are taking seriously.
"We've got a very athletic, passionate team that is coming to our home this weekend," BYU coach Kalani Sitake said. "We've seen South Florida on the field before, and Jeff Scott is a very good head coach. He has tons of experience, came from Clemson, and has really been a big part of the culture they built there. I see him trying to do similar things at South Florida.
"Our focus, our mindset is on that game and making sure we are at our best this week."
Winners of 14 of the last 15 games dating back to last season, the Cougars (3-0) know they are only as good as what they show against their next opponent.
And their next one has the profile of a team that regularly unseats BYU's best seasons. Built in the recruiting hotbed of Florida, the Bulls are led by a freshman quarterback Timmy McClain from powerhouse Seminole High School, a 50% passer who has thrown for 371 yards and a touchdown with two interceptions in three games, including a 45-0 shutout loss at North Carolina State and a 42-20 home loss to No. 11 Florida.
The Bulls also boast a potential star running back in Brian Battie, a sophomore from Sarasota, Florida, who is averaging 6.5 yards per carry for 151 yards through three games. He's also the Bulls' top kick returner at 16.6 yards per return, including a 33-yarder against NC State.
BYU is South Florida's last chance to make any sort of a statement before entering American Athletic Conference play, and the Bulls will get that chance in the program's first-ever game to kickoff after 10 p.m. on the east coast.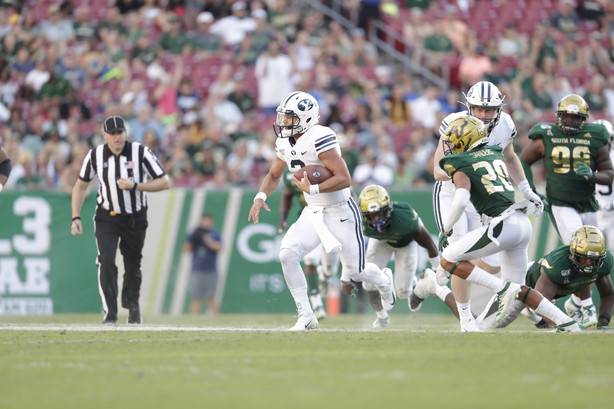 "They play a very unique scheme," BYU offensive coordinator Aaron Roderick said. "It has some elements of Rocky Long at San Diego State kind of stuff; it's a unique defense, for sure.
"They have a lot of team speed. The last time we played these guys, they made us look pretty bad. I know it's a different team, but it's a team that can make you look bad if you're not prepared."
Indeed, the last time BYU faced USF was a meeting of two different teams. In the first meeting between the two schools in either program's history, Jaren Hall was making his first start at quarterback, threw for a touchdown and rushed for another, and was substituted off with an injury before Baylor Romney came and couldn't complete the comeback en route to a 27-23 loss at Raymond James Stadium.
There are significant differences between both programs from that Oct. 12, 2019 matchup — there's little doubt whether former coach Charlie Strong left the Bulls on firm footing before he was fired ahead of the 2020 season, spent a year as an analyst at Alabama, and recently joined former Utah coach Urban Meyer with the Jacksonville Jaguars, as assistant head coach and inside linebackers coach.
Now it's Scott who took over in a cupboard that was exactly left fully stocked for the former Clemson co-offensive coordinator in his first collegiate head coaching job. And Scott was also surprised by what he saw on tape of BYU.
"The thing that has surprised me is how fast they are," he told his local media this week. "They have really improved their team speed and they have a lot of athleticism. They are playing with a high level of confidence and they know their scheme, inside and out. It's probably the most difficult scheme to prepare for because they do so many things."
But the BYU players who made the trek to South Florida two years ago remember that day with incredible detail.
"A good number of our starters and guys we're counting on played in that game," Roderick said, adding that "it comes up a lot" in casual conversation. "They remember how awful that felt, and you've got to respect the game and every opponent. They have our attention."
Max Tooley was coming off a redshirt season in 2019, and totaled three tackles against USF as a redshirt freshman. But what remembers most was the feeling of loss while standing on the home turf of the Tampa Bay Buccaneers, just a few weeks after thrilling wins over Tennessee and then-No. 24 USC.
BYU's loss to USF was their third-straight defeat of the season, one perhaps rescued by Romney as he led the Cougars to a stunning win over then-No. 14 Boise State a week later en route to a five-game winning streak that regained bowl eligibility before a loss in the Hawaii Bowl.
"In hindsight, it's a similar situation going into this game," Tooley said. "We've stressed this whole season to be confident, but not too confident. You can't go into a game hinge you're going to dominate; you have to play each game like it's going to be a dogfight.
"South Florida is a good team. They have some athletes, like two years ago how they ran the ball really well (against BYU). I think it's just a matter of trusting our responsibilities and taking care of our one-eleventh."
Gunner Romney, who caught four passes for 47 yards against USF before watching his older brother come on in relief for Hall, remembers that game well.
Last week's game against the Sun Devils was "personal" for the former Chandler High product who grew up 15 minutes away from ASU in the Valley of the Sun. This week's game may be just as personal for a lot of players who were around two years ago.
"I think there's a lot of motivation because of the loss they handed us in Florida," Romney said. "We don't want that to happen again. This is a completely new team, but those losses hurt. We have a lot of motivation to give back to those guys."
It was easy for Sitake and the coaching staff to direct the "razor-sharp focus" from Week 1 against lowly Arizona to Week 2's rivalry game against Utah, and even to Week 3's Top-25 clash with Arizona State.
But keeping that emotion up for a near-winless South Florida team has to be more difficult, right? One might be excused for believing as much, at least.
Not a chance, said offensive lineman Harris LaChance, recently returned from a fresh trimming at the local barber shop where he donated his once-flowing locks on the altar of the Honor Code office on behalf of the Cougars' 2021 season.
"I think it's in our mindset from the beginning," he said. "From the beginning, we've said 'no highs and no lows.' You want to keep it steady, and that's why every week is the most important game of our lives.
"You have to take things play by play, day by day. And then when we win, it's freaking awesome; it's the best game. Every week is the biggest game, and then I'll look at it in a couple of years and know what was really a big game. But I think right now, our mindset is that every game — no matter who it is — is our biggest game this week."
How to watch, stream and listen to the game
No. 15 BYU (3-0) vs. South Florida (1-2)
LaVell Edwards Stadium, Provo
Kickoff: 8:15 p.m. MT
TV: ESPN (Beth Mowins, Kirk Morrison, Dawn Davenport)
Streaming: WatchESPN
Radio: BYU Radio Sirius XM 143, KSL Radio 1160 AM/102.7 FM (Greg Wrubell, Riley Nelson, Mitchell Juergens)
Series: USF leads, 1-0
First time, eh?: The Bulls won't just be playing their first-ever game in Provo, but will also be playing in their first-ever game that kicks off after 10 p.m. ET in the program's history. USF is coming off a 27-23 win over BYU in the series opener in 2019 at Raymond James Stadium in Tampa, Florida.
Big 250: A win over South Florida would give BYU 250 wins all-time at LaVell Edwards Stadium, dating back to 1964 when the then-Cougar Stadium was constructed. The Cougars are 249-80 at the venue, a .757 winning percentage that includes a 94-31 mark since it was renamed in honor of the college football hall of fame before the final home game of the 2000 season.
×
Related Stories