Estimated read time: 8-9 minutes
PROVO — Why can't somebody do that for the talented young women on campus?
That was the thought Jonathan Oliver had to his wife when he found out about name, image and likeness. And as he read about the groundbreaking deal between American Fork-based Built Brands and the BYU football program that offered to pay for every walk-on's tuition.
Oliver applauded the move, but he thought there could be more. Specifically, he thought of the hundreds of female athletes at BYU playing sports like soccer, volleyball, basketball and cross country (among others) who worked just as hard as their male counterparts.
And then another thought hit him and his wife: this was going to be his job, as co-founder and CEO of Provo-based tech company SmartyStreets, wasn't it?
The father of five with four daughters — a proud #GirlDad in his own right — made at least the second-biggest move of BYU's NIL era Tuesday when he partnered with every BYU female athlete, from basketball and soccer to volleyball and cheerleading, on a deal that would pay up to $6,000 individually for promoting Provo-based SmartyStreets on social media and participating in various company events and promotions.
"Built Bar was an inspiration to us; first-mover advantage, they got out fast and made something happen. That was the precedent," Oliver told KSL.com during a lengthy conversation in the startup's offices in south Provo. "But I quickly realized somebody should do something for the women athletes on campus, and then it hit me: It's going to be me; I'm going to do it."
In total, the deal worth up to $6,000 each with more than 300 female athletes at BYU could surpass $2 million. It's already gained some traction on social media, as well as in tech journals like Silicon Slopes, and several athletes have posted about the event — most are as excited for the free pair of Nike Air Jordans that Oliver brought to the ballroom in the downtown Provo Marriott to introduce himself than the long-ranging contract.
Because of NCAA rules and their impact on student visas, international athletes can't receive name, image and likeness endorsements. So instead, SmartyStreets donated scholarships in the form of $6,000 each to BYU to support female international student-athletes.
Oliver admits that — like Built Bar's partnership with BYU football — his deal likely wouldn't have been possible were it not for a state like Utah that doesn't have legislation regulating name, image and likeness. It also needed a deep-pocketed investor who wanted to give back to the community, but specifically the female athletes whose games, meets and competitions aren't broadcast every week through an exclusive contract with ESPN, or raking in millions of dollars in revenue to help fund the athletic department.
But it's worth every penny, Oliver said.
"My company has a slogan: Everyone needs validation," he said. "We mean that in two different ways: Everyone we interact with needs to feel like they matter; and secondly, every company that interacts with some kind of address needs what we do. Now it's just a matter of getting in front of enough eyeballs."
As a business-to-business service, SmartyStreets has been well-known within Utah business communities for a while. If you've used ecommerce or online shipping, especially on the Wasatch Front, there's a good chance your address has been run through SmartyStreets either directly or through the company's API that is being used by some of the largest corporations in the United States.
"We have a fairly wide exposure in business with companies that use our system," Oliver said, before adding with a laugh. "If it does it right, it's our system."
Essentially, SmartyStreets is likely one of the most-used companies you've never heard of — until now.
In the weeks following Built Brands' agreement, Oliver reached out to BYU Athletics to gauge the school's interest for a similar deal and figure out how to make the discussions legitimate for the company, the university, and any other legal parameters that might be met. But he also wanted to be clear: This is not a contract with BYU.
The only deal is with each individual female athlete at BYU, much like Built Brand's with football players. The financial compensation, the free Jordans and forthcoming equipment upgrades will be donated by SmartyStreets to the individual athletes.
"Being in that room yesterday and witnessing that with our female student-athletes was really amazing," BYU associate athletic director and senior women's administrator Liz Darger told BYUtv. "I think SmartyStreets is really paving the way and leading the way. They are showing the importance of empowering women and the value that women bring.
"Our female student-athletes are remarkable. They are fierce competitors, but they are kind, smart and inclusive. You look at how they use their platforms for good, and for a company like SmartyStreets to come along and say 'we want to do deals with every single one of them' says a lot about Smarty and what they want to do."
Added BYU athletic director Tom Holmoe: "We are happy to see SmartyStreets take the lead in supporting the success of these incredible student-athletes."
SmartyStreets has tapped the BYU pipeline for years — mostly computer scientists and front-end and back-end developers to work for the company. Tuesday's announcement was just an extension of previous, unpublicized deals with other BYU graduates.
Oliver understands the needs of BYU students, too — he attended the university before launching his Provo-based startup that provides enterprise-grade address validation, standardization and geocoding services for ecommerce giants and other industries around the United States and in 240 countries and territories.
But much like his company's public outreach, much of Smarty's connection to BYU remained out of the public eye.
The new deal won't just benefit BYU athletes, but also his startup. That's good business, after all.
But that's not the end goal, either.
"The social media side is more hyperlinks, more exposure, more traffic," Oliver said. "The benefit to us is the hyperlinks and traffic and exposure, but that's not really why we did that. I'm probably not supposed to say that, but we did it because it's the right thing to do. These athletes work so hard, and are just as committed and dedicated and inspirational as the football players. Just because they don't have the same press or exposure doesn't mean they aren't as important.
"This was a way to shine a light on these hardworking individuals, and we could make a financial case for it, too."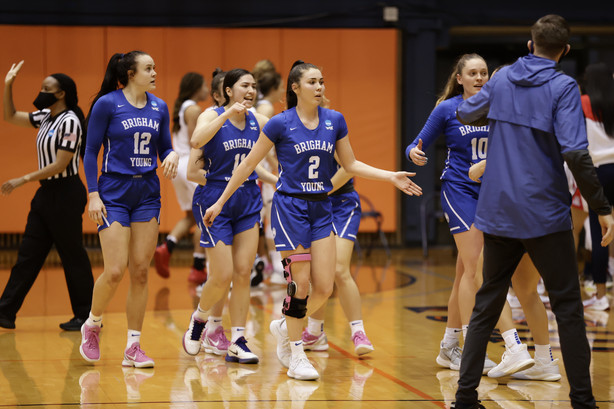 In that regard, Oliver perhaps tapped an even (pardon the pun) smarter market.
Female athletes have, in many cases, the larger online following on BYU campus. Women's basketball star Shaylee Gonzales has just shy of 80,000 Instagram followers and 129,000 YouTube subscribers that call themselves "ShayBaes," and women's volleyball standout Kenzie Koerber has more than 5,500 Instagram followers, to name a couple of examples.
In terms of "bang for your buck," it may be the women that best drive traffic among BYU fans online. Football and men's basketball players have significant followings, but they also have regular media coverage and official BYU marketing to promote them and their accomplishments.
The women have less of that; they are their own marketing, and many of them have learned to be their own marketing machines.
"That occurred to me as we were putting this all together," Oliver said. "They're so well-connected that it was just retweet after retweet after retweet.
"As we pay attention to them, we really give them the attention that they deserve. They've worked so hard, and this is a nice upwards, virtuous spiral for everybody. And all we need are a few big deals coming through this thing to make this work for us."
Every female athlete on campus, including the Cougarettes and spirit squad, has an offer extended from SmartyStreets — though some have been more eager to sign on than others, for a variety of reasons. No division is given between full or partial scholarships, or even walk-ons.
Funding through the sponsorship will require regular social media posts — at least monthly, though the hope is obviously more — in addition to appearances within the organization — SmartyStreets brought in several cross country runners for the company's weekly Waffle Wednesday a day after signing the arrangement — and outside appearances, such as the annual Sub for Santa drive in which the company is involved every Christmas.
"We do a lot of activities together, and we enjoy that. We sometimes will do a lot of activities with families and plus-ones," SmartyStreets President Doug Edwards said. "And when we go to these events, it's even better to be able to take a picture with some of the athletes and mingle.
"It's just fun to know that we're a part of their success, too."
Flying high after the #SmartyAthlete NIL announcement yesterday for female #BYU student-athletes. We hosted four members of the cross country team at our #WaffleWednesday this morning.

If you haven't heard about the announcement, you can learn more here: https://t.co/vBBlSfD7HVpic.twitter.com/uEwGhgNQ3y

— SmartyStreets (@smartystreets) September 22, 2021
The deal with each athlete is non-exclusive with SmartyStreets, and that was on purpose, Oliver said. The company doesn't want to prevent any of its sponsored athletes from maximizing their name, image and likeness rights as much as possible.
"We want them to have dozens of these things. That would be awesome," he said. "Can you imagine if an athlete never had to get a job at a grocery story or a fast-food restaurant ever again? That elevates the program. Recruiting efforts are heightened. They create better and better programs in gymnastics, tennis, golf, or whatever it may be."
Because it's an NIL deal, BYU Athletics isn't contracted with SmartyStreets. The company won't receive free tickets to soccer matches, cross country meets, or a private suite at Saturday's football game.
There's some risk, say, that the deal doesn't pay off. Maybe Smarty doesn't get the traffic and social driver that is worth the six-figure price of admission.
But that's only part of the intended purpose, Oliver was quick to add.
"It is a risk. It may not pay off," he said. "But if it doesn't, and we just do some good, that's OK."
×
Related Stories