Estimated read time: 5-6 minutes
PROVO — Jaren Hall had just taken a sack for a 9-yard loss, and the Cougars were in trouble early in a 7-7 game against then-No. 19 ranked Arizona State Saturday.
At least, they could have been.
Instead, the Cougars unleashed perhaps their biggest unheralded weapon through three games of the season, a 3-0 start to the season that marks the first back-to-back such starts since the 1951 and 1952 seasons.
Ryan Rehkow was ready.
The freshman punter booted an 83-yard boomer from the BYU 17-yard line, flipping the field and pinning the Sun Devils at their own 20 with one swift kick against the slightest headwind en route to BYU's 27-17 win over Arizona State that moved the Cougars to No. 15 in the latest Associated Press Top 25.
"I think the conditions during the game were about as ideal as it gets," Rehkow said in the week leading up to Saturday night's home game against South Florida (8:15 p.m. MT, ESPN2). "Maybe I can get it a little further (next time), but that was about as clean as they come."
As clean and as perfect as they have come, at least, in BYU history. With the kick, Rehkow owns the BYU school record for longest punt, breaking Scott Arellano's 81-yard punt set against Middle Tennessee in 2014, as well as the longest punt of the admittedly short 2021 season in the Football Bowl Subdivision.
🏆 LONGEST PUNT IN BYU HISTORY 🏆

Freshman Punter, Ryan Rhekhow kicks an 83-yard punt to break the record.#BYUAFR | #BYUFOOTBALLpic.twitter.com/zNOMVp9kxY

— BYUtv Sports (@byutvsports) September 21, 2021
"It feels pretty cool," Rehkow said. "I didn't know it at the time, but it's an honor, for sure."
With 16 punts through three games of his freshman year — the second one, because of the COVID-19 pandemic that granted Rehkow a free season of eligibility after playing in 12 games with 1,264 yards and just one touchback in 2020 — he's averaging 51.4 yards per punt, the fourth-best mark in the nation, with nine fewer punts than FBS leader Matt Araiza of San Diego State (53.8 average).
Of his 16 punts, 10 have gone for more than 50 yards, five have been downed inside the 20, and only four rolled into the end zone for touchbacks. But he wasn't a candidate for the Ray Guy Award, which is given to the top punter annually in college football.
Until Sunday at least, when the selection committee remedied the oversight and added Rehkow to their 2021 watchlist.
"He doesn't always get enough punts to be recognized," BYU assistant head coach and special teams coordinator Ed Lamb said during his Coordinators' Corner coaches show Monday morning. "He's a huge part of our game, especially in the first half (against ASU) with the way he was able to flip the field. Tremendous game by Ryan."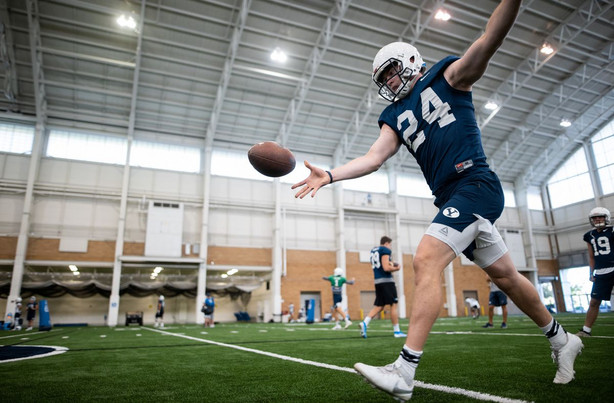 Specialists aren't considered ostensibly offensive or defensive players. But there's no denying that Rehkow, as the first line of defense for BYU defensive coordinator Ilaisa Tuiaki, is a serious weapon.
"He's unbelievable," Tuiaki said. "It's huge for us to have. The last three years, we've lived through a few nightmares of 15-yard punts; and for somebody to flip the field like he does, the percentage of points that an offense is going to get changes everything in your favor.
"Rehkow's been huge for us. It's been unbelievably huge for us to have that kind of field advantage."
Punting has always been Rehkow's thing, since as long as he can remember throwing the ball around with his older brother, Austin, who played punter and kicker at Idaho before a journeyman NFL career that included stops with the Buffalo Bills, New York Giants, Houston Roughnecks of the XFL and the Salt Lake Stallions of the Alliance of American Football.
Most recently, Austin Rehkow signed a reserve/futures contract with the Indianapolis Colts in January, but was waived four months later during the offseason.
Both are talented kickers and punters, as the 6-foot-3, three-time All-Sun Belt Punter and FBS Special Teams player of the year in 2013 showed during Austin Rehkow's star-studded career.
His younger brother could also have a long professional career when his time in Provo is up, too. Part of that is simply that Ryan Rehkow, who stands 6-foot-6 and 232 pounds, is built more like a linebacker than a specialist.
"I did it all in high school, and I really enjoyed it," Rehkow said. "But as it went on, I learned I had more of a punter body than a kicker's.
"Punting is a lot about leverage. The taller you are, the more you have physics working for you. Kicking is a very compact, explosive movement. You can have a big kicker, but my body type leans more toward punting than kicking."
So, too, do his brains. A business major specializing in finance in BYU's esteemed Marriott School of Business, the freshman from Veradale, Washington, is as much a student as he is student of the game.
"Ryan Rehkow is a stud," said BYU linebacker Ben Bywater, who is also Rehkow's classmate in the finance program. "It's so fun having him on our team.
"He's a smart guy. He's on top of his game and his studies; it's fun to see him 4-5 classes every day and then go to practice together."
As a freshman, Rehkow knows he can get better, too. But where do you go when you hit a school-record 83-yard punt?
At least to 84 yards.
"I need to make sure it's higher in the air so our gunners can get down there," Rehkow said. "There have been times where I got the distance, but didn't have the hang time. That's definitely an area where I can improve."
×
Related Stories