Estimated read time: 5-6 minutes
This archived news story is available only for your personal, non-commercial use. Information in the story may be outdated or superseded by additional information. Reading or replaying the story in its archived form does not constitute a republication of the story.
SALT LAKE CITY — BYU football's once-promising season is on the verge of collapse.
For the second-straight week, a backup quarterback failed to rally the Cougars in a road spot against a Group of Five opponent, with BYU falling 27-23 Saturday to South Florida at Raymond James Stadium in Tampa, Florida.
It's been almost exactly one month since the Cougars were 2-1 with wins over Tennessee and USC. But it might as well have been a year, after a loss to a South Florida team that hadn't beaten an FBS opponent apart from woeful Connecticut since Oct. 12, 2017.
The murmurs will grow sufficiently regarding head coach Kalani Sitake's job status as the team prepares to host No. 14 Boise State next weekend. The fourth-year head coach even confirmed that there will be changes in the program in his postgame press conference from Tampa.
"I'm really, really frustrated right now," Sitake said on BYU Radio. "We'll evaluate everything. This is not the type of defense that I expect from our guys and from our staff. There has to be a huge improvement."
What will those changes be? That will be up to the next week to decide.
But before firing up that latest tweet with the hashtag #FireKalani, let's take a look back at a destructive loss to the Bulls, who move improved to 3-3 on the season.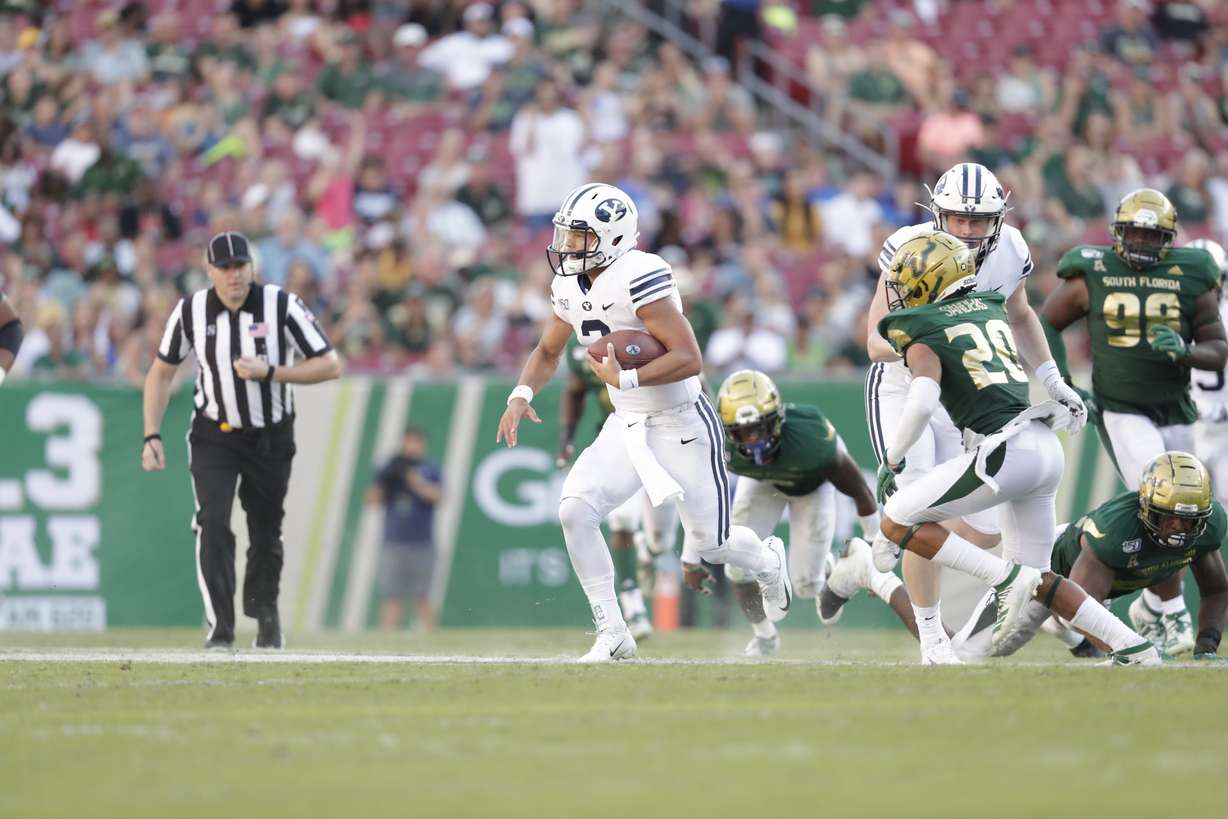 Jaren Hall wasn't the problem
The son of former BYU football star Kalin and Cougar gymnast Hollie Hamilton, Hall was still a relative unknown when he was tabbed to be the first African American starting quarterback in BYU history, with incumbent starter Zach Wilson undergoing surgery for a fractured thumb.
Hall's first start was nearly stupendous, completing 15-of-23 passes for one touchdown with no interceptions, and running for a team-high 83 yards and another score.
But with the game on the line, Hall took a sack — five in total, if you're counting — and exited the game in the fourth quarter while he underwent concussion protocol.
That left the game in Baylor Romney's hands. And much like Hall a week earlier in a 28-21 loss at Toledo, the backup's admirable play couldn't bring the BYU back despite leading for more than three quarters.
Both quarterbacks did well filling in for Wilson, and both earned the respect of their teammates.
"I was super impressed, mostly with the leadership they brought to the field," BYU running back Lopini Katoa said of Romney. "I looked in Baylor's eyes (before his first drive), and he had no hesitation.
"I'm proud of Baylor. I'm proud of Jaren. They both fought their butts off. I have all good things to say about them."
BYU's offensive line struggles
Hall wasn't the only redshirt freshman who got the first start of his career.
Clark Barrington made his first career start at right guard, with standout Tristen Hoge not making the trip with an undisclosed injury. And the new line's chemistry took its toll, giving up six sacks — five to Hall, and one more to Romney in the closing moments of the game — as part of the starting quarterback's 17 yards of lost yardage from being downed in the backfield.
In many ways, the Cougars' offense line resembled the defensive line — which ranked among the worst in the nation in run defense and did little to upend that distinction against the Bulls.
"It looked like we were getting knocked off the line of scrimmage," Sitake said. "They were knocking us off the ball, getting chunk yardage. Give them credit, because they were getting off the line of scrimmage.
"They beat us in the second half. It didn't help that we made a lot of mistakes in all three phases. But defensively, we talked about stopping the run. They did that, and that's what gave them the opportunity to score points."
To make matters even worse, fellow linemen Keanu Saleapaga and Thomas Shoaf both missed time on the field with injuries — though neither seemed to be of a long-tenured nature. Still, a season of injuries is adding up for a thin BYU squad as it takes three-straight losses into games against regional rivals Boise State and Utah State.
Another wasted defensive effort
For the second-straight week, BYU lost a game in which the defense forced more turnovers than the offense gave away.
But while the plus-one turnover margin is nice, it doesn't make up for the lack of points on the board.
Dayan Ghanwoloku struggled with injuries earlier this week in practice, and though he traveled to Tampa, he didn't play in a game time decision.
A microcosm of the wasted defense came in the form of Chaz Ah You's second-half interception. The hybrid linebacker/defensive back went up and pulled down an acrobatic touchdown with the Bulls driving for a score. But moments later, the Cougars turned the ball over and Danny Jones' punt — whether by an awkward snap or simply his own mishandling, we may never know — was muffed, and USF turned a short field into a touchdown.
Even the good moments didn't always go right for BYU. Maybe getting back home to LaVell Edwards Stadium, where the Cougars will host No. 14 Boise State next Saturday, will do them some good.
Maybe.
"It's going to be nice to play at home, to get a win in front of our home crowd," Katoa said. "And with it being Boise State, that will be a good challenge for us and one we love to have because of our history with them.
"It's a perfect game to follow up with this game."
×
Related links
Related stories
Most recent BYU Cougars stories