Estimated read time: 7-8 minutes
PROVO — Perhaps no play better illustrates BYU's never-say-die attitude against No. 19 Arizona State than one made by Tyler Allgeier — and it had nothing to do with running the ball.
It came after quarterback Jaren Hall rushed 28 yards down the west sideline before stepping out at the ASU 26-yard line. One play later, the redshirt sophomore quarterback threw an interception to Merlin Robertson, who returned the pick 60 yards.
But 15 yards before finding the end zone, Allgeier — who played linebacker briefly at BYU but showed he should've been a professional wrestler— leapt at Robertson and punched the ball free. Hall was there to recover the fumble and the Cougars saved the touchdown — and the lead — to preserve a 21-17 advantage going into the fourth quarter.
Allgeier rushed for 69 yards and a touchdown on 21 carries, and Hall completed 15-of-27 passes for 214 yards, two touchdowns and two interceptions as No. 23 BYU fended off a late charge from a ranked Pac-12 South opponent for the second-straight week, holding off the Sun Devils 27-17 late Saturday night at LaVell Edwards Stadium.
WHAT A DAMN PLAY by Allgeier. pic.twitter.com/ESAldmi2bC

— Bryan Fischer (@BryanDFischer) September 19, 2021
But it was that one play — a defensive play made by an offensive player with a defensive background (and possible defensive future, linebacker Max Tooley joked) — that will immortalize Allgeier in the first meeting between BYU and Arizona State since 1998.
And it was completely spontaneous, he said.
"It came out of nowhere," Allgeier said. "I just wanted to try something new, and it ended up working. Hopefully it caught us a dub."
With the win, BYU improved to 3-0 on the year — all wins against the Pac-12 in Arizona, Utah and Arizona State.
Tooley called him a "first-round linebacker" for the play. Tight end Isaac Rex called him a hero. Head coach Kalani Sitake gave Allgeier the game ball at the end of the night because that was exactly the kind of play BYU needed to save a remarkable start to the season, possibly the only team in the country to face three-straight Power Five opponents — even if one of them lost Saturday to FCS Northern Arizona for the first time since 1932, and another took San Diego State to a 2-point shootout, triple overtime before falling.
"That's exactly why I don't mind him being a good example of what our team is all about," Sitake said of Allgeier. "He just doesn't quit, especially when it looks bad or things are down. I think him making the tackle is a huge play for us, but going in there and poking the ball out — I gave him the game ball, because that's what it's all about. Those type of plays help you win games, and we have a bunch of guys who do things like that."
Allgeier wasn't the only one, of course. Talmage Gunther forced a fumble on the opening kickoff, one recovered by Hayden Livingston that Allgeier converted into a touchdown less than 40 seconds later.
And somebody had to recover that forced fumble, which Hall was more than happy to do to help make up for his "terrible ball security" that preceded "the play of the year in all of college football."
"I was there, and he even out-ran me," Hall said of Allgeier. "But I was just trying to make a play, and make up for a mistake. It worked out OK."
But if there was an MVP, it may well have been the crowd of 61,370 fans — most of them pouring over the visual walls in true "whiteout" fashion that honored the 1996 Cotton Bowl champion team.
Arizona State had 16 penalties for 121 yards, including four false starts during a six-play, 9-yard net positive drive that lasted five minutes in the fourth quarter. The drive started on the Arizona State 5-yard line before Eddie Czaplicki punted 59 yards from his own 14-yard line with 6:37 remaining.
Then, like they did a week ago with a focused approach in slamming the door on a potential comeback against rival Utah, the Cougars killed off the game with a masterful 12-play, 77-yard drive over 5 minutes and 18 seconds that was capped off by Baylor Romney's 3-yard pass to Isaac Rex — his second score of the game — to go up 27-17 with 1:19 on the clock.
Jayden Daniels threw for 265 yards and two interceptions, and Daniyel Ngata ran for 82 yards and a score for Arizona State (2-1) in their first road game of the season.
"They were literally the 12th man, like the Seahawks," said Rex, who caught two passes for 18 yards, both touchdowns. "The ASU offense couldn't even hear the quarterback when they were by the ROC.
"They were literally the difference makers in this game. I love the ROC so much and all the BYU fans."
Gunner Romney caught six passes for 95 yards and a touchdown, and Neil Pau'u and Dallin Holker combined for 85 yards on five catches.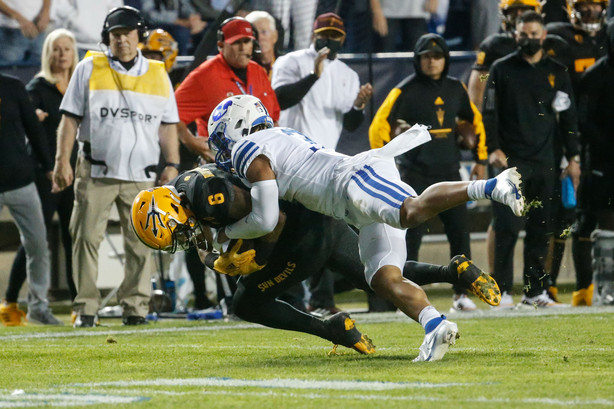 Hall also ran for 38 yards on seven carries but left the game in the final moments after being helped from the field by the medical staff. After trudging to the medical tent and then following the athletic training staff into the locker room early, the Maple Mountain product returned to the media area for postgame interviews and said he had the wind knocked out of him.
"Those are some big boys," he said, before adding: "I'll be ready to practice Monday."
Ryan Rehkow punted six times for 317 yards, a stellar 52.8 yards per punt average that included four boomers of 50 yards or more, one punt downed inside the 20, and a program-record 83-yarder that snapped the previous record of 81 set by Scott Arellano in 2014.
Yes, we're talking about the punter. But if ever the game ball were to go to special teams, Saturday was the night.
Arizona State out-gained the Cougars 426 yards to 361, but committed four turnovers and gave up eight tackles for loss — including two sacks against Daniels.
Tooley had a career-high 10 tackles for BYU, in addition to sharing a sack and pulling down his third career interception. Keenan Pili added seven tackles, including two tackles for loss, and Malik Moore had four tackles and a pick.
A lot of players fulfilled the "one-eleventh," as Sitake likes to say. But Allgeier made enough plays to be considered two-elevenths — one for linebacker, one for running back.
"That was 200 IQ, absolutely," Tooley said. "Watching that go down, seeing the interception and game time, it was a dagger in the heart to watch Tyler's instincts, his awareness, obviously honing his linebacking days. I still think he could be a first-round linebacker if he still played there. It was a game-changer."
For a team that started with a muffed kick return in the red zone and first-half touchdowns by Allgeier, Romney and Rex, Saturday's win felt much more like a trip to the dentist than most of the fans in attendance would have liked.
But the end result was the same as last week's 26-17 win over the Utes — minus the postgame mosh pit at midfield where 63,000-plus fans celebrated the end of a nine-game, 12-year losing skid by lifting Sitake on their shoulders and draping the Cougars' turnover chain around his neck.
"We want to start fast every game, and Talmage made that huge play on kickoff that set the tone," Tooley said. "But you play based off what happens next. Our offense had some three-and-outs, but our defense is always up to the challenge.
"We knew that playing a ranked ASU team, it was going to be a dogfight the whole way. We just trusted our scheme, trusted our technique, and made plays. That's all that matters."
BYU hosts South Florida (1-2) next Saturday, the Cougars' first game against a non-Power Five opponent. Kickoff is scheduled for 8:15 p.m. MT on ESPN2 or ESPNU.
×
Photos
Related Links
Related Stories