Estimated read time: 6-7 minutes
This archived news story is available only for your personal, non-commercial use. Information in the story may be outdated or superseded by additional information. Reading or replaying the story in its archived form does not constitute a republication of the story.
SALT LAKE CITY — The family of a former BYU football player and coach has been awarded $25 million in damages following a lawsuit against a window blinds manufacturer whose defective product was found at least partially responsible in the death of 3-year-old Elsie Mahe, who tragically died by strangulation in 2016.
Reno Mahe, the former Brighton High running back who played and coached at BYU in addition to a five-year NFL career with the Philadelphia Eagles, and Sunny Mahe, his wife and a former BYU volleyball player, filed a lawsuit on behalf of the estate of Elsie Mahe in Salt Lake City's 3rd District Court in 2018. It was against a group of window blinds manufacturers that include Utah-based BlindVision and California's Century Blinds, among others, that accused the companies of product liability, negligence and breach of warranty after their toddler was found hanging from a loose cord in the family's Utah County home.
Sunny Mahe said that the blinds sold to her contain a warning label "from 1985" that was "outdated by three generations at the time of sale," adding she never saw it was there while it sat hidden underneath the bottom rail resting against the window sill, according to a lengthy statement released by her attorneys Thursday.
"I never wanted to know this much about window blinds," she said. "I thought they would just get installed and I would not think about them again. Maybe you already knew that corded window blinds were listed by the Consumer Product Safety Commission as a "top 5 hidden hazard" in the home? Maybe you are one of the lucky ones that already knew about cutting the cords short, or installing cord cleats, or never placing furniture in front of your window blinds? Or perhaps you are among the millions of mothers like me that just did not know that you would need to childproof them.
"I know all of that now. But I had to pay for this information with the life of my child."
Mahe said that her family was offered "a million dollars pretrial to just go away," and that when they proceeded with the lawsuit, defense attorneys went into "gruesome detail" in trying to pin blame for the incident on her "that I was a negligent mom." She said they showed photos of her dusty piano, a couch filled with unwanted items, cluttered underbelly of the sofa, and other views that first responders found as they worked to save Elsie's life.
"And the reality is, now I already know all I need to about blinds," she said. "I have already removed all of the corded blinds from inside my home. My child is already dead. I already lost before the trial started, so there would be no 'winning' for me; no astronomical amount of money could ever compensate for the loss of Elsie and it feels repulsive that anyone would believe that it could."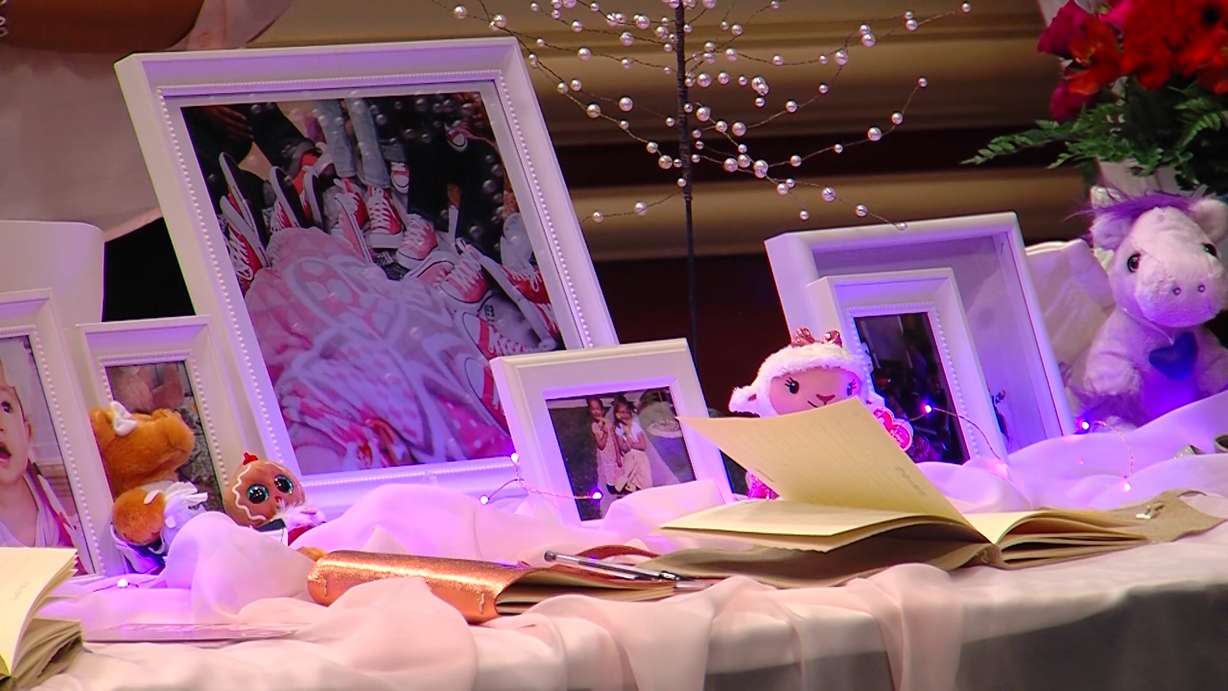 __
Century Blinds was found guilty by a jury and told that its blinds contained a design defect, defective warning and negligence in design and warning, according to court documents. The jury also found the company guilty of negligent post-sale warning, or that Century Blinds "knew or should have known that the the window covering posed a substantial risk of harm to persons" and "failed to exercise reasonable care because it did not provide a post-sale warning," the documents state.
The verdict awarded $1 million to the estate of the late Elsie Mahe, as well as $24 million in compensatory damages to the Mahe family.
The biggest win of the trial, Sunny Mahe said, was "for some future mother that I hope will never even know that this used to be a thing that could happen. We have done our part to protect other families from having to endure the loss that we have."
She also thanked Utah and her neighbors and community for their support, her attorneys and experts in St. Louis during the trial, and added that the family has already begun working with several organizations "to bless our community."
Those included their recently established foundation Miracles From Elsie, which helps families through medical crises, provides grief counseling on the loss of a child, and promotes organ donation awareness; Mental Health for Heroes, which pays for any out-of-pocket expenses for first responders such as police, firefighters, EMTs and their spouses and children's mental health care; and an assembly of educational material to give to new mothers at the hospital regarding hidden safety hazards in the home.
A week after Elsie Mahe was found hanging by a cord attached to a window covering and rushed to the hospital, doctors discovered significant brain damage caused by lack of oxygen and the family took her off life support beginning Nov. 22, 2016, while choosing to donate her organs. The National Kidney Foundation also donated a billboard that ran on I-15 in Lehi near the family's home to honor Elsie and to promote organ donation.
"We continue to be overwhelmed and astonished by the reach that our little Elsie's story has achieved," Sunny Mahe said at the time. "We love the Lord and his plan and we are forever changed by her short, wonderful little life. We grieve the loss of daily interaction with her, but we know that a glorious reunion awaits and we long for that joyful day."
Following the tragic accident and Elsie's untimely death, tributes began pouring in for the Mahe family, including from BYU, where Reno Mahe worked as running backs coach prior to his dismissal at the close of the 2017 season, as well as rival schools like the University of Utah. A GoFundMe set up to aid the family's medical and funeral expenses raised nearly $85,000.
"She was so angelic forever," one neighbor told KSL-TV. "I don't think she walked; I think she pranced everywhere she went."
Almost two years to the day after Elsie's tragic accident, the Mahe family welcomed a baby boy, who they named Lucky.
"I had the distinct thought that this was Elsie's plan all along," Sunny Mahe wrote on Facebook upon the birth of her son in 2018. "She wanted to keep her brother with her until the exact anniversary of her accident, November 22."
Sunny Mahe added that baby boy Lucky's middle name would be "Cielo" — Spanish for heaven — and his initials L.C. will pay a small tribute to his guardian angel, Elsie.
"I miss you every day, Elsie. Two years closer," she wrote. "Thank you for all you have taught me. Thank you for continuing to teach me and watch over our family. Thank you for bringing Lucky safely to us. Thank you for the privilege of being your mother. I love you, baby."
A news release from the Mahes' attorneys said the window blinds came with a warning label that was not visible, and the family was not aware of the hazard it presented when the blinds were installed. They were also not provided with installation of a tool that would keep the cords out of a child's reach.
"The Mahes are relieved that the verdict sends a very clear message to the window covering industry that corded blinds are dangerous in homes with small children and that the industry must do more to protect children who are dying at a rate of one to two children a month on corded window coverings," said Alan W. Mortensen, one of the attorneys that represented the Mahes, in a statement.
Contributing: Dan Bammes
×
Photos
Related stories
Most recent Utah stories