Estimated read time: 4-5 minutes
This archived news story is available only for your personal, non-commercial use. Information in the story may be outdated or superseded by additional information. Reading or replaying the story in its archived form does not constitute a republication of the story.
SALT LAKE CITY — The family of BYU assistant coach Reno Mahe received heartbreaking news Tuesday evening.
Three-year-old Elsie Mahe was pronounced brain dead Tuesday night a week after being checked into Primary Children's Hospital following an accident, her mother Sunny Mahe confirmed in a Facebook post to friends, family and supporters.
"Our Elsie girl has officially been released to heaven — at least from a worldly, paperwork standpoint. Her second neurological death exam was also positive for brain death," Sunny Mahe wrote in a Facebook post Tuesday night. "We feel peace and we are again so grateful for the privilege of being Elsie's parents. She continues to sprinkle love and hope across the world and I am in awe of the Lord and His marvelous plan for my sweet girl."
Family spokesman Jeremy Roberts confirmed that Elsie Mahe had died, though her body remained on life support to aid in the donation process. He added doctors project as many as eight organ donation recipients will be impacted by the Mahe's sacrifice.
The family said they plan to donate the toddler's organs through the hospital's donation team and will work in the coming days toward that goal, which will postpone immediate plans for a funeral.
Sunny Mahe revealed Tuesday that while her daughter's health continued to decline, there was a chance that if her health plateaued, the family would've been unable to donate Elsie's organs.
Then a minor miracle occurred that would allow for the family to donate her organs, turning heartbreaking tragedy into a blessing for many other families.
"At 8:00 (Monday) morning, the doctors told us that they believed she had another seizure and was again no longer breathing over the ventilator," Sunny Mahe wrote earlier in the day. "Reno and I wept with gratitude to our Heavenly Father that Elsie would be granted a peaceful passing and would be able to save lives through her physical body still."
The Mahes expressed appreciation for the heartfelt messages they have received over the past week.
"We continue to be overwhelmed and astonished by the reach that our little Elsie's story has achieved," Sunny Mahe said. "We love the Lord and His plan and we are forever changed by her short, wonderful little life. We grieve the loss of daily interaction with her, but we know that a glorious reunion awaits and we long for that joyful day.
"Thank you to everyone who has loved us, prayed for us, mourned with us and continues to support us. We love you all and we hope to someday catch up on all of the heartfelt messages that have given us strength."
Elsie Mahe slipped into respiratory distress last Tuesday, Nov. 22, when she was taken to Primary Children's Hospital following an accident in the family's Utah County home. The family revealed through a spokesman that the toddler had become entangled in a set of window blinds and stopped breathing. After initially appearing to improve, a magnetic resonance imaging scan revealed significant brain damage due to lack of oxygen for a prolonged period of time.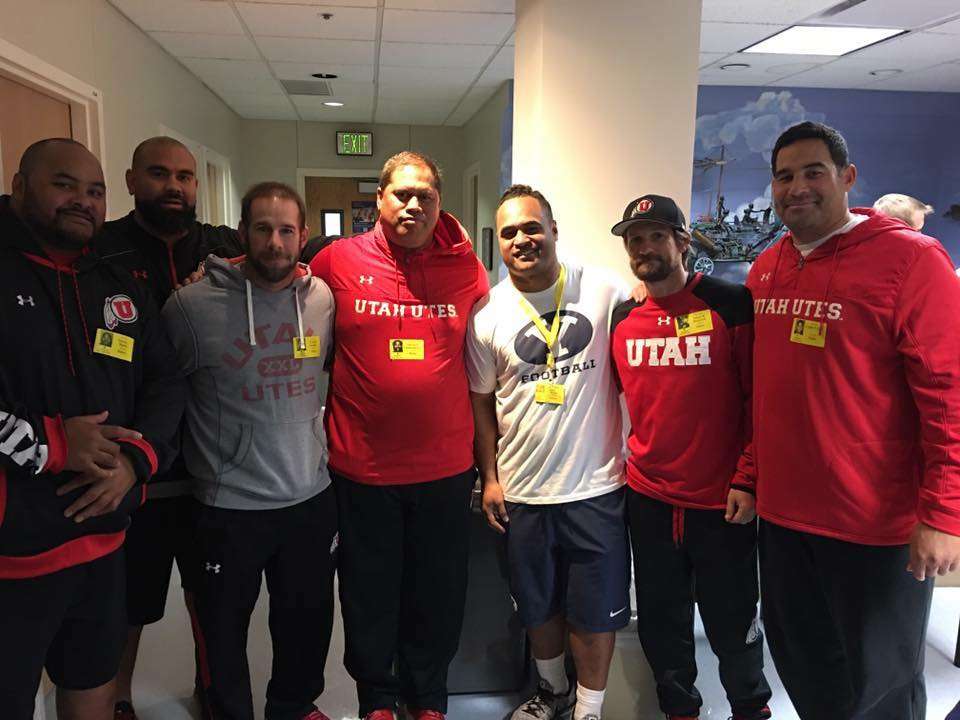 BYU football players and fans responded in a show of support for the Cougar running back coach and his family, wearing pink during the Cougars' "blackout" regular-season finale against Utah State in support of Elsie.
"It's just family. Reno's family, and the whole family is family," BYU running back Jamaal Williams said. "When they hurt, we hurt."
A GoFundMe account set up by Roberts* on behalf of the family surpassed its original goal of $50,000 and was approaching $60,000 as of Tuesday afternoon.
---
*KSL.com does not assure that the money deposited to the account will be applied for the benefit of the persons named as beneficiaries. If you are considering a deposit to the account, you should consult your own advisers and otherwise proceed at your own risk.
×
Related Links
Related Stories