Estimated read time: 3-4 minutes
SALT LAKE CITY — Here are 10 stories you may have missed over the weekend. As always, click on the headline to read the full story.
1. FBI: Human remains resembling Gabby Petito found near Grand Teton National Park
Human remains consistent with the description of Gabby Petito were found Sunday in Teton County, Wyoming, the FBI confirmed in a press conference. The remains were found in the Spread Creek Dispersed Camping area.
2. 1 killed, 2 injured in rollover crash near Summit
One man was killed and two others injured after a car rolled on I-15 near Summit early Sunday morning, the Utah Highway Patrol said.
3. Loved ones remember Staff Sgt. Hoover
Family and friends gathered at Hillcrest High School Saturday to remember and honor Staff Sgt. Taylor Hoover — the Utah Marine killed in Afghanistan in a bombing in Kabul as the armed forces desperately tried to get refugees out of the country.
4. 'Horseplay' led to stabbing with a kitchen knife, West Valley police say
West Valley police are investigating what was reported as an accidental stabbing after a man was transported in serious condition Sunday afternoon, West Valley Police Lt. Julie Jorgenson said.
5. Salt Lake Police investigating aggravated assault involving a gun near East High
Salt Lake police and East High School resource officers are investigating an alleged aggravated assault involving a firearm that occurred Friday night near the football stadium, police said in a press release Sunday.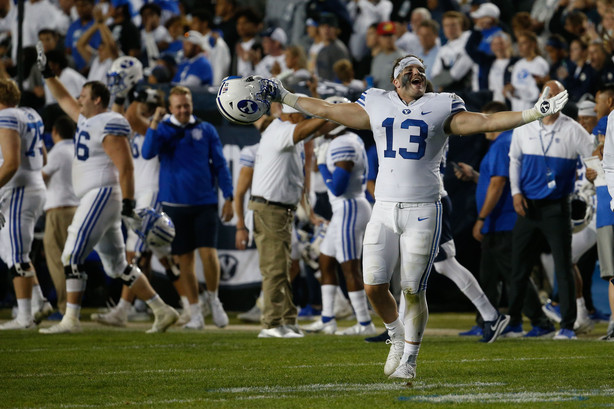 Sports
1. No Fun Devils: No. 23 BYU holds off No. 19 Arizona State to improve to 3-0
Allgeier rushed for 69 yards and a touchdown on 21 carries, and Hall completed 15-of-27 passes for 214 yards, two touchdowns and two interceptions as No. 23 BYU fended off a late charge from a ranked Pac-12 South opponent for the second-straight week, holding off the Sun Devils 27-17 late Saturday night at LaVell Edwards Stadium.
2. BYU leaps to No. 15 in latest AP Top 25, 16th in Coaches Poll
The Cougars jumped up eight spots to No. 15 in Sunday's Associated Press Top 25, just over 12 hours after BYU's 27-17 win over then-No. 19 Arizona State at LaVell Edwards Stadium.
3. Cam Rising leads comeback, but Utes fall 33-31 in 3OT to Aztecs
San Diego State (3-0) players rushed the field with the news as the Aztecs remained undefeated in a 33-31 win over Utah — the program's first win over the Utes since 2005.
4. Real Salt Lake beats Seattle in Freddy Juarez's return to Utah
Damir Kreilach's header in the 48th minute proved to be the difference as RSL beat Seattle 1-0.
5. Utah State surges a comeback, again, to beat conference foe Air Force
It came from senior linebacker Justin Rice, who with 2:30 left in the game, tracked down quarterback Haaziq Daniels and knocked the ball out of his hands at the Utah State 27-yard line. The ball was recovered by the defense, and the visitors from Logan held on for a 49-45 win.
×