Estimated read time: 6-7 minutes
MOOSE, Wyoming — Human remains consistent with the description of Gabby Petito were found Sunday in Teton County, Wyoming, the FBI confirmed in a press conference.
The remains were found in the Spread Creek Dispersed Camping area, FBI agent Charles Jones said during the press conference.
"Full forensic identification has not been completed to confirm 100% that we have found Gabby, but her family has been notified," Jones said. He also offered condolences to the family.
With a broken-heart emoji, Joe Petito tweeted Sunday night about his daughter: "She touched the world."
💔#GABBYPETITO she touched the world. pic.twitter.com/DukH7UCTPo

— joseph petito (@josephpetito) September 19, 2021
The cause of death has not been determined, Jones added.
"We are saddened and heartbroken to learn that Gabby has been found deceased," Florida's North Port Police Department posted on Facebook Sunday. "Our focus from the start, along with the FBI, and national partners, has been to bring her home. We will continue to work with the FBI in the search for more answers."
The area around the Wyoming campsite will remain closed while the investigation there continues, and officials ask the public to avoid the area. Police in Florida are also continuing to search for 23-year-old Brian Laundrie, Petito's fiance, who is considered a person of interest in the unsolved case.
Laundrie's family, however, told KSL-TV that Sunday's news was "heartbreaking. The Laundrie family prays for Gabby and her family."
"We appreciate the tremendous support from the public," Jones added. "We continue to seek info from anyone who utilized the Spread Creek Dispersed Camping area between the dates of Aug. 27 and Aug. 30."
Tips can be sent to tips.fbi.gov, 1-800-CALLFBI (1-800-225-5324) or 303-629-7171 for the FBI Denver field office. Photos and videos can be uploaded at fbi.gov/petito.
The live update has concluded and we will share a recording soon. Our statement is attached & we have no additional comment at this time. #FBIDenver & our partners extend our condolences to Gabby's family. We thank the public for your generous support of this investigation. pic.twitter.com/kZiSVmJtqv

— FBI Denver (@FBIDenver) September 19, 2021
Meanwhile, a team of over 50 law enforcement officers concluded their Sunday search for Laundrie with nothing to report. It was the second day of searching through the vast wilderness of Carlton Reserve located off Florida's Gulf Coast.
Petito, 22, was seen traveling through Utah and Wyoming in her van with Laundrie prior to her disappearance. Petito and Laundrie left from Blue Point, New York, in early July and were in Utah from Aug. 12 to 24 before they drove north to Grand Teton National Park, where Petito was last seen.
The two were questioned by police in Moab on Aug. 12 after they were seen fighting outside the Moonflower grocery store in town. Police noticed erratic driving on Laundrie's part and pulled them over. Petito was nearly charged with domestic assault, but told police she hadn't intended to harm her fiance when she got physical with him during the argument.
Petito attributed the high emotions to lengthy time on the road together and the stresses of getting her travel blog going, which she told police Laundrie did not support.
Laundrie returned home to Florida alone in Petito's van on Sept. 1 and Petito was then reported missing Sept. 11, after her family hadn't heard from her since late August, according to police. Laundrie has, so far, refused to say anything about Petito's whereabouts, with statements coming only from the Laundrie's attorney.
Investigators announced Laundrie's disappearance on Sept. 17 after his family attorney called the FBI and said they had not seen him since Tuesday. North Port police released a description and a statement regarding Laundrie's disappearance on Twitter.
The search for Brian Laundrie continues Sunday morning in the Carlton Reserve. A team of more than 50 looking for anything of note after his parents say this is where he went. We continue to corroborate all info in the search for him and Gabby. 1-800-CALL-FBI. pic.twitter.com/20nt70mezz

— North Port Police (@NorthPortPolice) September 19, 2021
"We understand the community's frustration, we are frustrated, too. For six days, North Port Police Department and the FBI have been pleading with the family to contact investigators regarding Brian's fiance, Gabby Petitio," the statement read in part.
Law enforcement began searching the Carlton Reserve on Saturday after Laundrie's family said they believe he had entered the area earlier that week, North Port police said. Claims of a body being located in the area were reported on Saturday but corrected by police on Twitter as false.
In addition, and likely because the couple was so active on social media, people everywhere have taken interest in the case. Police pleas for assistance to pinpoint a cross-country timeline of events have led to an influx of tips and reports — some of which turned into substantial leads in the case.
Saturday, a woman on TikTok claimed to have picked up Laundrie, who was hitchhiking not far from where he told the woman he and Petito had been camping. She pointed out other oddities from their limited encounter on the social media platform. Police later tweeted that they spoke to the woman about it.
Others have said they saw Petito at a Salt Lake City hotel in August.
A Utah couple told KSL on Sunday that they were camping in the Grand Tetons at Headwaters at Flagg Ranch around the same time Laundrie and Petito might have been in the area. "The night of the 24th, we both woke up to screaming," Tess Henry said, adding that the sound of screaming was "so loud and repetitive" that sounded like an animal. But, because the screaming continued, "it sounded more human to me," Henry said.
Investigators found nothing during Saturday's search in Florida and began again early Sunday with beefed up equipment for the soggy landscape. Police there said on Saturday that Laundrie is considered a person of interest regarding Petito's disappearance and has not yet been named as a suspect.
"It is important to note that while Brian is a person of interest in Gabby's disappearance, he is not wanted for a crime. We are not currently working a crime investigation. We are now working a multiple missing persons investigations," North Port police said in a statement released Saturday.
The #FBIDenver Field Office and its Wyoming Resident Agencies, in coordination with the National Park Service, U.S. Forest Service, Teton County Sheriff's Office & Jackson Police Department, have been conducting ground surveys at the Spread Creek Dispersed Camping Area. pic.twitter.com/95HjWcEuDU

— FBI Denver (@FBIDenver) September 19, 2021
That was expected to change depending on evidence found at the site where investigators believe to have found Petito's body.
Search efforts for Petito were focused in Grand Teton National Park with the FBI's Denver Field Office, Wyoming Resident Agencies, National Park Service, U.S. Forest Service, Teton County Sheriff's Office and Jackson Police Department conducting ground surveys at the Spread Creek Dispersed Camping Area.
The Spread Creek Dispersed Camping Area is located in the Bridger-Teton National Forest on the east boundary of Grand Teton National Park and has been closed to the public as the agencies conduct surveys of the area, looking for clues regarding Petito's disappearance, according to the FBI. They were still interested in any information that would answer the many questions still unanswered on Sunday, Jones said.
Anyone who used or camped in the Spread Creek Dispersed Camping area between Aug. 27 to Aug. 30 who may have had contact with Petito or Laundrie are encouraged to report it to the FBI at 1-800-CALL-FBI or 303-629-7171. Anyone who sighted the vehicle the pair were traveling in, a white 2012 Ford Transit van with a variety of stickers on the back with Florida plate QFTG03, is also encouraged to contact investigators.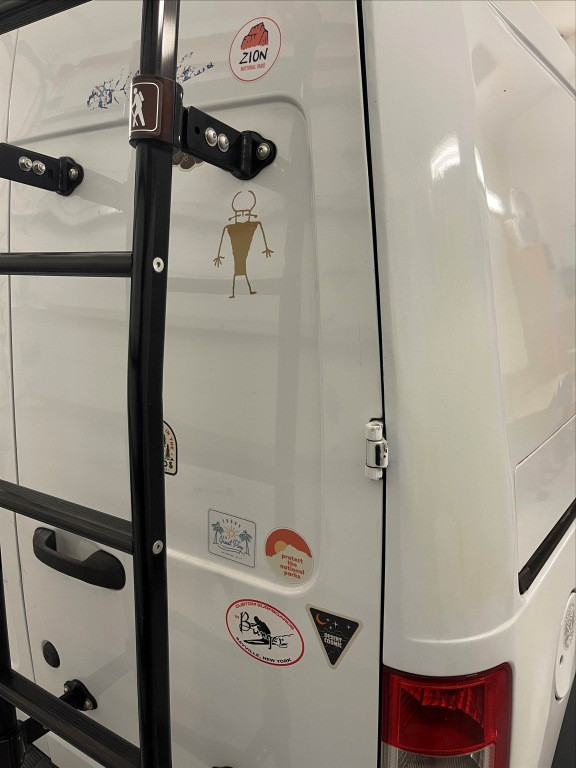 ×
Photos
Related Stories