Estimated read time: 7-8 minutes
PROVO — BYU must be a university that "not only stands but stands unquestionably committed to its unique academic mission and to the church that sponsors it," Elder Jeffrey R. Holland of the Quorum of the Twelve Apostles said Monday to faculty and staff at the annual University Conference.
He spoke following BYU President Kevin Worthen, who announced the creation of an Office of Belonging led by a new vice president-level administrator who will join Worthen's Cabinet, the President's Council. The announcement came six months after it was recommended by the official campus Committee on Race, Equity & Belonging.
Both men spoke about being kind to all under an umbrella of a university with a unique academic and spiritual mission, sponsored by The Church of Jesus Christ of Latter-day Saints.
Elder Holland was BYU's president from 1980-89 and is a member of its board of trustees. He said he has loved the university for 73 years and frequently showed emotion during his talk. He called for unity and peaceful processes in addressing issues on campus and spoke at length about his love and hope for LGBTQ students.
He said one of BYU's achievements should be to stay in harmony with the First Presidency and Quorum of the Twelve Apostles, whom he said are designated to declare church doctrine and guide BYU as its trustees. The university's faculty and staff have unique and ongoing roles as builders of the university and defenders of the faith.
"I will go to my grave pleading that this institution not only stands but stands unquestionably committed to its unique academic mission and to the church that sponsors it," he said. "We hope it isn't a surprise to you that your trustees are not deaf or blind to the feelings that swirl around marriage and the whole same-sex topic on campus. I and many of my brethren have spent more time and shed more tears on this subject than we could ever adequately convey to you this morning or any morning.
"We have spent hours discussing what the doctrine of the church can and cannot provide the individuals and families struggling over this difficult issue. So, it is with a little scar tissue of our own that we are trying to avoid — and hope all will try to avoid — language, symbols and situations that are more divisive than unifying at the time we want to show love for all of God's children."
He said that he and the church's other senior leaders unequivocally love those who experience same-sex attraction, saying that the world too often has been "crushingly cruel" to them.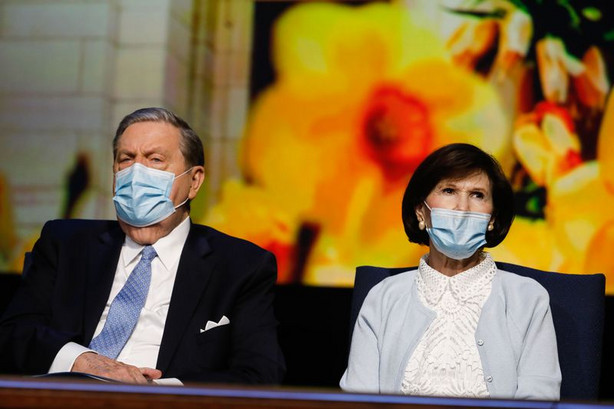 "Like many of you, we have spent hours with them, and wept and prayed and wept again in an effort to offer love and hope while keeping the gospel strong and the obedience to commandments evident in every individual life," he said.
"But it will assist everyone in providing such help if things can be kept in some proportion and balance in the process," he added. "For example, we have to be careful that love and empathy do not get interpreted as condoning and advocacy, or that orthodoxy and loyalty to principle not be interpreted as unkindness or disloyalty to people. As near as I can tell, Christ never once withheld his love from anyone, but he also never once said to anyone, 'Because I love you, you are exempt from keeping my commandments.' We are tasked with trying to strike that same sensitive, demanding balance in our lives."
Both Worthen and Elder Holland referred to a 1975 talk on BYU's 100th anniversary by the late church President Spencer W. Kimball, who called for BYU's second century to be about remaining unique while becoming an educational Everest. Faculty and staff who attended the conference Monday — thousands watched online — received a copy of the talk.
"It seems clear to me in my 73 years of loving it that BYU will become an 'educational Mount Everest' only to the degree it embraces its uniqueness, its singularity," Elder Holland said.
He noted that, as the halfway point of the university's second century approaches in 2025, church leaders will maintain that BYU will stand alone in its uniqueness if it must.
"We must have the will to stand alone, if necessary, being a university second to none in its role primarily as an undergraduate teaching institution that is unequivocally true to the gospel of the Lord Jesus Christ," he said. "If at a future time that mission means foregoing some professional affiliations and certifications, then so be it. There may come a day when the price we are asked to pay for such association is simply too high, too inconsistent with who we are. No one wants it to come to that, least of all me, but if it does, we will pursue our own destiny."
He concluded with a plea.
"Please," he said, "from one who owes so much to this school and has loved her so deeply for so long, keep her standing, but standing for what she uniquely and prophetically was meant to be."
Faculty, staff, retirees and spouses who attended Monday's meeting also received bumper stickers emphasizing the university's uniqueness — "BYU: Study and Faith."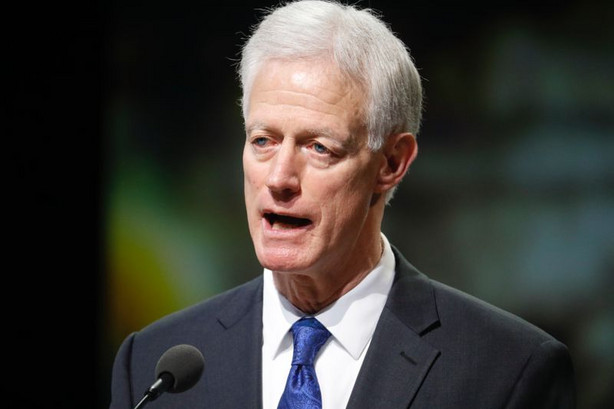 Worthen presented what he called a constitution of efforts to evaluate and implement the Committee on Race, Equity & Belonging's 26 recommendations. He also said it was a guide for addressing the needs of all and creating a community and environment of belonging.
The Office of Belonging, he said, "will focus on helping campus members achieve the community of belonging, outlined in the statement of belonging. Using the guiding principles it sets forth, the office will not only be core to our efforts to root out racism, it will also help us combat prejudice of any kind, including that based on race, ethnicity, nationality, tribe, gender, age, disability, socio-economic status, religious belief and sexual orientation."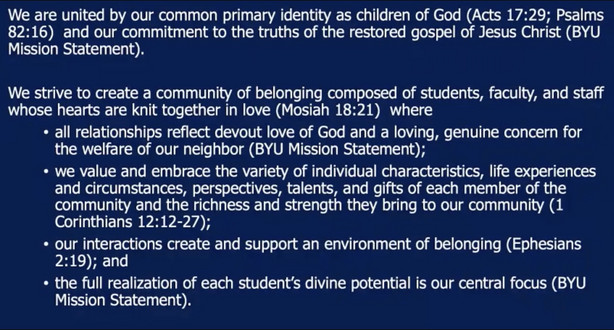 The committee recommendations were part of a 63-page report that found "the BYU community has not been immune to the detrimental effects of racism. In ways that have been both individual and systemic, intentional and unintentional, we have seen evidence that the painful sting of racism has diminished the experience and the sense of safety and belonging of BIPOC (Black, Indigenous and other people of color) communities at BYU."
The report's executive summary found that:
"To date, there has been inadequate accountability and coordination in the university's efforts to address these needs. The BYU community must work expeditiously and without delay to lead out in identifying and rooting out racism at Brigham Young University."
Monday's opening general session of the University Conference that precedes the start of school on Aug. 31 was conducted by Vern Heperi, a native Maori who serves as assistant to the president for student success and inclusion.
The program included a Native American dance by Kiona Lucio and Kelina Anderson, two members of the Living Legends, a student group that celebrates the native cultural heritage of North and South America and the South Pacific.
Worthen and others noted that BYU will return to a more traditional academic calendar and product this fall after a year of disruption caused by COVID-19. Masks were required in the Marriott Center for Monday's conference.
"Unfortunately, the ongoing effects of the pandemic continue to affect our planning and efforts," Worthen said. "We are pleased that due to the vaccination efforts of those in our university community, we can offer more of the blessings of a traditional BYU experience than we did last year. Yet that optimism is still tempered by the continuing presence and vagaries of the coronavirus, so we must remain vigilant and flexible."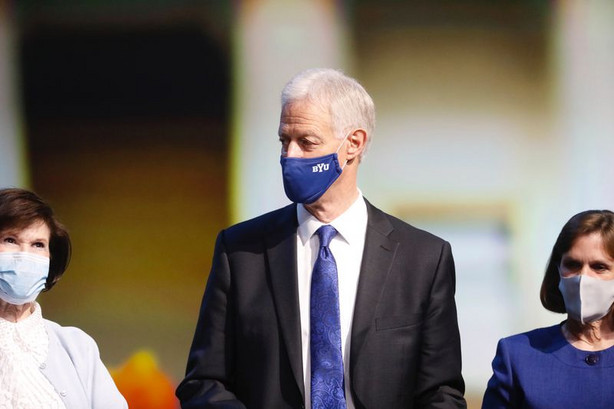 ×
Related Stories