Estimated read time: 6-7 minutes
PROVO — Exactly where it stands in the pantheon of athletic department history is debatable and is currently being debated on the internet.
But BYU had a big week last week, culminating with Friday's invitation to join the Big 12 in 2023.
And yet, head coach Kalani Sitake's team barely paid any attention to it.
Sure, Sitake himself made an appearance at the press conference where athletic director Tom Holmoe and university president Kevin J Worthen formally accepted the Big 12's invitation, and he even took a few minutes to chime in on the decision on BYUtv (he did not do other interviews 24 hours before a rivalry game).
But the Cougars' football program had bigger things on their mind — namely, snapping a nine-game losing streak with the euphoric 26-17 victory over nemesis Utah.
The streak is dead. Long live the streak.
The captivating experience that started with turnovers by Chaz Ah You and Isaiah Herron, propelled forward on the legs of Tyler Allgeier and Lopini Katoa, and ending with more than 60,000 BYU fans celebrating on a soggy field at LaVell Edwards Stadium for the biggest party Provo has seen since 2009 didn't start Friday morning — or Saturday evening.
It started earlier in the week with a line of preparation sharp enough to cut a tab of Texas Fair-sized butter.
"I think a lot of people thought I didn't take last week very seriously — I did. I just didn't need to define it," Sitake said. "What I did like was that it was intense. I liked the preparation. I liked the way our guys were focused on what was going on.
"They were so razor-sharp focused that the game was more important than the Big 12 announcement, and that was evident from what we saw as a coaching staff. Now let's do the exact same thing again. Let's have that same type of mindset, that same type of focus and that same type of intensity coming into our meetings, and let's duplicate it."
For as big as last week was at BYU — and it definitely was, no matter where you rank it — Saturday's game may be bigger. That's why the mentality has to stay the same — ignoring news of the Big 12 and everything else.
"That's so far down the line right now that we're focused on what we need to get done with ASU this weekend," Sitake said during a promotional interview with ESPN's SportsCenter. "All of our focus has to be on that game this Saturday."
Arizona State comes into LaVell Edwards Stadium for the first time since 1998, an old (old, old) Western Athletic Conference rival ranked No. 19 in the Associated Press Top 25 with an exciting quarterback in Jayden Daniels, a top-15 rushing offense, and the No. 4 total defense in the country after wins over Southern Utah and UNLV.
"I don't know how you can have a letdown facing Arizona State. They get your attention," ESPN's Rod Gilmore told BYUtv. "I think if there's any concern of a letdown, it might be the following week with South Florida.
"With Arizona State coming in, with Herm Edwards, with Jayden Daniels, the team that a lot of experts predicted had a shot at winning the Pac-12 Conference. If BYU has a letdown, it won't be because they don't take ASU seriously. This will be opportunity for BYU to make some noise."
But the first road game of the season has the attention of coach Herm Edwards' team — especially a crowd behind a team with just one loss in its last 14 games.
"We've had the comfort of playing at home the last two weeks, and now we get to go on the road up to BYU, to a very, very good football team," Edwards said. "Going up there playing is a tough task; it's loud in our first road game. It's everything you want to experience in a football game."
The Cougars have ASU's attention. And the Sun Devils have BYU's, which is how it should be in a top-25 clash between two of the top teams in neighboring states — and the first time two top-25 opponents will face each other at LaVell Edwards Stadium since the rivalry clash of 2009.
There's no letdown in Provo, maybe in part because of the Big 12 announcement — one that finally gives the FBS independent wanderers an end game, a final goal when mixed with last year's 11-1 team that finished No. 11 nationally.
Beating Utah was nice — cathartic, even, — after nine consecutive losses. Contrary to popular belief two weeks ago, 10 is not coming.
But it's also not the end-all of the Cougars' 2021 season, either.
"Saturday was so much fun, but winning that game wasn't our end goal," BYU center James Empey said Monday. "We have 10 games to battle, especially a big one this week. Guys are already turning their focus toward ASU and turning their focus to that game."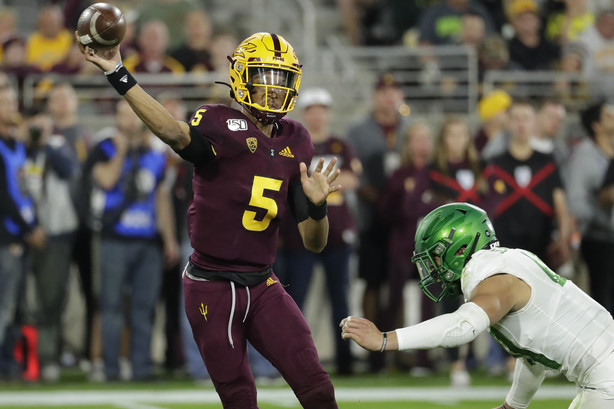 It's a mentality that dates back before last week, too, according to Empey's linemate.
"I think that locked-in mentality has gone way back to the offseason," said offensive tackle Blake Freeland, one of three returning starters on the O-line from a year ago. "Last week was great, and we were locked in and ready for Utah. We didn't bat an eye when other great news came around. But I think all of our dudes want to prove something this year, and continue to work and train on their own craft.
"I feel like people were putting in more work this offseason than they have never. For the past couple of weeks, it's just continued to grow and grow. WE're taking every week like it's the most important game — because it is."
While the Sun Devils' early-season opponents have run the gamut of Big Sky to Mountain West, BYU's first three opponents will all come from one conference: the Pac-12.
That's probably the extent of the similarities between Arizona, Utah and the Sun Devils. But a win Saturday would send a big statement to the conference that hasn't wanted BYU — for a variety of reasons, but most of them not football-related.
"I think it's just the same mindset that we had going into Utah. It transfers over to this week," defensive end Lorenzo Fauatea said. "As long as we do our small and simple things, I think our sharpness and focus will be the exact same — maybe even increased for this game."
The chance to go 3-0 against the Pac-12 South, and with USC still on the schedule in November, is an opportunity for the Cougars, and a reason to stay focused on the present and not last week or two years down the road.
A win Saturday won't clinch a Pac-12 South title for BYU. But a little online talk of such things never hurt anybody, either.
"Growing up, you see all the Pac-12 schools as a kid," said cornerback Isaiah Herron, who grew up in Las Vegas. "Getting an opportunity to play against them, you realize that it's past the logos, the fans and all that — it's just football.
"If you go out there and do your job, the result will be the result."
How to watch, listen and stream the game
No. 19 Arizona State (2-0) at No. 23 BYU (2-0)
Where: LaVell Edwards Stadium, Provo
When: 8:15 p.m. MT
TV: ESPN (Dave Flemming, Rod Gilmore, Stormy Buonantony)
Streaming: WatchESPN
Radio: BYU Radio 107.9 FM, KSL Radio 1160 AM/102.7 FM (Greg Wrubell, Riley Nelson, Mitchell Juergens)
Series record: ASU leads, 20-7
WAC to the Future: The two schools were former members of the Wester Athletic Conference from 1962 to 1978, when Arizona State departed for the Pacific-10. During that time, ASU won 11 of the 14 meetings. BYU won the most recent meeting, when Ronney Jenkins ran for 171 yards and a touchdown in a 26-6 win over No. 14 Arizona State at LaVell Edwards Stadium.
Home Cougs: Arizona State is a 3.5-point road favorite, according to FanDuel Sportsbook. The Sun Devils are playing their first road game of the season after opening against Southern Utah and UNLV in Tempe, Ariz. BYU has won 11 in a row at home, including a 7-0 mark in 2020.
×
Related Stories