SALT LAKE CITY — Here are 10 stories you may have missed over the weekend. As always, click on the headline to read the full story.
1. Idaho man arrested in Bountiful after chase and standoff
A naked Idaho man was arrested early Sunday following a standoff with a SWAT team that was preceded by a police chase.
2. Salt Lake man dies in Little Cottonwood Canyon fall
A man died Sunday after falling about 200 feet near O'Sullivan Peak in Little Cottonwood Canyon. Andrew Acuff, 26, went hiking on the Wasatch-Uintah Ridgeline Trail, intending to meet up with others before he fell about 200 feet down a 40-degree slope, according to Unified Police Sgt. Melody Cutler.
3. Fire causes $200,000 in damages to Syracuse house
Fire caused an estimated $200,000 in damages to a home in Syracuse Sunday, fire officials said.
4. Man dies after crashing, then walking into freeway traffic, UHP says
A West Valley man died Saturday after he crashed into a concrete barrier, then walked onto the freeway where he was struck by a van.
5. No mercury found in Fairmont Park pond; city hopes to reopen it Monday
No evidence of mercury was found in the Fairmont Park pond after additional testing was conducted, Salt Lake City officials said Saturday. Both the city and the Environmental Protection Agency conducted tests of the pond's water in Sugar House after testing by the city found mercury in the water Wednesday.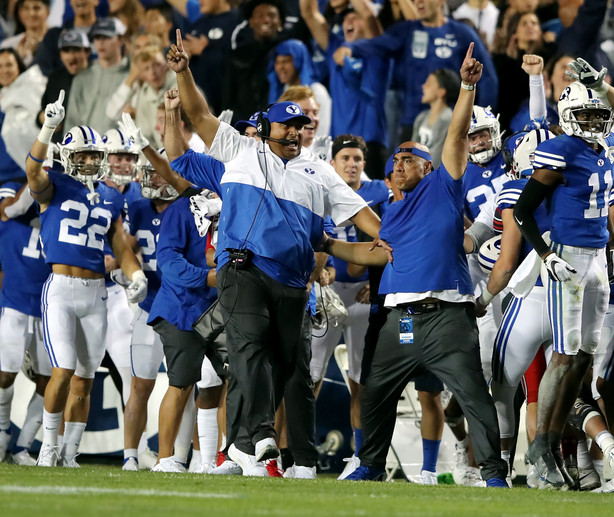 Sports
1. 9 no more: BYU snaps losing skid with emphatic 26-17 win over No. 21 Utes
Coming on the heels of a program-changing invitation to join the Big 12 Conference in 2023, Jaren Hall put the ghosts of nine consecutive attempts of futility to bed, throwing for 149 yards and three touchdowns, and rushing for 92 more yards on eight carries en route to a 26-17 win on a rainy Saturday night over arch nemesis Utah in front of a capacity crowd at LaVell Edwards Stadium.
2. Utes drop out of AP Top 25, BYU moves in at No. 23 following rivalry win
Not only did the Cougars get the win, but they dominated the Utes at the line of scrimmage and never left any doubt they'd come out on top. It was the cherry on top to arguably its best-ever week in program history.
3. Weber State runs over Dixie State in 41-3 win on the road
Even without the presence of two-time All-American running back Josh Davis, the run game proved to be too much for Dixie State, and the Wildcats ran away with a 41-3 victory — their first of the season.
4. Messy defense, fastest goal in MLS history doom Real Salt Lake in road loss to LAFC
Cristian "Chicho" Arango scored two goals, including the first just 20 seconds into the match, and Los Angeles FC took advantage of a misplayed own goal midway through the second half to secure its third victory of the season over Real Salt Lake 3-2 Sunday night at Banc of California Stadium in Los Angeles.
5. Djokovic's bid for year's Grand Slam ends against Medvedev
Outplayed by someone using a similar style to his own, Djokovic came up just short of those two historic milestones, losing 6-4, 6-4, 6-4 to first-time major champion Medvedev at Arthur Ashe Stadium.
×