Estimated read time: 6-7 minutes
This archived news story is available only for your personal, non-commercial use. Information in the story may be outdated or superseded by additional information. Reading or replaying the story in its archived form does not constitute a republication of the story.
PROVO — It's a new era of BYU football.
Coming on the heels of a program-changing invitation to join the Big 12 Conference in 2023, Jaren Hall put the ghosts of nine consecutive attempts of futility to bed, throwing for 149 yards and three touchdowns, and rushing for 92 more yards on eight carries en route to a 26-17 win on a rainy Saturday night over arch nemesis Utah in front of a capacity crowd at LaVell Edwards Stadium.
Tyler Allgeier ran for 97 yards on 27 carries; and Neil Pau'u, Gunner Romney and Samson Nacua each hauled in a touchdown for the Cougars, who buried Utah with a steady dose of the run game and a suffocating defense that harangued Utah quarterback Charlie Brewer into a 15-of-26 completion percentage for 147 yards, a touchdown and an interception.
The Cougars piled up 219 yards on the ground, becoming the first team to run for more than 200 yards on the ground against Utah since Texas in the 2019 Alamo Bowl.
"We practiced all week for them," Allgeier said of the physical, oftentimes dominant Utes. "The scout team gave us a great look. But we came out a little slow, and the defense had our back until we had theirs. We just had to pick it up and ramp it up. We literally just did our thing."
Through two games as a full-time starter in 2021 — both wins over opponents from the Pac-12 South — Hall has yet to throw an interception. Eventually, the streak will end; nothing lasts forever, after all.
Neither did Utah's win streak, a nine-game mark that tied the longest-ever in the series with BYU from 1979-87 and Utah from 1929-37.
But it was Jake Oldroyd that made the key play, a 21-yard chip shot of a field goal that followed a 12-play, 71-yard drive over six minutes and 14 seconds that put the Cougars up 9 with just over three minutes remaining.
Brewer tried to rally one last time, but the Utes were stuffed on fourth down — they finished 0-for-2 on such downs for the game — and Hall trotted out to take a knee for the final time and usher in an onrushing crowd of 63,470, most of them wearing royal blue, onto the field like the rain that cascaded downward moments before.
It was the first time since BYU's 37-17 win over the Utes in 1996 that the Cougars did not win the game on the final play, drive or series.
"Obviously, you guys knew the streak that was going on," said BYU coach Kalani Sitake, the former 10-year assistant to Kyle Whittingham, who enjoyed the first win over Utah of his head coaching career in the middle of a collegiate mosh pit and apologizing to students who picked him up to go crowd surfing. "I think there was a huge sense of urgency from the fan base and from everyone. It was just nice to get the win for the fans and for our players. It was a great night."
On the other side of the ball, BYU's offensive line kept the Utes — and their "Sack Lake City" moniker — without a sack, while BYU's front piled up two sacks, five tackles for loss and a pair of turnovers.
But it was the BYU defense that owned the game early, forcing two turnovers in the first half, and held Brewer to just six completions for 56 yards, a touchdown and an interception, and added two more turnovers — one on a fumble and another on downs — before the break.
"They beat us at the line of scrimmage, which I would have bet my house going in that we would not lose the line of scrimmage," Whittingham said. "I would never have seen that coming where we didn't control the line of scrimmage; that's our MO, that's what we do best."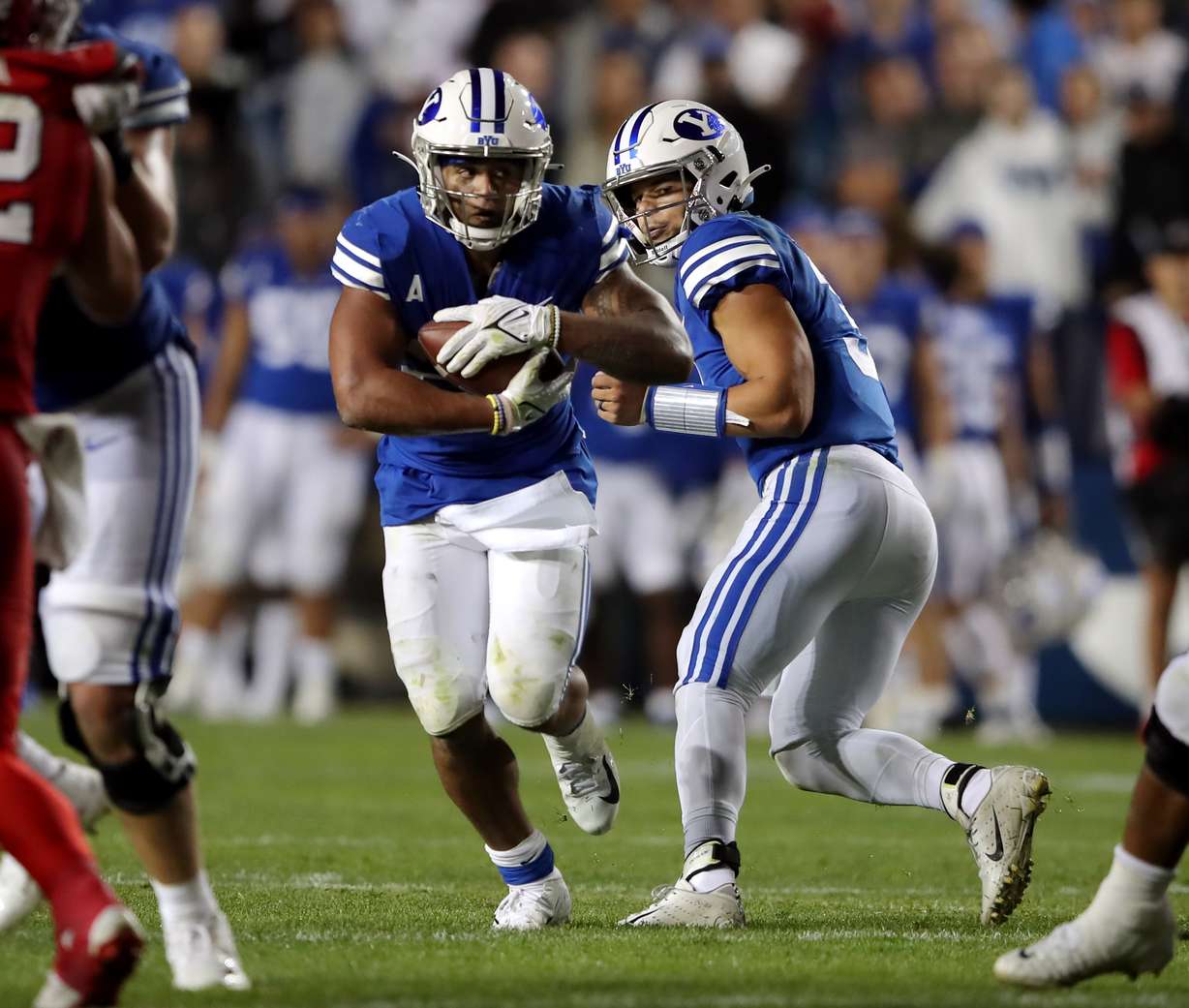 But the Cougars led just 16-7, and didn't even take much of an advantage until Samson Nacua hauled in a 2-yard touchdown from Hall with four seconds left in the half. The Utah transfer became just the second player to score on both sides of the rivalry since Francis Bernard, who had a touchdown for the Cougars in 2015 before scoring a pick six for Utah four years later.
Still, clinging to a 9-point lead at the break, the Cougars missed several opportunities for points. It was a defensive game, much like 16 of the last 20, which have been decided by one score or less. And that was just how BYU's defense liked it, doing to a Utah front what the Utes have done to BYU for the better part of a dozen years.
"It was fun football," said BYU linebacker Payton Wilgar, who had four tackles, 1.5 tackles for loss, 0.5 sacks and two pass breakups. "When the offense is struggling, we know the defense needs to pick it up. With all the trust we have for each other, it allows us to play our D."
They got some of them back through Romney's 4-yard touchdown in the final minute of the third quarter, giving the hosts a 23-7 lead at home ahead of the final stanza. It was just enough to unlock a BYU offense that had its moments, sometimes stagnated, but also took advantage of Ryan Rehkow's 53.2 yards over five punts, including four punts of 50 yards or more.
Utah's offense got something going through three quarters — 258 yards' worth of it, at least. But every time the Utes threatened the red zone, BYU found an answer, either with one of two sacks, five tackles for loss, and an average loss of 7.9 yards before the fourth quarter.
"They did a good job bouncing back and scoring," Hall said. "Our defense did a great job all game, but it happens in football. They score. We were confident in our game plan, we kept it simple, and sure enough we marched down the field to secure the win."
Micah Bernard, who had a game-high 146 yards on 12 carries, capped a 10-0 run for the Utes with a touchdown to pull within five, 23-17 with 9:31 left.
The Utah offense, mostly dormant for the better part of three quarters, was suddenly awake and well. Then BYU put it to bed again in the late-night kick on ESPN.
The Cougars milked the clock with a six-minute drive, capped by Oldroyd's leisurely 21-yard field goal with 3:17 to play, and the Cougars held on for their biggest win of the Big 12 era to date.
"It's a tough one, it really is. Nine in a row, we tried to make it 10. We had a good run," Bernard said. "We won't see these guys for another couple years, so it's tough we had to end it on this one. But we're going to come back harder, and we're gonna start a new streak."
×
Photos
Related links
Related stories
Most recent BYU Cougars stories