KAYSVILLE — The city of Kaysville and other communities that receive water from Davis and Weber Counties Canal Company will have their secondary water systems shut down on Wednesday due to the extreme drought and limited water resources.
Davis and Weber Counties Canal Company has been managing secondary water systems since the early 1990s and has never shut off the systems this early in the year.
"This is unprecedented, the first time our secondary water systems had been shut off before Oct. 1," said Rick Smith, general manager of Davis and Weber Counties Canal Company. "This is a rare occasion. The water system did not produce the water that we hoped for, and so we've had to cut back on our share allotments."
The company pointed to the extreme drought conditions and limited water resources for the early shutoff. The depleted Weber River and Weber Basin drainage illustrate the effect the drought has had locally and statewide.
"We're experiencing some of the worst drought conditions that we've experienced in our lifetime," said Candice Hasenyager, deputy director Utah Division of Water Resources. "The drought has had widespread impacts across the state from agriculture to wildlife, and residents are feeling that too right now."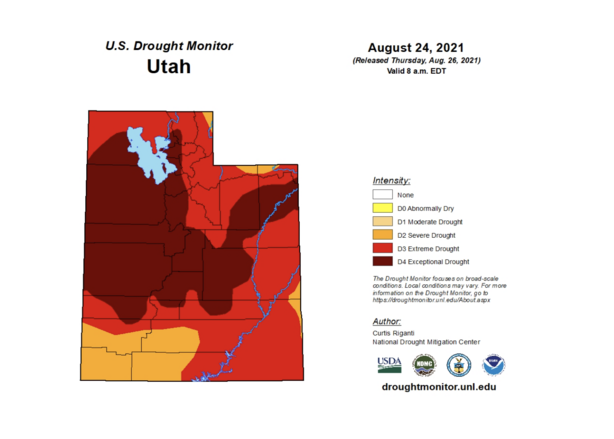 The shutoff date was determined after Weber Basin Water Conservancy District held an emergency meeting with its irrigation water customer agencies in July. The meeting came as the Weber Basin drainage continued to display extreme drought conditions.
Using current water supply data, projections and customer agency input the board decided on July 29 to terminate irrigation water deliveries for secondary and agricultural uses.
The district's West Haven system — which relies on irrigation shares to connect users to the system — will shut off around Sept. 1 due to the lack of water. Users outside of the West Haven district will have their secondary water systems shut down on Sept. 20.
Davis and Weber Counties Canal Company customers experiencing an early shut-off will not receive a refund, according to Smith in a statement.
The statement reads:
"Secondary water users of the Davis and Weber Counties Canal Company are not guaranteed delivery of a specific quantity of water each year or guaranteed delivery of water for a specified period of time. The company cannot be held responsible for variations in annual water supply available for secondary water supply due to drought. The company is a nonprofit entity that relies upon member fees to operate and maintain the secondary water system. The cost of maintaining and servicing your secondary water system is not reduced during times of water supply shortage and the company will not issue refunds to secondary water users due to interrupted service or a shortened water season."
The Weber Basin Water Conservancy District board emphasized the importance of the early shut-off and its help in ensuring a drinking water supply for next year. The need for an adequate drinking water supply was enforced by Hasenyager.
"While I recognize this is very difficult for residents, I think it is important that we don't know how long this drought will last and we're trying to be proactive to ensure that we have drinking water into next year in case we do have another year where we don't get enough snow to fill up our reservoirs," Hasenyager said.
The lack of snow volume in the 2021 year greatly impacted the Weber Basin's drainage, according to the conservancy district's website. In an average year a runoff of approximately 324,000 acre-feet would occur but only 15% of this runoff occurred with Weber Basin only being allocated 7,000 acre-feet of this runoff. Additionally, record-setting low soil moisture impacted the basin's runoff volumes.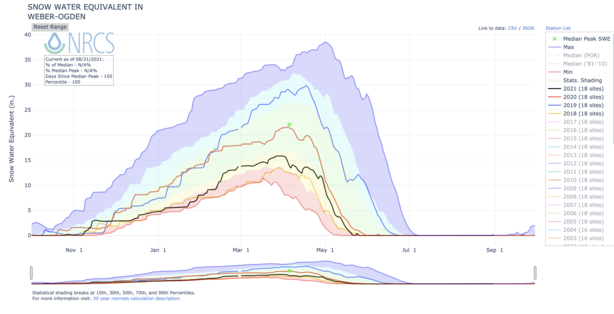 The dire conditions have called for increased conservation efforts on a residential, business, city and state level.
"We have been putting in secondary water meters. We have roughly 3,500 secondary water meters and we have a total of over 16,000 connections, so it is a start but it does cost some money," Smith said. " I know that several the water districts are encouraging different landscape opportunities or changes going forward but the main thing is to continue to encourage people to conserve where they can."
Parker Deamer, a Kaysville homeowner, was frustrated with the early shut-off but said he understood the need to save water.
"If it was up to me I would xeriscape my yard, especially if there were some sort of rebate incentives for it because, I think growing a lawn is kind of ridiculous seeing how we live in the desert," Deamer said.
Hasenyager said the division is working on a statewide rebate incentive for the Flip Your Strip program to help put water-wise landscaping into yards. The incentive will likely take some time, she said, as it has to travel through the governor's office and the state Legislature. In the meantime, Hasenyager encouraged residents to encourage their city council to adopt ordinances that would allow rebates, pointing to Layton's recent adoption.
Deamer said several years ago he had expressed an interest in a potential rebate for landscaping and was given a blatant no by the city.
"I think the city needs to get more involved in those things, and especially with climate change. We've got oil refineries that could probably be cleaned up a little bit. We've got our roadways jam-packed with people, our air quality's horrible," Deamer said.
"With climate change, it's only going to get worse," he continued. "We're going to have less water from summer to summer until it gets to the point where we just don't get water at all. I can see that coming, and that's why I'd rather jump in front of this and do what I can by landscaping right, driving less and anything that I could do to help that way."
Hasenyager said climate scientists' recent predictions regarding climate change have been a point of discussion as the agency and water providers move forward.
"Climate scientists are predicting warmer temperatures and also more extremes. We're going to see more extreme droughts more extreme precipitation events, all of which we've seen this year. We are working with the governor's office and the local water providers to discuss that. I know there's a number of different plans that are being done at the local level for climate adaptation, but it's something that we need to prepare for," Hasenyager said.
The Utah Division of Water Resources offers drought tips, potential rebate opportunities and other resources for residents at Slowtheflow.org.
×
Photos
Related Stories