Estimated read time: 5-6 minutes
SALT LAKE CITY — Mestizo Institute of Culture and Arts will be among five groups or artists awarded the 2021 Mayor's Artists Awards by Salt Lake City Mayor Erin Mendenhall at the Utah Arts Festival on Friday.
Mestizo Institute of Culture and Arts board member Paul Kuttner said although the award is for 2021, he felt it represented the almost 20 years of work done by the institute.
"Starting with Terry Hurst and Ruby Chacon through so many different artists, board members, curators, community members and leaders who push this work forward — we stand on those shoulders, they're very tall," Kuttner said. "I see this as honoring all of that, that we're still in existence, that we're still doing this work, and that work is still important to this day."
The 2021 award recipients are recognized as community builders and social justice advocates in a press release by the mayor's office. The award was created in 1992 and is a collaboration between the Utah Arts Festival, Salt Lake City Arts Council, and the mayor's office.
2021 Utah Arts Festival is from Aug 27-29. See highlights, headliners, and schedules for all the artistic programs at https://t.co/1Wr1HpZ9kA. For the first time, buy digital tickets that are delivered right to your phone or computer. Visit https://t.co/8v0auqksy1 today. pic.twitter.com/QJ8YyECG8S

— utahartsfest (@UtahArtsFest) July 20, 2021
This year's winners include:
Mestizo Institute of Culture and Arts
Lisa Sewell, who served as director for 14 of her 25 years with the Utah Arts Festival before stepping down in 2020
Framework Arts, a local nonprofit that supports arts programs for youth in community and school settings
Paisley Rekdal, author of six books of poetry and four of prose
Dallas Graham, publisher of the Red Fred Project creating life-legacy children's books for kids living with critical illnesses and rare diseases
The Mestizo Insitute of Culture and Art, according to its website, was founded in 2003 "out of the necessity to create a public space on Salt Lake City's west side that gave underrepresented artists a platform to tell their own stories through art."
Kuttner described the institute as a grassroots cultural organization dedicated to arts, justice, belonging and community power.
"We work to facilitate and coordinate gallery shows, community events, public art performances, and youth arts education opportunities focused around the principles of justice, belonging and power," Kuttner said. "We are strongly committed to west-side communities, and particularly the voices, art and culture of communities that have been marginalized in the broader art world such as BIPOC communities, communities of immigrant refugee background, LGBTQI communities and disabled communities."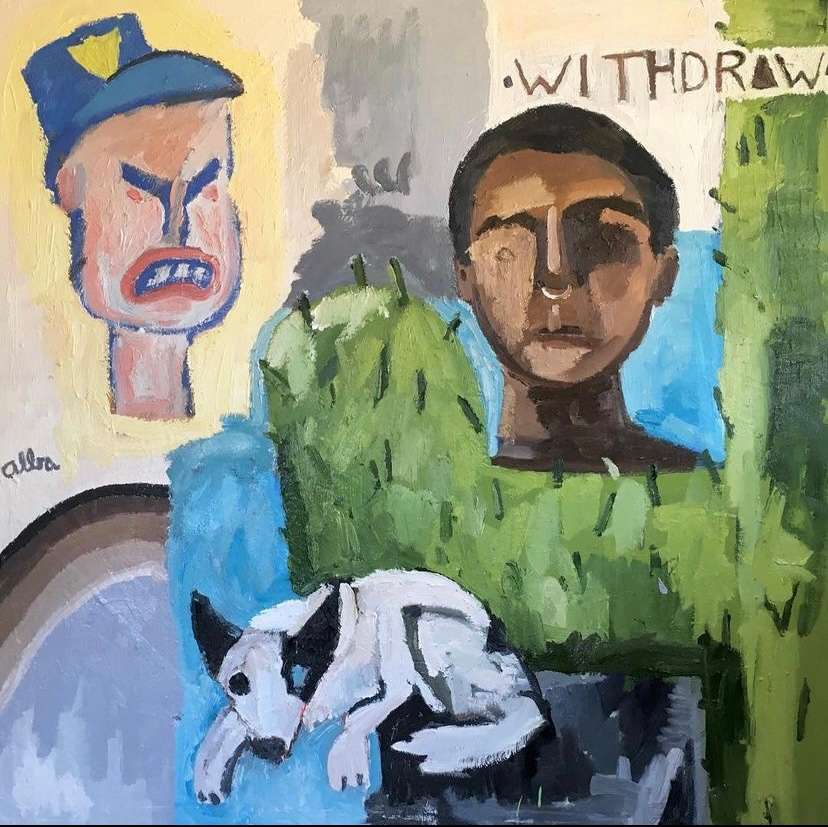 Among those voices is Salt Lake City native and artist Andrew Alba, whose work has been featured through the institute and other art organizations in the city. Alba is the son of Mexican migrant workers, an experience portrayed or explored in his subject matter that has highlighted a cultural divide for him in the arts world.
"A lot of the time most of the art world is very, very white, and it can be intimidating for both parties," Alba said. "Whether that's the artists of color, the white curator, or the message that the artist is trying to portray isn't really landing with the typical world of museums and galleries."
Alba said his work often features people with darker skin tones like his. One of these paintings featured his cousin and Alba said he was told by someone within the art community that based on that painting, his work was political.
But to Alba the intention of his work and the skin tone is less political and more about representation.
"It's more about identifying. Growing up the only brown figures I saw and paintings were in my grandparent's house and those were Diego Rivera prints, they had his paintings all over the place. When I got serious about art, that was kind of when I realized that I never really saw people like me or my family represented in fine art," Alba said.
The lack of representation Alba described was affirmed by Kuttner.
"There's long been sort of dominant groups in our society that have really dominated what's seen as sort of real true respectable art, and those lines have been drawn in ways that resources and opportunities are given to some people in the arts and not others. Particularly in Salt Lake City, it's often been ... an east-west divide, where the east had more cultural resources, spaces, opportunities and the west-side was often underinvested," Kuttner said.
Kuttner also pointed to the demographic of those communities, the west side being dominated by communities of color.
"And so, within the art world we see a great need for equity and justice in terms of what voices are presented — what types of art are respected and what's valued," he added.
To address part of that divide, the organization works with artists to create youth art education programs centered on west-side youths of color and youths of immigrant or refugee backgrounds. The programs, according to the website, are designed to provide a path to higher education and allow youth an opportunity to discover the arts.
"The family bonds are really strong in this neighborhood, but there's not many people like MICA that actually go out of their way to touch these kids in an intellectual way, or challenge these kids, or educate these kids on what the public education system isn't teaching them — like fine art, but also community building," Alba said. "They make an effort to kind of insert themselves because they know the challenges that are going on in a lot of these communities and they work hard to try to inspire."
The Utah Arts Festival will be held Aug. 27-29 at Library Square from noon to 11 p.m. on Friday and Saturday, and noon to 9 p.m. Sunday. The awards will be presented at 6 p.m. on Friday on the Utah Arts Festival stage. To buy tickets to the festival or learn about the other awardees, visit the Utah Arts Festival website.
×
Photos
Related Stories