SALT LAKE CITY — Utah health officials reported 693 new COVID-19 cases Thursday, the highest number of new cases reported in a single day since March.
Last Thursday, the Utah Department of Health reported 668 new cases, which until today had been the highest number reported since 699 new cases were reported on March 17.
But Utah Gov. Spencer Cox said that as Utah has experienced an uptick in COVID-19 cases like Thursday's high number over the past several weeks, there has also been an uptick in vaccinations, too. The state reported 5,244 new vaccinations on Thursday.
There's no clear reason why vaccinations have gone up recently, Cox said. There is still a large segment of the population in Utah that is vaccine-hesitant, but those people aren't completely opposed to getting vaccinated, he added.
Some of those people may have thought that they didn't need to get vaccinated as long as cases were going down, the governor said. But now that's changed, and cases are rising again, so those people may have changed their minds.
Though Utah is still enduring a COVID-19 spike, the governor said he is optimistic about the state's outlook.
"I'm more optimistic today than I was even two or three weeks ago," Cox said during his monthly PBS Utah press conference Thursday. "We need more people to get vaccinated. ... I promise you the disease is worse than the vaccine."
---
Utah Gov. Spencer Cox provided a pandemic update at a news conference Thursday morning on PBS Utah. Watch the replay of the event below.
---
A total of 1,616,471 Utahns have now received at least a first vaccine dose, which amounts to about 50.4% of the state's total population. A total of 1,441,385 Utahns, or about 45% of the state's total population, is now fully vaccinated, the health department reported. A total of 2,931,716 vaccine doses have now been administered in Utah.
Utah's rolling seven-day average for positive cases stands at 519 cases per day, according to the Utah Department of Health. The positive test rate per day for that time period calculated with the "people over people" method is now 13.4%. The positive test rate per day for that time period calculated with the "test over test" method is now 9%.
The health department also reported four more deaths Thursday, along with 258 COVID-19 patients hospitalized. That includes 101 in intensive care — the second day in a row that the number of COVID-19 patients in Utah intensive care units is in the triple digits.
About 80% of all ICU beds in Utah are now occupied, including about 83% of ICU beds in the state's 16 referral hospitals. At that capacity, Utah's health care system is experiencing a major strain. At 85% capacity, the state's hospitals are overwhelmed, and facilities will essentially be out of staffed ICU beds, according to the health department.
About 62% of non-ICU hospital beds are now occupied in the state, the health department reported. The state's hospitalization numbers had gone up several weeks ago, but had gone down slightly, Cox said. Now, the numbers are going back up, he added.
Just under 30% of Utah children ages 12-15 have now been vaccinated with at least a first dose, according to Cox. That's about 63,000 kids in the state.
The percentage is even higher for the 16-18 age group, he said. While the vast majority of Utahns 65 and older are vaccinated, vaccination rates are typically lower for younger age groups, Cox added.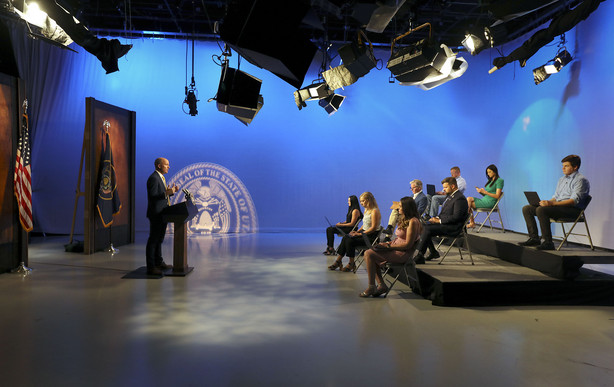 The governor speculated that since eligibility for the 12-15 age group opened up just as school was ending in the spring, many parents didn't prioritize getting their children inoculated since they wouldn't be sitting in classrooms much longer in close quarters with their peers. Cox said he expects more kids to get vaccinated as the new school year gets closer.
There have been a handful of hospitalizations and deaths from COVID-19 in children, Cox said, but the effects of the disease are generally less severe in children. However, kids becoming infected with the disease becomes a bigger problem when they bring it home and spread it to older or more at-risk family members.
"That's really what we need to avoid," Cox said.
Thursday's COVID-19 numbers update brings Utah to a total of 421,950 cases, 17,947 hospitalizations and 2,410 deaths since the pandemic began.
The four deaths reported Thursday were:
A Salt Lake County man who was between the ages of 45 and 64 and was not hospitalized when he died
A Salt Lake County woman who was over the age of 85 and was a resident of a long-term care facility
A Utah County man who was between the ages of 65 and 84 and was not hospitalized when he died
A Weber County man who was between the ages of 65 and 84 and was hospitalized when he died
The number of total tests conducted since the pandemic began in Utah is now at 5,194,262, up 8,590 since Wednesday. Of those, 5,053 were tests of people who hadn't previously been tested for COVID-19. Of the 2,847,690 people tested for COVID-19 in Utah so far, 14.8% have tested positive for COVID-19.
×
Photos