SALT LAKE CITY — State and city leaders celebrated the completion of a permanent supportive housing complex in downtown Salt Lake on Thursday.
The Magnolia Home at 165 S. 300 East contains 65 studio apartments for singles and couples and is expected to open for tenants in mid-July.
Those who will live at The Magnolia are the "most vulnerable" in the area's homeless community, said Michelle Flynn, executive director of the Road Home, which is managing the building.
"We will see an impact on the whole system with these 65 units, because we are pulling people in who really have struggled to get into housing and haven't been able to make it in. As we know, we have way more needs than we have permanent supportive housing units available," she said.
The $17 million-dollar facility was funded by Shelter the Homeless, the Road Home, and other government and community sources including Salt Lake City, Zions Bank and the Olene Walker Housing Fund. Low-income housing tax credits provided 40% of the needed funds, said Utah Housing Corporation President and CEO David Damschen.
The Magnolia adds to the Road Home's permanent supportive housing capacity of 201 units at Palmer Court and 32 units at the Wendell Apartments, as well as hundreds of other stand-alone supportive housing units and single-family dwellings throughout Salt Lake County.
"The Magnolia is the kind of collaboration between our city and the private sector and our amazing service provider organizations that makes us who we are as a community. Really, it's a place of intention," Salt Lake City Mayor Erin Mendenhall said.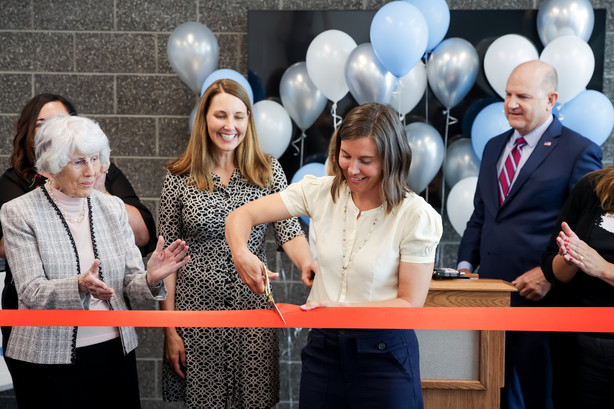 The building is opening even as Utah's capital city grapples with a 300-bed shortage for its homeless population. Flynn and others said Thursday they hope The Magnolia will help close that gap by keeping more people out of temporary shelters and in a permanent housing situation.
The approach to help those experiencing homelessness needs to be "as diverse and multifaceted as those individuals that we aim to serve," Mendenhall said.
"We know that that means that we need multiple types of housing, and it means permanent supportive housing, tiny home communities, I believe, shared housing ... it means apartments, it means houses for families. It means providing support in addition to walls and roof, and it means multiple levels of government working together not just to open the doors, but to keep things going," the mayor said.
Each apartment has its own balcony and is furnished with modern decor including a quartz kitchen countertop. The building contains space for meetings and a shared laundry facility.
---
We see this as an example to put out there and say, 'This is one of the solutions. We know it works. There's research and evidence that this type of program works.'
–Michelle Flynn, The Road Home
---
Flynn said supervisors, case managers and a peer support specialist will all work on site.
"They will be working with each individual. It is a housing-first model, which means we're going to help you get into housing, and then address whatever things you want to work on. It's very, very person-centered, so it's what that individual feels they want help with," Flynn said.
When someone moves in, the Road Home will provide essentials like blankets, food and pans for cooking to help them settle in. Caseworkers will help connect tenants to resources like income support if they are eligible. Flynn said case managers can also bring other specialists into the building to help with mental health counseling, substance use disorder treatment, and similar resources based on each client's needs.
Security staff will visit the apartment throughout the week, she said.
"We see this as an example to put out there and say, 'This is one of the solutions. We know it works. There's research and evidence that this type of program works,'" Flynn said.
The Road Home's permanent supportive housing programs have a 95% success rate of people staying housed, she said.
Clients do not get evicted from supportive housing based on their inability to pay rent, according to Flynn. But they could get evicted due to issues like violence, selling drugs or similar issues. The Road Home inspects apartment units each month, visitors get checked in and out at the front desk, and cameras are located around the building, Flynn said.
"We want to make sure that we have that safe environment and, at the same time, that all the tenants feel really supported and that we're there to help them get to their goals," she said.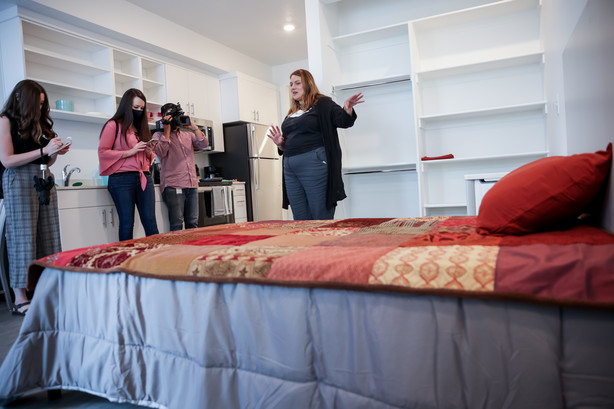 Wayne Niederhauser, the state's new homeless coordinator, called the new facility "exactly what we need."
"Because it's focused on people that are in the 30% and below (area median income). This is deeply affordable housing, and in order for us to help people that are suffering poverty that don't have homes, this has got to be the first step, a stable housing situation," Niederhauser told KSL.com.
But he noted that housing alone isn't the answer.
"You've got to have the case management, the services to help people to help themselves lift out of poverty. That's our objective at the end of the day, is changing people's lives," Niederhauser said.
He said the state will need more projects like the Magnolia, as well as more multifamily developments that offer both market-rate units and affordable units.
"That mixture also creates a more healthy community, a community of service, a community of support. I think this kind of facility is needed," Niederhauser said of The Magnolia. But he said he's a "big fan" of developments like the RiverWalk development in St. George, which offers mixed-size housing options to families with low incomes.
×
Photos
Related Stories