With drought declarations in place statewide, and talk about low reservoir levels, you might wonder how you can keep your yard looking good and staying healthy, while also doing your part to conserve water. Fortunately, there are a few simple things you can do now to reduce the impact a drought can take on your landscape.
Conduct a sprinkler system checkup
First, conduct a sprinkler system checkup. Making sure your sprinkler system is working and that there are no broken or malfunctioning parts is important during a good year but knowing every drop counts can be the motivation needed to take a good look at your system and correcting any issues that you find. The water savings can really add up.
Run a test cycle for each sprinkler zone and make sure all the sprinkler heads are correctly aligned and adjusted. Make sure they are not tilted or sunken (proper grade level prevents spray blockage). The best practice for a sprinkler system is to make sure head-to-head coverage is obtained. That means that the spray from one sprinkler head will reach the next head creating overlap and uniform application of water.
If water from one sprinkler head only makes it halfway, look at adjusting or changing the nozzle, cleaning out filters, and if needed, move the heads to get proper spacing. It will require some work but will make a big difference in coverage and efficiency.
Check your system for leaks, breaks, or other damage that may have occurred through the winter months. Make sure each automatic valve opens and closes properly as you test each zone. If you are a metered secondary customer of Weber Basin Water Conservancy District, you can use your customer portal to access hourly use history, historic monthly use, set up leak alerts and more at www.customers.weberbasin.com.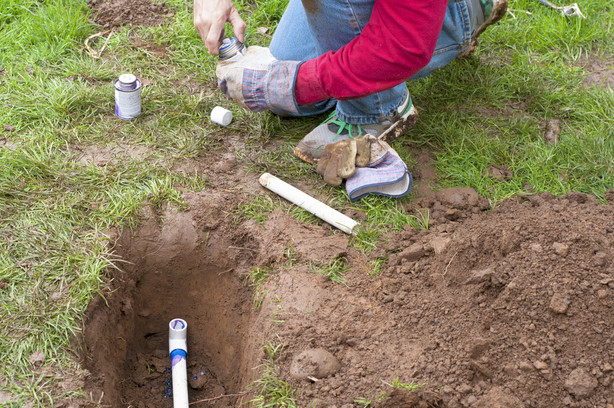 Time it right
Timing can be crucial, set your sprinkler system to water only as often as is needed to keep your landscape healthy and stimulate deep root growth. Setting schedules can be challenging because of the many variables that you need to consider. Soils play a big role in how long and how often you should water a zone. The microclimate in a yard also has a role. The north and east sides of a home often stay wet longer than the south and west sides due to the angle of the sun in our climate zone.
The rate of water being put out of the sprinklers can vary depending on the brand, type of sprinkler head and the nozzle that is being used. It is best to try to make sure you have the same type of heads and nozzles in the same irrigation zone. This ensures that you are not over or underwatering part of that area.
Think of your landscape soil as a reservoir for the plants growing in it. If you know the rate at which water is applied, and you know your soil type, you can determine how long it takes to fill up that soil reservoir. Clay soils will hold water longer, sandy soils will not hold water very long. Knowing soil type and rate of application and using a general guideline of applying about ½ inch of water each time you water, you can know how to successfully schedule watering and make needed adjustments through the season. You will be managing your own soil water reservoir which will help you keep plants healthy because you will only water when it's needed. If this is too much to think about, there are some general guidelines for each county in Utah found at https://slowtheflow.org/tools-and-resources/#guide.
If you are not using a smart controller, it is very important that you adjust your irrigation timer to the weather. If it is cooler, overcast, and rainy, you can change the frequency of irrigation and skip days, then resume the normal schedule when the weather warms back up during the summer. Adjusting irrigation scheduling according to weather, especially during spring and fall will save a lot of water that would have otherwise been wasted. The worst thing you could do is set it and forget it, be mindful and invested in how your irrigation responds to the weather. Irrigation controllers are getting smarter, and there are many brands of controllers now available which will automatically adjust based on the weather.
Conduct a water check
One way to know how fast water is applied and how evenly is to do a sprinkler system water check. A water check tests the uniformity and rate of water applied in each zone, and you can then adjust watering times based on what your system is doing and make any needed fixes to ensure you are being as efficient as possible. There are multiple resources to show you how to conduct your own water check, or you can sign up for one in your area. For Weber, Morgan, Davis, and Summit Counties, Weber Basin Water Conservancy District will do a water check for you for free. You can schedule an appointment on their website www.weberbasin.com/conservation/waterauditinfo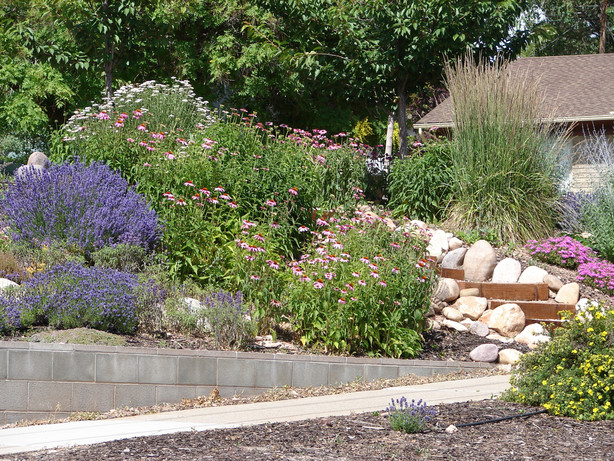 Fertilize, aerate, set proper mowing height and let it stress
A few more basic things to consider for your lawn this year will help it be healthy even with a little drought stress. Your lawn needs nutrients if it is going to be healthy and look good. Fertilizing now can help your lawn look great and prepare it for the summer heat. Good root development early in a healthy lawn will allow it to tolerate the hotter temperatures and drought stress in the summer. It's okay to delay watering early which also stimulates roots to grow deep.
Core aeration can help to eliminate thatch and open compacted or heavy soils so that water and air can be available in the root zone. It is not necessary on all sites every year but can really help if you struggle with clay and compaction.
Setting your lawn mower height to about 2.5-3 inches will also help grass be tougher in the summer heat. More photosynthetic material on top means deeper, healthier roots. The longer grass also shades the soil reducing evaporation slightly and helping with reduced weed germination as well. Mow frequently enough that you are not removing more than one inch of the foliage at a time.
At this early time of the watering season, delay watering for as long as possible. Even if you have started watering, try to delay each irrigation until its needed. If there is water always available at the surface, the grass roots will not grow deep looking for water and drought stress will show up quickly later. If you allow a little stress in the early part of the season, your lawn will be more durable and tolerant when it really heats up.
Use Localscapes
How do you really use your landscape? Does the desired function of your yard match how it is designed? There are five basic principles that can be implemented in a yard all at once or in a phased approach to create attractive, functional, and water-wise landscapes that help match your wants, needs, and Utah's climate all at the same time. Consider a Localscape approach to your overall property's landscape plan. This can beautify a potential problem area while simplifying maintenance and reducing water. There are free classes available to teach you how or guide you as you hire a professional. To learn more about how to Localscape visit www.localscapes.com or visit www.weberbasin.com/Conservation/ClassCalendar to sign up for the free classes.
For more information about how to be water efficient in your yard, visit online at www.weberbasin.com and visit in person at the Learning Garden at 2837 E. Highway 193 in Layton to see great examples of things you can do in your yard to save water and have a beautiful landscape.
×