CAMP WILLIAMS — Wildfire season remains weeks away, but Utah's wildland firefighters are already prepping for what they expect to be another busy year.
"We had a decent year in regards to precipitation, but we haven't overcome the drought that we've been in for a long-term period. I think that could come into play, and it definitely worries us, as well, as firefighters," said Matthew McFarland, Unified Fire Authority spokesman.
Capt. Jon Slatore, Unified fire management officer, noted that last year the state saw a high-than-average number of fires, though most weren't considered large in acreage.
The state experienced 1,547 wildfire reports in 2020, according to statistics provided by the Utah Division of Forestry, Fire and State Lands, and the total cost to suppress those fires reached $60 million.
"A lot of that was, I think people were home and they were just staying local. This year, we're looking at a lot of the same. ... I believe they're calling for a larger-scale drought for Utah, which sounds bad initially. But with the drought season coming on early, we don't get those fuels production that we normally get with a wet spring — you get a lot of fuels growing (in a wet spring)," Slatore said Thursday at Camp Williams, where a Unified crew helps the Utah National Guard base manage its fire risk.
"So we do have a lot of fires, but typically they're not as large-scale during this type of activity," Slatore said.
But that doesn't mean wildland firefighters will let down their guard.
On Thursday, the crew at Camp Williams worked in the wilderness fighting an imaginary blaze to get them prepared for the season. The task includes separating fuel from the burning area and digging a fire line — the technique wildfire crews use to stop the spread of fire without the help of water. During the practice, crew members who serve as weather look-outs practiced weather predictions as they carried kits that tell them the wind speed, humidity level and temperature.
"So these are skills they can acquire, even in a day without fire. They're out there practicing that as we speak," McFarland said.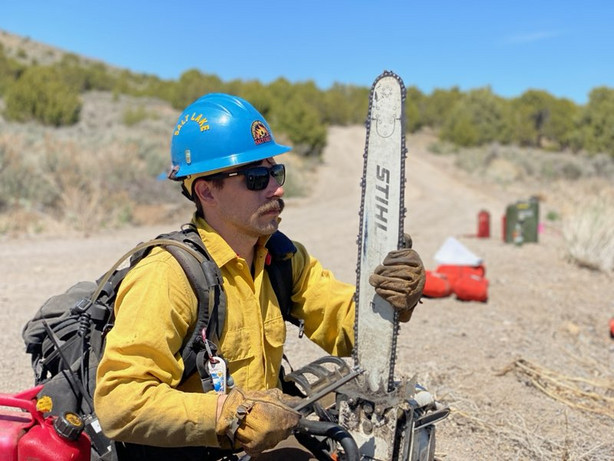 According to the Great Basin Coordination Center, May will likely bring above-average fire potential in the higher terrain of southern Utah. By June and July, higher-than-normal fire potential due to the drought will spread to northern Utah's higher terrain, the center says. Areas with lower elevation, however, expect lower fire risk due fewer fine fuels caused by the drought.
Utah fire officials on Thursday announced that closed fire season in the southern Utah counties of Beaver, Garfield, Iron, Kane and Washington has been advanced to begin in May instead of its typical June start time "due to unseasonably high fire danger." Open burning in those counties will be restricted starting on Sunday.
"I think we always kind of plan for the worst and hope for the best. We've increased the number of people who are on our initial attack squad this year by five, so that will help out if we have larger fires or more fires, to have more people involved," Slatore said.
Fourteen crew members work at Camp Williams. Unified has 50 seasonal wildland firefighters each year who work at fires in Utah and throughout the West as needed, McFarland said.
The crew at Camp Williams has also been increasing fire breaks in surrounding communities to reduce fire risk for residents, and Unified's initial attack crew based in Riverton is working with communities to mitigate fuel risks and take fire hazards off the roads ahead of the season.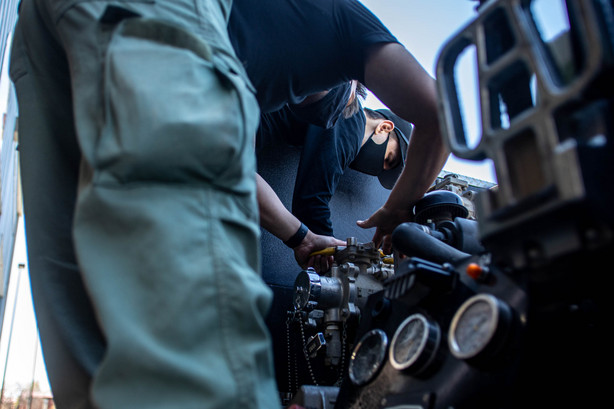 How you can prepare for fire season
Slatore encouraged residents to create more "defensible space" around their homes by cutting down excess vegetation.
"It can really help us if a fire does come into that area, that their homes don't become more fuel," he said.
He also cautioned residents against using drones in fire areas as the season starts — an increasingly common issue in recent years.
"Any kind of drone usage will shut down our fires almost completely. They're becoming more and more, they're more and more available, but that will shut down any aviation that we have in the air. So that is one of the biggest things that anyone can do locally, is not just not fly those drones anywhere around some kind of activity like that. It makes for great photography, I get it, but it will shut down our entire operation," Slatore said.
He also asked hikers to stay off trails if they see smoke in the area to give crews room to work.
McFarland noted that between 75-90% of all wildfires are human-caused.
Last year, the state marked a record in human-caused fires — about 1,200 of 1,500. The previous state record was 937.
"And that's where education comes in. These guys are prepared to work on those fires and to put them out as necessary. But the best thing that we can do is through state resources, just general awareness, educating the public on fire hazards, and understanding the part they play in it is what really could change the equation," he said.
"With those high percentages being caused by humans, we want the public to be aware of their actions, be firewise, not just for their properties, but Utah is a great state for outdoor recreation. And we need those outdoor recreationalists to be hyper-aware of where they are and what they're doing, and what kind of risk they pose to the environment they're recreating in," McFarland said.
×
Photos
Related Stories