SANDY — The longest offseason in Real Salt Lake history is coming to a close.
After sitting idle in the opening week of Major League Soccer's 2021 season a year after failing to make the playoffs during stop-and-start pandemic-affected season, the club from Sandy will finally open on the road Saturday at Minnesota United FC (6 p.m. MT, KMYU).
A lot has changed since the last time many casual fans paid attention to the club. So let's get up to speed with three things to know before Saturday evening.
Who's going to score the goals?
RSL ranked last in the Western Conference a year ago with only 25 goals scored, down from 46 during the more "normal" schedule of 2019. Sure, there were fewer games in 2020 — but that only explains part of the problem in Salt Lake's lack of finishing.
In 2019, Salt Lake's goal tally led it to a third-place finish in the West and postseason bid. So the theory goes: score more goals, win more games, head to the playoffs. It's science, right?
That's why the club underwent a minor overhaul up top as it searches for arguably its first true target striker since the days of Alvaro Saborio.
"Last year was not really good enough, from our standard," RSL midfielder Albert Rusnak said. "We know we're better than that, and that's what we've got to prove — and it starts on Saturday away at Minnesota."
Corey Baird was sent to LAFC for a large deposit of allocation money, and RSL brought in former U.S. internationals Rubio Rubin and Bobby Wood at forward. The 28-year-old Wood isn't officially scheduled to join RSL until July 1, but his contract with his German club was terminated early, so he could make his debut before that date — and likely with the approval of his wife, who is due to give birth to the couple's second child in early May.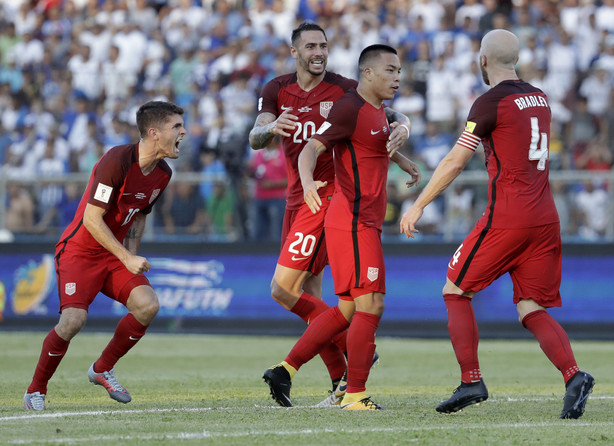 Beyond Wood, though, Salt Lake has the 25-year-old Rubin, who most recently played for Landon Donovan's San Diego Loyal in the second-division USL Championship after a stop in Mexico; 23-year-old Honduran international Douglas Martinez, who will miss part of the midsummer months representing Honduras at the Tokyo Olympics; and homegrown product Milan Iloski, who made just one appearance in 2020.
A bevy of wingers will also look to bolster the attacking corps, most notably new signing Anderson Julio, the 24-year-old Ecuadorian speedster who joined RSL on loan from LDU Quito. That list also includes 30-year-old former Real Monarchs star Maikel Chang; academy product Bode Davis; and MLS veteran Justin Meram, who had three goals and three assists in 2020.
Young DP Jeizon Ramirez, the Venezuelan winger who signed with much promise prior to 2020, also returns from an injury-and-fitness-truncated season where he made just 10 substitute appearances.
"I think we have a good core of attackers that we can change up and have variety that is a luxury once we get all of those pieces," Juarez said.
What is RSL's "core" group?
For the first time in what feels like 50 years (it's actually only 14), Kyle Beckerman will not play the midfield for Real Salt Lake. The recently retired holding midfielder was recently named the head coach at Utah Valley University, and fellow RSL legend Nick Rimando also took a position as goalkeeper coach at the RSL Academy.
Those are just two faces — but two that are the most iconic faces at RSL over the past decade, and arguably two of the more iconic sports figures on the Wasatch Front in that time.
So while the sheer number of roster turnover isn't massive, there are some critical pieces that Juarez will be breaking in during the 2021 season.
Still, the spine of the team is largely intact — Beckerman's retirement aside — and will once again be the strength of RSL's core. Damir Kreilach is back on an extended contract through 2023, a year after leading RSL with eight goals and bringing his total to 26 marks and 14 assists in three seasons in MLS.
Kreilach is among the favorites to don the captain's armband following the departure of Beckerman (and Rimando two years ago). Juarez won't tip his hand before Saturday night, but another likely candidate is Albert Rusnak.
Saddled with one of the largest contracts in RSL history, the Slovakian international finished 2020 with three goals and two assists, bringing his four-year total to 30 goals and 28 assists across 104 appearances. He'll likely miss time this summer for the UEFA European Championships and a handful of World Cup qualifiers, so a fast start would be helpful if Rusnak is to contend with the team lead.
Nick Besler, Everton Luiz, Justin Portillo and Pablo Ruiz are also back to man the midfield for RSL, while 24-year-old versatile center back Justen Glad and 23-year-old right back Aaron Herrera will anchor the defense alongside Marcelo Silva and Donny Toia, among others.
"We are happy with our back four," Juarez said. "All of our defenders are really coming along and learning the tactical part of what we want to do and the finger details that we haven't had in the past.
"We feel like we are going to have a good group."
What about the ownership?
This will be the dark cloud that will likely hang over RSL all year — or at least, until a new buyer brings the team under his or her (or its) wing.
Former owner Dell Loy Hansen announced his intent to sell the Utah Soccer pyramid — including Real Monarchs, Utah Royals FC and Rio Tinto Stadium, among other properties — after landing in a league-wide investigation following his criticism of the racial equality movement and multiple public reports of racist, misogynistic and toxic comments in the organization's workplace.
MLS took over the process of the bid in January, and league commissioner Don Garber has stated multiple times that the league intends to find a local buyer — someone who will keep the "Salt Lake" in Real Salt Lake. The National Women's Soccer League already sold the Royals to a Kansas City group, where the team will play the 2021 season as Kansas City NWSL. But MLS doesn't want to leave a market that is currently home to two of its clubs (temporarily) without a long-term franchise.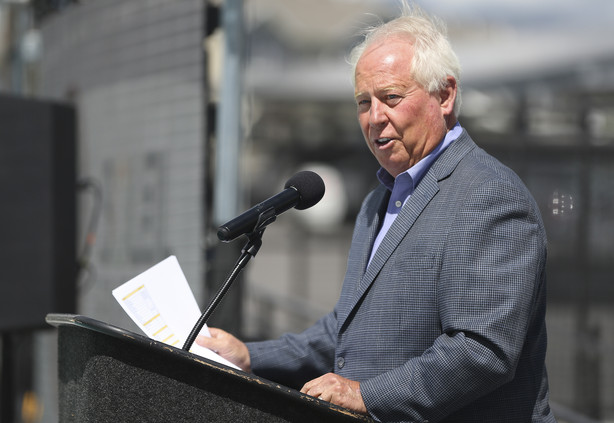 Previous reports have included interest from new Jazz majority owner and Qualtrics CEO Ryan Smith, as well as the previous Jazz owners from the Miller family (who maintain a minority share in the Jazz), among others. But none of those new investments have materialized, and the club will begin MLS play under league operations — and the direction of former club executive John Kimball, who was named RSL interim president during the transition period.
Kimball, an RSL original who also has experience with the Jazz and in local sports media, is also confident the club will remain with a local buyer, he told RSL internal media in an interview earlier this week.
"The league is working very hard and the one thing that really excites me is that they're focused and dedicated to keeping this team in Utah," Kimball said. "We do have momentum and opportunity and that's about as much as I can talk about it. But the positive thing is there are a number of people that are interested in this team and are excited about our club and what this does for the state of Utah.
"With Utah being one of the top economies in the country, with everything that's happening that's so positive in the state of Utah, this is a crown jewel and to have the opportunity to own this team. I think people see the long-term vision and the opportunity that exists to be a part of it."
Kimball also asked the RSL fanbase and community to "give us a chance" after recent events that he referred to as "disheartening."
That chance begins Saturday on the road in Minneapolis.
---
Real Salt Lake (0-0) at Minnesota United (0-1)
Saturday, April 24
Kickoff: 6 p.m. MT
Venue: Allianz Field
TV: KMYU
Streaming: ESPN+
Radio: ESPN 700 (English), KBMG 106.3 FM/La Grand D 102.3 FM/KTUB 1600 AM (Spanish)
×
Related Stories