Estimated read time: 11-12 minutes
This archived news story is available only for your personal, non-commercial use. Information in the story may be outdated or superseded by additional information. Reading or replaying the story in its archived form does not constitute a republication of the story.
SANDY — Real Salt Lake owner Dell Loy Hansen was not very happy about the players' decision with Los Angeles FC to not play Wednesday evening in protest of racial inequality and police brutality following the police shooting of Jacob Blake in Kenosha, Wisconsin.
The move — which was publicly supported by official club channels, staff members, and Major League Soccer — was roundly criticized by RSL's owner during an interview with a local radio station. In a statement following several reports of racially-charged and abusive language used by Hansen, MLS announced it would conduct an investigation into his ownership of the team and take appropriate action, if necessary.
"We are deeply concerned about the allegations made in a report published this evening concerning language used by and the conduct of Real Salt Lake owner Dell Loy Hansen," the league stated. "Major League Soccer has zero tolerance for this type of language or conduct and will immediately commence an investigation."
In an early-morning interview with X96's "Radio from Hell" crew, Hansen apologized to fans who were disappointed in the postponement, adding that the club "won't be inviting fans back" to Rio Tinto Stadium. The radio station later removed the interview with Hansen from its YouTube channel.
In a subsequent radio interview Thursday afternoon on ESPN 700, Hansen also apologized to those who were upset by his comments.
"We'd like to apologize because, when I look at the stats here and people who did prodigious amounts of work … at the herculean effort that went into that, the sense of community and building each other took a backseat to other important issues, and a there was a decision to punish local fans, local businesses and a sense of community pride. That was pretty hard to take," Hansen said.
Speaking on X96 — a station that is owned by Hansen's Broadway Media — Hansen and RSL chief business officer Andy Carroll said the match will probably be the last time fans will be allowed in the stadium. The club had sold out its limited capacity allotment of 5,000 tickets, in keeping with crowd-size regulations by the Salt Lake County health department.
In a separate interview with ESPN 700 — another station owned by Broadway Media — Hansen apologized for his earlier comments, saying that his comments were educated primarily by the team's return to play amid COVID-19 protocols but that they should've been presented with an eye toward fighting social injustice. He said he's been supportive of the message, including signs and shirts that read "Black Lives Matter" worn by players, coaches and staff, but was caught off guard when pregame demonstrations turned into a boycott of games across the league.
"It's exploded the conversation to a new level. If you didn't hear us before, you'd better hear us now," Hansen said Thursday afternoon. "I think that was probably the intent of yesterday, and I think I was misinterpreted because I was focused on the COVID(-19) comeback.
"I think we can focus on the Black Lives Matter and the COVID comeback. The players' intentions were probably misinterpreted on my side... I'm sorry that I didn't express it more clearly."
Hansen added he had a lengthy conversation with MLS commissioner Don Garber, who chastised him for using a metaphor about "feeling stabbed in the back" during the interview to describe his initial reaction to the postponed game. He added the metaphor was an attempt to describe poetically the conversation of a fan who had to drive home to Idaho after the match was postponed about an hour before kickoff.
"Like in all statements, people pick and choose the words; and I used a metaphor that was completely inappropriate," Hansen said. "But I did feel hurt for him, the young man who had made great sacrifice to come to a game, and I saw the pain in his face. Poor metaphor."
After that conversation, the league released its own statement.
"I appreciate Dell Loy Hansen's efforts to build the sport of soccer in Utah," Garber said. "His commitment to MLS, the NWSL and the USL, as well as the game at the youth level, has been significant. However, I strongly disagree with the comments he made today and the way they were expressed. They do not reflect the views of MLS.
"This is a time for all of us to work together in the pursuit of racial equality and social justice. Major League Soccer and all of its clubs will continue to support and create initiatives that enact real change."
Hansen said other initiatives were being met, such as allowing the team to take the field and kneel during the national anthem and pay respect for the Black lives lost as victims of police brutality in the country. That, in itself, caused significant backlash from a segment of the fan base, he said, but the organization wanted to show that they were inclusive of all political beliefs and feelings amid a polarizing moment in American politics and society.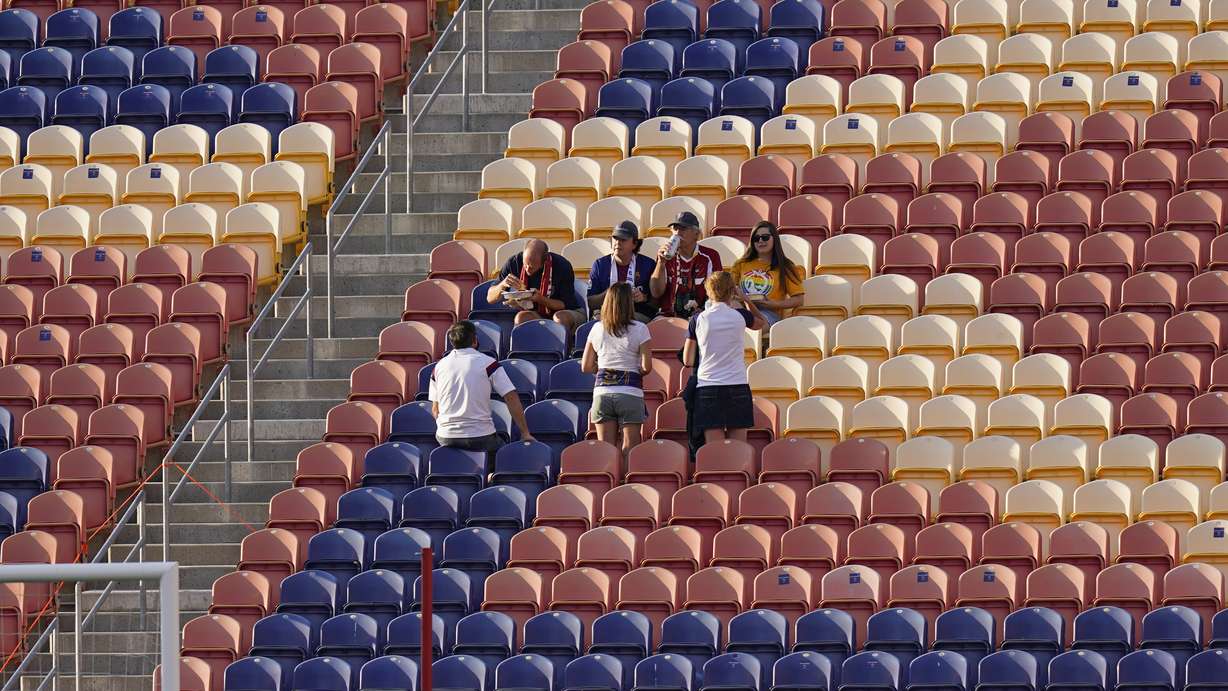 The latest step, however, has Hansen — who purchased majority ownership in the club from founder Dave Checketts in 2013 — rethinking his stake in the club.
"We don't think Real should be the battleground," Hansen said Thursday morning. "We think it should be the place where people quietly observe, respect and understand we're different. For them to take that flap from the organization with that attitude towards the disrespect is profoundly disappointing.
"It's taken a lot of wind out of my sails towards any effort I have to recruiting players, towards building a great team. It just seems that's not a very good path for me to take."
Again, Hansen attempted to clarify that metaphor in his interview with ESPN 700.
"The simple answer is the more economic resources we can muster, the better the team we can build. I was feeling that maybe we have less resources to build the team with," Hansen said.
"We had a little over 3 million sponsorship cancelations this morning. I was feeling that we need to build the best team possible, but we need the resources and we need the community support. It's not my money, but the community's team."
He's also received over 200 emails from fans and supporters who "want this to succeed," Hansen added.
"Last evening, there was anger. This morning, there was support," he said. "That's a shift."
RSL center back Nedum Onuoha, who was among the leaders of Wednesday night's movement, later followed up in an interview on ESPN 700 saying he does not feel comfortable with that stance from ownership. The Manchester City product and former England youth international who is Black added that the moment is not about money — something he proved in July when he opted out of the MLS is Back Tournament out of concern for the health of his family, even if it would have cost a paycheck.
"This is a far bigger thing than sports," said Onuoha, who is not actively working to leave the club but said he wants to talk to his teammates about it. "From what happened this morning, Dell Loy could've spoken to us but instead we were reading about what we did the night before. Basically, he was calling us wrong for what we did.
"He has the biggest platform in the club because he owns the football club."
Players responded almost immediately via Twitter. Toronto FC forward Jozy Altidore, a U.S. international, said he has offered to purchase the club. Utah Jazz star Donovan Mitchell agreed with the opinion of Hansen selling the team, saying that he "stands with the Real Salt Lake players."
"He needs to sell the team then," Altidore tweeted. "I'm involved in a group that's ready to purchase it. Time for change."
Even legendary RSL goalkeeper Nick Rimando, who retired in 2019, weighed in.
Wow just wow! I can't even right now. @realsaltlake locker room, fans, and front office that stand for equality, human rights, and the fight against racism I applaud you. I am disgusted by DLH comments. This is more than a game. https://t.co/PDYsD6hvKK

— Nick Rimando (@NickRimando) August 27, 2020
"I can't even right now. Real Salt Lake locker room, fans, and front office that stand for equality, human rights, and the fight against racism, I applaud you," Rimando tweeted. "I am disgusted by DLH comments. This is more than a game."
Current players within the RSL umbrella also spoke out in favor of the boycott, and condemning Hansen's comments.
"Any player's hope is to be in an environment where they are fully supported not only as a player but most importantly as a person," Utah Royals FC rookie Tziarra King wrote on Twitter. "For DLH to take this very real situation for the black community, and try to turn it around and make it about himself is completely unacceptable.
"Messages about inclusion and diversity are in complete contradiction with an owner who refuses to understand the relevance of a player strike for racial equality. I'm disappointed, but not surprised, by the lack of understanding in this situation. One thing I'm absolutely not going to do is use his privilege as an excuse for his comments. I hope that people, in this club and beyond, will choose accountability and empathy moving forward. I stand in complete solidarity with the decision of RSL players."
Hansen is also owner of Utah Royals FC, and his purchase of the rights that previously belonged to the now-defunct FC Kansas City in 2017 was seen as a massive step forward for what was then an uncertain league. Within months of the purchase, the Royals had the best locker rooms in the nine-team organization, which will grow to 10 with the addition of Racing Louisville in 2021.
But even the top women's league in the world distanced itself from RSL's owner on Thursday. The first league to reopen during the COVID-19 pandemic, the NWSL has moved swiftly in allowing its athletes to promote social causes, including Black Lives Matter, via pregame protests and in other realms.
"Dell Loy Hansen's remarks regarding player protests are in conflict with the values of the NWSL," commissioner Lisa Baird said in a statement. "Black Lives Matter, racism in this country is real, and we all must continue the critically important work of addressing racial injustice in our country."
The club reportedly told players to go home for the day, barring them from training and working out at Hansen's multimillion-dollar training complex in Herriman. Hansen clarified that the decision was made not to practice Thursday, less than 12 hours after the postponed game, after it seemed imprudent due to the previous night's message. The club owner said the decision was reached with several players, including goalkeeper Zac MacMath, who is a representative of the MLS players' union.
"I think it takes away from the profound nature of what happened last night," Hansen told ESPN 700 while adding, "It's not like we're locking players out, but it was incongruent if 12 hours later, we were back practicing."
Former RSL original and head team scout Andy Williams compared the ensuing battle between players and owner to a previous saga involving the Los Angeles Clippers.
"Like I said yesterday, it's about to go down," Williams tweeted. "Can someone say Donald Sterling part 2?
"He has no clue. I'd love to say more, but I'll wait."
Hansen told X96 as many as 300 fans have threatened to cancel their season tickets over the strike and other moves by the players at fighting social injustice. He also added that he will be forced to undergo another round of furloughs beginning Friday or Monday.
"We would not go through the risk to invite people back to have that kind of an outcome," he said.
RSL publicly approved of the measure via social media and the team's website, and MLS said all postponed matches — five of the six that were scheduled to play Wednesday — will be made up. Club employees said they would contact each ticket holder from Wednesday night, individually, to schedule a make-up date or reimbursement for tickets, and the media staff swiftly coordinated interviews by video conference with defender Onuoha and MacMath, who were both at the forefront of the league-wide movement.
MacMath said the decision not to play was made shortly after 3 p.m. MDT, or as the final preparations were being made for Orlando City's game against Nashville SC, which finished as the only result of the night in a 3-1 win for Orlando.
Hansen said the club wasn't aware of the decision until 6:10 p.m, and Carroll recalled stories of fans who drove from Idaho, St. George and other areas in Utah to be in the limited audience Wednesday night.
"People were really looking forward to it, and that was really disappointing," Carroll said. "We apologize to our fans, to our sponsors, and to our staff that we weren't able to have the game."
RSL's head of business said the move appeared to be sparked by the NBA and other leagues boycotting and refusing to play in protest of racial injustice.
"It unraveled from market to market," Carroll added. "We were paying attention with other clubs, having a number of conversations with regards to other clubs. Orlando went off and played, and Atlanta didn't play a couple of hours ahead of us.
"Quite frankly, there was a lot of confusion around it."
As of Thursday morning, RSL was scheduled to play Saturday at Portland. Kickoff is scheduled for 8 p.m. MDT on KMYU and ESPN+.
×
Related links
Most recent Real Salt Lake stories