SANDY — It's official: the Utah Royals FC are no more. But included in the announcement is hope the club could return as early as 2023.
The club announced Monday morning that Utah Soccer LLC — the parent company that owns the Royals, Real Salt Lake, and Real Monarchs — has sold the rights to the professional women's soccer franchise to an ownership group led by Chris and Angie Long and Brittany Matthews, the fiancee of Chiefs quarterback Patrick Mahomes, in Kansas City.
After three years on the Wasatch Front, the club whose players once played under the FC Kansas City moniker will be moving immediately.
"We love the Utah soccer community and have been honored to work with these world-renowned professional women athletes," said Utah Royals FC owners Dell Loy and Julie Hansen in a prepared statement. "We will truly miss our athletes who have become our friends. We lend our full support to new owners who can continue our vision to have the women's team equal to the men's team in time, facilities, and resources and who can help shepherd the team into a new era of growth and success."
Hansen announced his intent to sell Utah Soccer back in August, after several reported missteps and allegations of racially charged and sexist behavior occurred in the three-team organization under his watch. Monday's announcement closes the door on his tenure as owner of the National Women's Soccer League franchise in Utah.
But it also cracks open a chance for the club's return, including under the same name and brand.
The team officially finished 18-14-17 in three seasons in Utah, never making the NWSL Cup playoffs while enjoying significant success off the field. Playing at Rio Tinto Stadium in harmony with RSL, the Royals were one of just two teams in the league to average more than 10,000 fans per game (soccer-mad Portland was the other), and attracted as much attention off the field as on it.
When the league needed a host to play out a portion of its 2020 season amid the global coronavirus pandemic, the Royals donated $900,000 to help established a bubble around Zions Bank Stadium in Herriman to play the NWSL Championship Cup — becoming the first North American pro sports league to return to play following the national shutdown of professional sports.
From selling out its home opener against the Chicago Red Stars in front of a standing-room only crowd of 19,023 on March 28, 2018 until its final game, the support from the crowd was, at many times, overwhelming, while watching stars like U.S. women's national team members Becky Sauerbrunn, Christen Press and Kelley O'Hara.
"When I first arrived to Salt Lake City three years ago, what stood out was the overwhelming support and excitement from the community," Utah Royals FC general manager Stephanie Lee said. "I hope fans have solace that women's professional soccer will be back."
That's the thing that most players, whose contracts have now been transferred to the Kansas City group — whose name and brand have yet to be unveiled — will remember the most.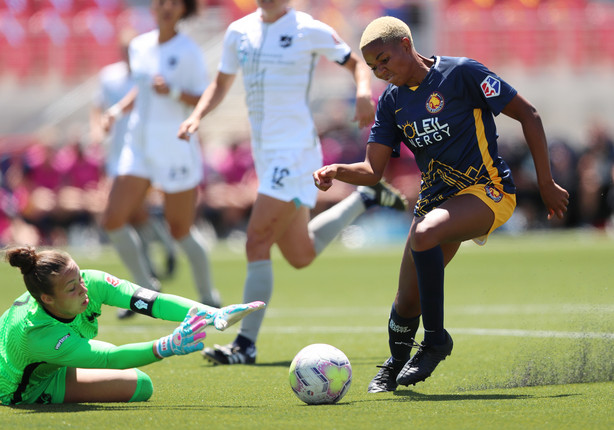 "Right now it seems as if there are no words and there is nothing I could say that will ease the hurt you are feeling. I know because I have felt it, too," said Utah Royals captain Amy Rodriguez, who also played at FC Kansas City. "But I would be remiss if I did not take the time to share how much you all have meant to me, my family, and this team.
"In 2018, when my family and I arrived in Utah, we were unsure of what it would bring. We were optimistic and hopeful, but we could not predict just how much we would come to love it, and that is in large part to you, the fans.
"Three years later, I never imagined I would have to say goodbye. Getting to play in front of our fans at the RioT is one of the greatest honors of my life. Looking up into the stands filled with your smiling faces every week filled me with immense pride and being a part of the Salt Lake City community is a gift I can never repay. There are not enough words to express my gratitude for the support you have given us.
"Since day one, you have embraced us with open arms and made us feel a part of this community. Despite our shortcomings, you have stood proudly by our side in triumph and in failure, you always cheered.
"Please know that we see you, we know how lucky we were to play for you and we will miss you more than you could ever know. As we enter into this new chapter of our lives, we will carry with us the royalty you bestowed upon us. Utah will always be Royal."
Real Salt Lake, as well as its second-division affiliate Real Monarchs, is still looking for a buyer. But the club — which could be operated by Major League Soccer beginning as soon as next January, according to several reports — issued a statement Monday afternoon reaffirming its commitment to the NWSL and women's soccer, including bringing a professional team back to Utah when the time is right.
Club statement on @UtahRoyalsFCpic.twitter.com/cRAPgtFH99

— Real Salt Lake (@realsaltlake) December 8, 2020
"RSL is still 100% committed to the women's game and to the young women who play," the club's statement read. "It is our hope to have a NWSL team back in Utah soon. In the meantime, we will support the young women in Utah with our clinics and education programs, we will continue to fully support and operate the Utah Royals Arizona Academy in Phoenix, as well as work with our affiliates in San Diego and El Paso.
"Real Salt Lake was proud to bring Royals FC to Utah and we look forward to the next chapter."
RSL defender Justen Glad was among the chorus of players from the top-flight men's team to express their own appreciation.
"I remember going to the inaugural URFC game and the energy and feeling around the stadium was just phenomenal," he said. "Seeing that moment and the positive impact the Royals have had on youth soccer and girls soccer in particular has been amazing to watch. They've constantly been amazing role models with how they carry themselves on and off the field and have especially highlighted how important it is to stand up for what they believe in. I've been honored to watch and join them with my voice whenever is possible and can't wait to see what they can achieve in the future."
But as no ownership group invested interest in the club following Hansen's intent to sell, the prospect of the team remaining in Utah looked cloudy. The club fired head coach Craig Harrington after less than one season in charge, replacing him with long-time assistant and former U.S. international Amy LePeilbet as an interim caretaker. The Royals struggled through a four-game fall exhibition series with two draws and two losses against the Portland Thorns and Tacoma, Washington-based OL Reign and hoped that a new owner could reinvigorate a franchise whose top players were departing.
First, Sauerbrunn departed for Portland in exchange for young center back Elizabeth Ball and a guarantee of $100,000 in allocation money. Press signed to play in England with Manchester United Women, and when expansion side Racing Louisville picked up her NWSL rights, it netted the club $75,000 in allocation money.
The Royals then sold their final U.S. international O'Hara to the Washington Spirit for the same fee just a few weeks before the franchise announced its move. In all, the organization's three World Cup winners amassed $250,000 in allocation money.
Then the Kansas City group emerged with a plan to bring pro women's soccer back to the area for the first time since the franchise was dissolved and player contracts were relocated to the Salt Lake valley.
"This is a tremendous opportunity for our league, and I'm absolutely thrilled to welcome Kansas City back to the NWSL," said NWSL Commissioner Lisa Baird in a league statement. "Kansas City is a soccer-rich community, and this fantastic ownership group is ready and able to commit the resources necessary for this club to be a massive success. I'd also like to thank the fans in Utah for their incredible support of the NWSL."
Bringing professional women's soccer to Utah wasn't always about the success on the field (although like any organization, that was hoped). It was about elevating the women's game — and women's sports, in general — to the same level as men. Royals players trained at the club's $80 million RSL Academy in Herriman alongside Real Salt Lake, as well as practicing at nearby America First Field in Sandy — the original practice ground of RSL. The players had a locker room next to the men's side in the RioT, upgraded and renovated to be immediately among the best in the league.
"To me, this will be their rallying point," said Hansen when he brought the team to Utah in 2017 as a self-made billionaire from Cache Valley who has seven daughters. "If you are a man, you can watch the Utes or BYU football or drag racing — but I think that for a lot of women, this will be their epicenter. I don't think it takes a lot of research to think that we need that rallying point in Utah."
Under terms of the deal, the franchise can be reborn again in Utah no earlier than 2023, if new ownership chooses to invest in the club and revive. The proposal immediately draws to mind parallels of the birth of the Houston Dynamo in Major League Soccer, which moved from San Jose in 2005. The Clash of San Jose were a founding member of the league back then, rebranded to the Earthquakes in 1999, and returned to the Bay Area in time for the 2008 season.
Further details about the club and its future will be released in the coming weeks.
The same thing could happen in Utah. It just needs the right group to step in as owners.
"Our hearts are full of gratitude and appreciation for the support and passion our fans have shared with us over the years," the club said in a statement. "We hope to carry on the rich tradition of the Utah Royals FC with leadership that shares our mission to provide prominent world class resources for female athletes. To this end, we prioritize cooperation with the Leagues to ensure a smooth transition to new ownership, and we pledge our unwavering support for bringing Utah Royals FC back to Rio Tinto Stadium as soon as possible."
Added Lee: "When reflecting upon the last three years, it is impossible to ignore the staff that gave their commitment and hard work every day. Striving to not only create an equality and professionally driven environment, but to consistently challenge the League and those around us for stronger ticket sales, more creative sponsorship support, and the will-power to host the 2020 NWSL Challenge Cup and become the first professional sports league to return to play."
×
Related Links