PROVO — Two years ago, when she was a freshman, Shaylee Gonzales stepped in front of a microphone after the BYU women's basketball team lost in the second round of the NCAA Tournament, disappointed but optimistic in the future of the program.
After finishing the most difficult season of any college basketball player's life — and rebounding from a season-long ACL injury to boot — the redshirt sophomore was back in a similar spot Wednesday, addressing the media after a second-round loss, this one 52-46 to No. 3 Arizona in San Antonio.
This time, Gonzales wasn't faced with a handful of in-person reporters, including those who made the trip from Utah to the Bay Area for the Cougars' only NCAA Tournament appearance in 2018-19. Instead, she stared at a monitor, with an NCAA moderator unmuting reporters' microphones for questions — a precaution caused by the COVID-19 pandemic.
But in other ways, the experience was largely familiar.
The disappointment will never go away, especially after the Cougars had a 4-point lead on the Wildcats with about five minutes remaining and watched it slip away as Arizona finished on a 13-3 run. It's the same disappointment Gonzales felt after a 72-63 loss to Stanford as a freshman — a loss that felt like 25 points, she admits.
But time is a flat circle, and Gonzales felt a similar measure of optimism Wednesday night — perhaps now more than ever. The Gilbert, Arizona, native and reigning West Coast Conference co-player of the year has learned a lot since that loss in Maples Pavilion — and so has her team, even after a second consecutive defeat to a Pac-12 squad in the second round. There were positives to take away from that trip to the Bay Area. So, too, are there positives to take from Wednesday's stinging loss.
"I think the main thing is maturity and confidence," Gonzales said. "It was two years ago, and our team is a lot different. But I've matured a lot too after sitting out last season. I grew a lot, mentally and physically, and I'm thankful for that experience.
"Playing Stanford was super tough, and that was a really tough game. Coming into this game (against Arizona), I believed in my team and had a lot more confidence. I feel like we handled this game a lot better than we did my freshman year. That comes with maturity and confidence — and I'm just super proud of my team."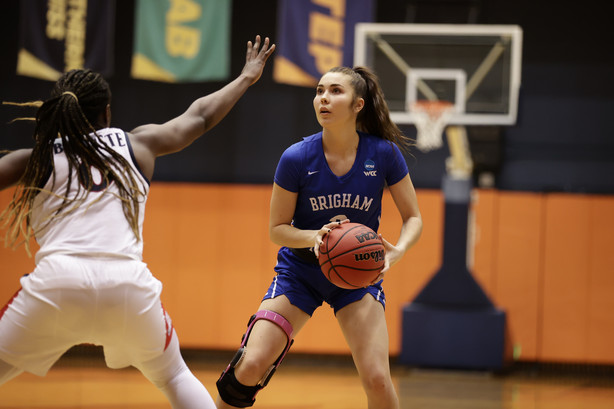 For just over 11 minutes, plus 8 1/2 of a tie game, and 12 lead changes, the Cougars had Arizona on the ropes before the third-seeded Wildcats pulled away for their first Sweet 16 appearance since 1998 (and second-ever).
For long stretches, BYU played like an elite team — one worthy of a spot among the 16 best programs in the country. For other moments, the focus wasn't there — offensively or defensively.
Just like two years ago, when the Cougars played with the historic Cardinal program for stretches before falling by nine, Wednesday's loss to Arizona leaves BYU optimistic for the future.
That optimism turned to tragedy over the summer, when Gonzales tore her anterior cruciate ligament and was forced to redshirt for the entire 2019-20 season. That turned out to be the best thing Gonzales did, allowing her to get stronger and see the game from a new vantage point — next to the coaching staff, from the bench, while traveling to every game.
It paid off this season, with Gonzales shooting 45% from the field and increasing her 3-point average by nearly 5% to 35% from distance.
The 5-foot-10 sophomore got better — and now, so can her team.
The most balanced team in head coach Jeff Judkins' 630-game career at BYU will return plenty of talent, including Gonzales, who averaged 17.9 points and 3.7 assists per game, and Lauren Gustin, an All-America honorable mention by the Associated Press who was the nation's sixth-best rebounder at 11.5 boards per game.
The Cougars also add a loaded signing class, with six players that include two-time Class 6A state champion Emma Calvert from Fremont and Herriman top scorer Lealani "Nani" Falatea. BYU will also add 4A top scorer Amber Kartchner from Logan; Amanda Barcello from Chandler, Arizona (the younger sister of BYU men's guard Alex Barcello); Rose Bubakar, a 6-foot wing from Frederick, Maryland; and New Zealand international Arielle Williams-Mackey.
"Everybody's coming back, and I'm excited about that," Judkins said. "We're ready to start it up in the locker room already. We've got a lot of big goals already."
With Wednesday's loss, the Cougars wrapped up a 19-6 season that was among the most challenging on record. BYU played just five nonconference games due to the global pandemic, with wins over LSU and in-state rivals Utah State and Southern Utah. The Cougars then went 13-3 in West Coast Conference play, including a 61-56 home win over Gonzaga that helped clinch the No. 2 seed in the conference tournament.
They nearly did it again, too, but for a buzzer-beating jumper by Jill Townsend with 0.6 seconds left that lifted the Zags to the tournament title. It proved to be just enough to get BYU into the NCAA Tournament, the Last Team In — but it proved enough to help force a first-round upset over sixth-seeded Rutgers.
All of that gives BYU plenty on which to build.
Aiding the optimism is the fact that the Cougars won't lose a single player from this year's squad. Sparked by the early decision of Paisley Johnson Harding, the starting wing whose husband Conner has two years of eligibility remaining with the men's program, BYU's senior class that also includes 6-foot-7 shot blocker Sara Hamson, distributive point guard Maria Albiero and graduate student Tegan Graham have all decided to return for the NCAA's free year of eligibility granted as a result of the COVID-19 pandemic.
"All of our seniors are coming back," Judkins said. "They've all wanted to, and they told me early in the year that they want to come back, no matter what happens."
Three weeks ago, Harding told KSL.com returning for another year is about her marriage, her love of the program, and her desire to give back.
Now, it's also about pushing BYU women's basketball to a spot it hasn't been since 2014 — the Sweet 16, or beyond.
"It wasn't even a question if I can play another year of basketball," said Harding, who poured in 28 points in a 69-66 win over Rutgers. "And, in my opinion, it would be crazy not to take that opportunity. I want to do this for as long as possible."
A year after a devastating ACL injury and total reconstruction, Gonzales has reason to be optimistic about her future with the Cougars. She's 2-for-2 in NCAA Tournament appearances and still has a chance to go 4-for-4 in her collegiate career.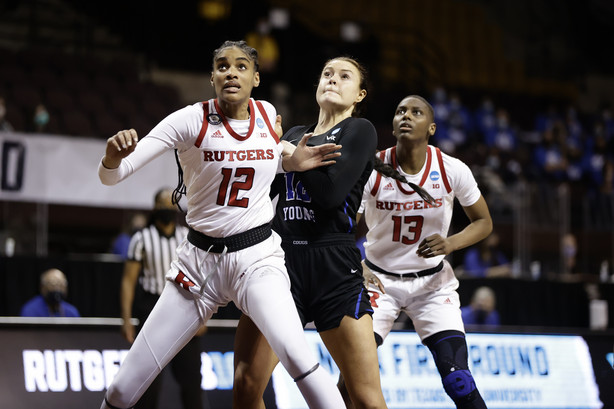 But mostly, she has a chance to get better with her team.
They already have.
"We learned a lot as a team. We grew a lot," Gonzales said. "It was hard for all of us, to have that uncertainty. I feel like it will make this next season a lot more sweeter; hopefully, we can play more basketball games.
"I know our team is going to be way better. This is going to be a chip on our shoulder. Hopefully, we proved to everyone who we are, and that we are going to be back next year. I just want to start right away."
BYU returning roster in 2021-22
Shaylee Gonzales, G, RS-Jr.
Maria Albiero, G, Sr.*
Paisley Harding, G, Sr.*
Lauren Gustin, F, Jr.
Sara Hamson, C, Sr.*
Kaylee Smiler, G, Jr.
Tegan Graham, G, Sr.*
Malli Perri, F, Jr.
Tahlia White, F, RS-Fr.
Signe Glantz, F, Jr.
Kyra Beckman, F, RS-Fr.
Kayla Belles-Lee, F, Sr.
Devry Millett, G, Jr.
Kate Vorwaller, G, So.
Megan Stevenson, G, So.
*Granted extra season for eligibility due to COVID-19 pandemic.
Incoming Class of 2021
Amanda Barcello, G, 5-11
Seton Catholic (Chandler, Ariz.)
Two-time Arizona 4A state champ
Two-time Arizona conference defensive player of the year
Rose Bubakar, F, 6-0
Frederick HS (Frederick, Md.)
Two-time Maryland state champion
Also state champion in high jump
Emma Calvert, F, 6-4
Fremont HS (Farr West, Utah)
Two-time Utah 6A state champion
2020 Deseret News 6A MVP
Lealani Falatea, G, 5-9
Herriman HS (Salt Lake City)
Two-time Utah 5A state champion
Utah 6A state finalist in 2021
2019 Utah 5A MVP
Amber Kartchner, G, 5-9
Logan HS (Logan)
2020 McDonald's All-America nominee (Utah)
2020 5A first-team all-state
Logan High career scoring leader
Arielle Mackey-Williams, G, 5-9
Tai Wanaga Ki Ruakura HS (Ngati Porou, New Zealand)
Representative team for Queensland, New Zealand
National performance program (Australia)
×
Related Stories