Estimated read time: 5-6 minutes
This archived news story is available only for your personal, non-commercial use. Information in the story may be outdated or superseded by additional information. Reading or replaying the story in its archived form does not constitute a republication of the story.
LAS VEGAS — When the coronavirus pandemic shut down college basketball a year ago, BYU's senior class — along with seniors across the country — was sent off into a disappointing ending.
In men's basketball, that included such high-profile names as Yoeli Childs, Jake Toolson, T.J. Haws and Dalton Nixon not getting the senior send-off they felt they deserved: a shot at BYU's first NCAA Tournament in a generation of college students.
On the women's team, similar feelings were had by seniors like Brenna Chase, who teamed up with Paisley Johnson Harding and Shaylee Gonzales to form a "Splash Sisters" trio in the 2018-19 season that was dynamic offensively and downright fun, right up to the NCAA's Round of 32.
It's not easy to end a season early, but it's even more difficult when it comes at the cost of your friends.
That is why when the NCAA offered a blanket waiver to the seniors of the Class of 2021 — a free year of eligibility, essentially, in light of the COVID-19 pandemic's effects on two seasons of play — Paisley Harding didn't have to think twice. She was using it.
Of course, the undisputed senior leader and former WCC Most Outstanding Player of the BYU women also had another reason to stick around Provo: her new husband, Connor Harding, is only a junior on the men's basketball team.
"I want nothing but success for Connor; and if that means staying here through his senior year, I'm his biggest supporter," said Harding, who will graduate in April with a degree in sociology. "I definitely wanted to be here, even if it was as a grad assistant or just getting a job."
But sticking around Provo isn't just about being a good wife and partner; Harding is also having a lot of fun — and this ride with BYU women's basketball isn't stopping any time soon, at least not for her.
"This program has given me so much and taught me so much about myself," Harding told KSL.com. She said BYU women's basketball head coach Jeff Judkins "has been the person who has changed me into a smart basketball player and better person, and I was thrilled to be able to have that opportunity to come back.
"It wasn't even a question if I can play another year of basketball. And, in my opinion, it would be crazy not to take that opportunity. I want to do this for as long as possible."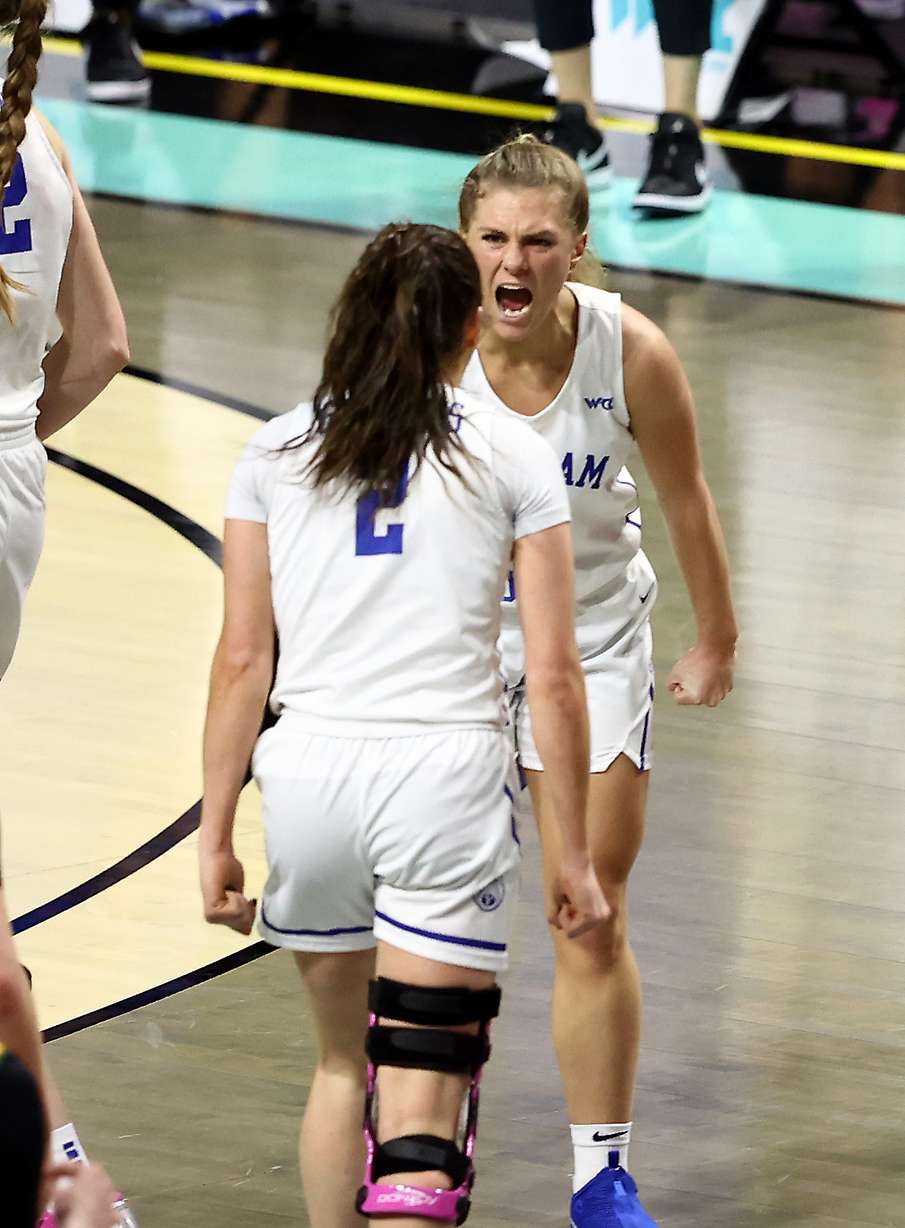 Harding poured in 23 points and seven rebounds in Monday's West Coast Conference Tournament semifinal win over San Francisco, setting up a 1-2 showdown with Gonzaga on Tuesday (2 p.m. MST, ESPNU) with the winner earning an automatic bid to the NCAA Tournament. On a night when Gonzales struggling shooting the ball — by her lofty 18.6 points per game standard — Harding was more than capable of making up the difference.
That's the key to this team. Behind the two star guards — distributor Maria Albiero, 6-foot-7 shot-blocker Sara Hamson, and walking double-double Lauren Gustin — the Cougars (19-4) are making memories well into March.
But the unquestioned leader is Harding.
"I feel like Paisley's always been a leader," said Gustin, a JUCO All-American at Salt Lake who rooms with Harding on the road. "She was very much a leader last year as a junior, and this year she's been a great role model. She brings a lot of energy on and off the court.
"She's been a great person to look up to."
Harding isn't just a good teammate, though; she's also the team's second-best scorer and shooter at 13.7 points per game, trailing only Gonzales.
And while the two miss Chase — who graduated as Brenna Drollinger — to perfect their "Splash Sisters" trio, the duo has done plenty well themselves.
"I really think we feed off each," Gonzales said. "One night Pais will be on; one night I'll be on. We're shooters, and we love to shoot 3-pointers.
"One of my favorite moments was hitting a shot against Gonzaga to go into halftime, and we bodied each other up. We bring so much energy to the team. I love those moments with her."
The moment was fitting during the upset of the then-No. 16 Zags that vaulted the Cougars from "nice story" to NCAA Tournament contenders. The Splash Sister duo was back, as the conference has learned.
"There's no question those two play off each other, push each other, and challenge each other," Judkins said. "They both kind of hit a slump at the same time, and you have to give them a lot of credit … There's no question in my mind that's the best guard line in the league.
"With Lauren in there, they're all-conference players and as good as anyone in our conference — and they all work so well together."
There's something special about the "Splash," though.
"Paisley missed Shaylee last year," Judkins said. "She realized what Shaylee did, and sometimes you have to miss someone to realize what they mean to you."
Tuesday won't be Harding's last game in a BYU uniform; the Cougars have plans for March, either in the NCAA or a surefire postseason berth in the Women's NIT. And even if they don't make it to the NCAA tournament, Harding's coming back for a fifth year. It was the easiest decision of her life, and one she hasn't regretted for a second.
COVID-19 has taken a lot from Harding, the Cougars, and everyone caught in the grip of a deadly, viral pandemic. But it won't take Harding's senior year. It will only extend it.
"I can't ask for a better team," Harding said. "My sophomore year (in the NCAA Tournament) was special, but this team just feels even closer. Everything that college athletes have been through, the things a lot of spectators don't get to see, is the effect of COVID-19 and the unexpected nature of this year. It's really affected so many student-athletes and their mental health, their physical health, their desire … so cut us some slack. Recognize that this is not an easy time; we're so blessed to be able to play right now, but it's still a troubling time for a lot of us.
"We need supportive fans now more than ever."
ON THE AIR
West Coast Conference Tournament championship
Tuesday, March 9, at 2 p.m. MST
TV: ESPNU
Streaming: WatchESPN
Radio: BYU Radio 107.9 FM
×
Related stories
Most recent BYU Cougars stories