TAYLORSVILLE — Herriman High had scarcely been in the position before — playing for a shot at a girls basketball state championship — but Lealani Falatea had.
Since her freshman year at East, Falatea has been among the top scorers in the state.
After her father took a job with the Mustangs' football program before the season, Falatea had a chance to show her new school and community why in Thursday's state semifinal.
The 5-foot-9 BYU signee had 24 points, including 7 straight midway through the fourth quarter, to go along with 10 rebounds, three steals and two blocks to help the Mustangs pull away from Lone Peak, 54-46, Thursday at Salt Lake Community College.
"It's a different team, but I'm really happy to be here," Falatea said. "We would never be here without the team, our coaching staff and these players. I'm really happy to be here."
Lexi Jensen added 8 points, and MaKenlee Enger 6 for Herriman (23-1), which will face Fremont in Saturday's championship game.
Tipoff is scheduled for 12 noon, and can be streamed at live.ksl.com.
Nani Falatea = BEAST Mode 💪 @HerrimanHS is moving on to the @UHSAAinfo 6A girls basketball championship game with a 54-46 win over Lone Peak.

Replay any time » https://t.co/bwAWCikjRYpic.twitter.com/q3JbypSKwp

— KSL.com Sports (@KSLcomSports) March 4, 2021
Kailey Woolston led Lone Peak with 15 points and six rebounds, and Kena Ika — who had a season-high 19 points in Tuesday's quarterfinals — added 12 points for the Knights (19-4), who started two sophomores and a junior.
But Woolston, who ranks among the state's leading scorers as a 10th grader, did most of her damage in the second half, as well as from the free-throw. The 5-foot-10 shooting guard and team captain was the focal point of Herriman's scout, and every time she got the ball, a different player rotated into her line of sight.
"She's as good as we've got in our state; she's Nani Falatea good," Herriman coach Kent Smith said. "We knew we had to keep her from getting touches, and for the most part, we did until late.
"She was leading 6A as a sophomore. She's good."
Falatea isn't bad, either — and she showed it in the middle of the fourth quarter.
The senior transfer from East High first drove to the rim to start a 7-0 run. Moments later, she forced a turnover and finished in transition.
Then the BYU signee drained a cool, calm stepback 3-pointer that put the Mustangs up 41-30 with 3:45 remaining.
"We thought we had a legitimate chance to be here, and then her dad was hired as a football coach and we knew we could be really good," Smith said of Falatea.
"When I was at Copper Hills, we had Eleyana Tafisi, and that's when I knew for some things, that's not coaching. That's just natural ability."
Falatea paced a 6-0 run in the second quarter to help Herriman to a 23-19 halftime advantage. But Woolston pulled the Knights within three with a 3-pointer in the final minute of the third quarter, then raced to add a block in transition that kept the Knights within 31-28 to open the final period.
That's when Falatea went to work, attacking the rim, scoring off a turnover in transition, and finishing with an ankle-breaking, stepback triple that helped seal the win.
"I guess I just felt like we were playing at the pace, and we needed to go back to our game," Falatea said. "That's how we prefer, because we have fast girls on our team.
"We try not to slow down."
Since Herriman opened in 2010, the only mention of the Mustangs in the Utah High School Activities Association record book has been a a near-state record 31 free throws made in a 2017 game against Lehi.
After winning back-to-back titles in 2018 and 2019 with the Leopards, Falatea has a chance to once again bring a school its first state title and cap her high school career in emphatic fashion.
She can't wait.
"Every coach in the final four has state championships but me," Smith said. "Nancy (Warner) had three at Springville, Lisa (Dalebout) has a couple at Fremont, and then Bingham the last two.
"I'm kind of the newcomer; I'm just trying to keep up."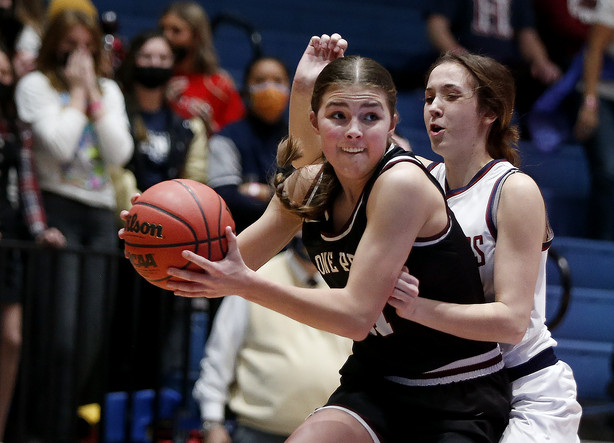 Fremont 61, Bingham 52
Each of the past two seasons, Fremont's season has come to an agonizing end at the hands of Bingham.
And while there was only so much "revenge" factor to be had by the Silverwolves against the two-time defending state champion Miners, head coach Lisa Dalebout admitted each of the past two seasons played a little on the minds of her returning veterans.
That was evident in the first three minutes.
BYU signee Emma Calvert had 21 points, six rebounds and four blocked shots, and Fremont jumped out to a 9-3 advantage early and never looked back en route to a 61-52 win over Bingham at SLCC.
Maggie Mendelson added 13 points, nine rebounds, two blocks and two steals for the Silverwolves (25-0), and Mia Austin supplied 11 points, seven assists and five rebounds for a Fremont team that forced 15 turnovers.
"I think we really needed a good start tonight, period," Fremont coach Lisa Dalebout said. "Bingham's always been in our path in the state tournament, and they have an amazing program. We knew we had to come in really strong from the get-go.
"It gave us a lot of confidence from the beginning, and I think it flowed through the game."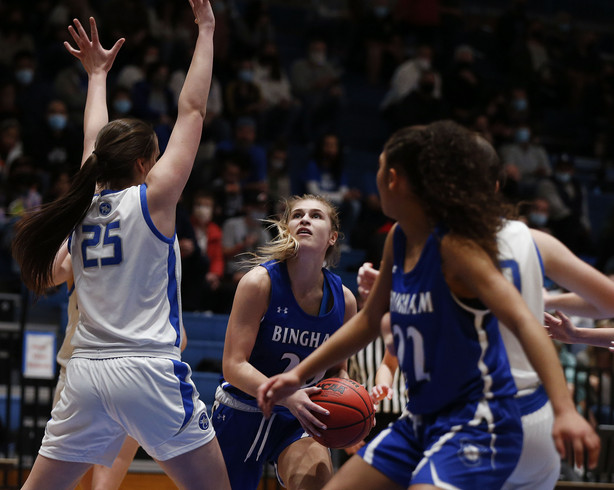 Before most of the reduced-capacity crowd had settled into its seat in the first quarter, the Silverwolves were already on top. Fremont never trailed in the 1-hour, 21-minute contest, and cruised from the moment Kallin Freestone's 3-pointer hit the bottom of the net for a 15-7 advantage, and the final buzzer sounded with a 20-11 lead two minutes later.
"I think we came out swinging; we came out really hard, really ready," Calvert said. "I don't think they knew what hit them.
"We just came out and gave them everything, and I think we tend to do that a lot … It's really good for us."
Austin had 9 points and two assists, and Calvert added 8 points in the first half to help Fremont out-gun the Miners 34-23 at the break. Bingham shot just 28.1% from the field, including just 4-of-14 in the opening frame, while the Silverwolves couldn't miss.
Fremont shot better than 60% in the first two quarters, and opened the game making 8 of its first 12 shots to pull to the 11-point halftime lead.
Sierra Lichtie drained a deep 3-pointer to pull Bingham within 10, 43-33 with 49 seconds left in the third. But that was as close as the Miners would get.
Lichtie finished with 15 points and 10 rebounds, and Shawnes Nordstrom added a team-high 20 points for Bingham (18-5).
×
Related Stories