TAYLORSVILLE — Fremont had the post play, the Division I talent (multiple players, even) and the pedigree to win its third state girls basketball title under head coach Lisa Dalebout in the 2020-21 season.
But what finally pushed the Silverwolves over the age was championship-level defense, a tenant that first emerged Feb. 12 in a 50-33 win over Region 1 rival Syracuse.
And it came out again when Fremont needed it most.
BYU signee Emma Calvert had 30 points and 12 rebounds, Maggie Mendelson added 15 points and 14 rebounds, and Fremont held Herriman scoreless from the field during an absolutely dominant third quarter to turn a one-point halftime deficit into a rout, 63-41 for the Silverwolves' second Class 6A state title in four years Saturday at Salt Lake Community College.
Halle Duft and Averee Porter each added 6 points and two assists for Fremont, which capped an undefeated season with its 26th win of the year.
"I don't know what we would've done if we didn't end it this way," Calvert said. "We last won it at SLCC, and to end it here, is really cool, too.
"Last year was not nearly as good. But right now, it's euphoric. It's weird."
Calvert and Mendelson outscored the Mustangs, 45-43, including Calvert's ridiculous 16 of 17 finish from the free-throw line. Everything went through the two Silverwolves' post — much as it has all year, and even when the two play one-on-one in practice.
"We couldn't have done it without our guards, either," Mendelson said. "To have them be a threat on the outside helps us be a threat on the inside. It's a big team effort, and it's good because they can shoot and back off of us."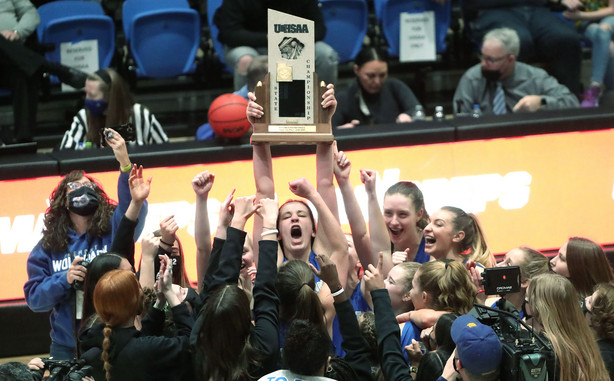 Playing in its first state final in school history, Herriman was led by BYU signee Lealani Falatea, who had 15 points, six rebounds and four steals. Tessa Pan added 13 points and five rebounds for the Mustangs (23-2), who were held to just 25% from the field.
The Mustangs — rated No. 1 in the RPI — took a nearly unblemished 23-1 record into the championship game. But with no offense intended for Herriman, this almost felt like the way Fremont's senior class of 2021 was supposed to end its career.
The run started four years ago, when Calvert broke out as a freshman to lead the Silverwolves to the 2019 championship. And though several faces on the guard line changed, the posts remained the same — especially once they were joined by Mendelson a year later, and Timea Gardiner, a junior who will arguably be the best player in the state next season.
"I've never coached a group that deserves this more — and it usually doesn't end this way in sports," Fremont coach Lisa Dalebout said. "Sports are usually cruel, and it's been such a beautiful journey to see it.
"It's an amazing feeling, for sure."
The class of 2021 is a group that also remembers well losing to Bingham in last year's championship. The sting of that loss carried them through the season — a 365-day tour of redemption, Dalebout said — when they ran roughshod through Region 1 and took an undefeated record into the playoffs. Still, the Silverwolves lost out on the No. 1 overall seed to the Mustangs.
That gave them the last motivation, to get to the finals with wins over Skyridge and Bingham in the quarterfinals and semifinals, respectively.
"We were so bummed last year," said Mendelson, an all-state volleyball player, as well. "We didn't play our best, and this yer we came out and gave it our all. To be down one at halftime, we said, 'not today.' This was our game, and we came out and brought a different level of our game and we showed it."
Falatea scored the first four points of the second quarter, and the Mustangs held Fremont without a field goal for nearly four minutes — until Calvert's jumper with 4:14 left — and Pan hit back-to-back to end the half with a 24-23 edge.
The Silverwolves out-rebounded the Mustangs 19-11 before the break, and outshot the No. 1 seed 45% to 35%. But Herriman scored 7 points off eight turnovers before the break to stay ahead.
Perhaps the only one satisfied with the first half was BYU coach Jeff Judkins, who owns pledges from both Falatea and Calvert — the co-leading scorers to that point (along with Pan) at 9 points apiece.
Fremont did the opposite in the third quarter. The Silverwolves forced their first turnover 31 seconds into the half, and drew a foul on Falatea moments later when the two-time state champion at East tried to force a turnover.
More importantly, the Silverwolves held the Mustangs without a make from the field for the entire quarter, using a 17-3 run through the third to take a commanding 40-27 lead on Calvert's 3-pointer with about 10 seconds left in the period.
Herriman didn't make a shot from the field until Falatea's 3-pointer at the 6:29 mark of the fourth quarter. By that point, the Mustangs trailed 44-30.
"It was really good defense," said Calvert, echoing her coach's claim of "championship caliber defense." "We went into halftime, and we were just really fierce and fired up, ready to go. We were down at halftime, and we were ready to come back and take it to them."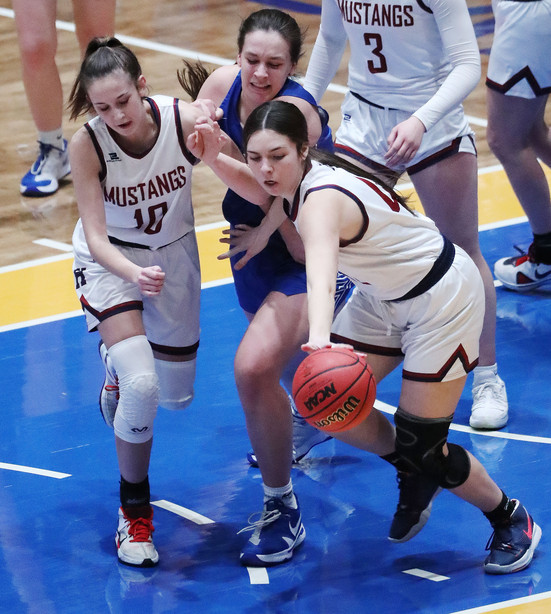 Perhaps more important than what the Silverwolves did with its experienced, star cast on the court — from Calvert to Mendelson to point guard Halle Duft — was how they did it without a key contributor.
Timea Gardiner sat on the bench during the Silverwolves latest triumph, a casualty of the regular season. The junior four-star prospect hasn't played since Jan. 19 due to a knee injury, and the future Division I college star who averaged 13.5 points and 7.1 rebounds per game sat on the bench in street clothes and crutches.
But Gardiner was as much a part of the team on the bench as she was on the court, as big an influencer as Calvert, Mendelson and Duft. Every basketball, she screamed. Every post touch, she cheered.
Every time coach Dalebout tried to argue for a call, she calmly sat back and put up the wolf ears' hand signals as one of her teammates shot free throws. And when Fremont's bench rushed the court and mobbed Calvert as she accepted (another) state title trophy, Gardiner was in the middle of the scrum — crutches and all — to celebrate with her team.
"To be honest, she has learned and grown exponentially in other areas of the game," Dalebout said. "You can't quantify people's souls and spirit, but she's been a major leader. She's remained really positive, and has never been selfish through the process.
"It's amazing for someone her age."
But the leader of the group was always and unabashedly Calvert, who capped her senior season with the most unforgettable journey — her second state title, and the chance at undefeated greatness.
"I've never seen a high school player, from the moment she stepped into high school competition, be as consistent and as top in every facet of the game," Dalebout said. "She's remarkable; the best-ever — the most consistent player I've ever seen in high school basketball."
KSL 6A Girls All-Tournament Team
MVP — Emma Calvert, Fremont
Maggie Mendelson, Fremont
Lealani Falatea, Herriman
Lexi Jensen, Herriman
Kailey Woolston, Lone Peak
Sierra Lichtie, Bingham
×
Photos
Related Stories