PROVO — Shaylee Gonzales admits that she could have returned to BYU women's basketball team last January after a torn anterior cruciate ligament curtailed her 2019 offseason before her sophomore season began.
But how much help she would've been to that team is debatable.
One may never know exactly what a Gonzales addition to the Cougars' lineup would've done to a team that ultimately finished 18-11 with a 13-5 mark in West Coast Conference play, a team that also boasted West Coast Conference Defensive Player of the Year Sara Hamson and two star guards in Brenna Chase Drollinger and Paisley Johnson, a team that lost to Pepperdine in its first game of WCC Tournament in Las Vegas, and a team that was on track for a WNIT berth before the postseason was canceled as a result of the novel coronavirus pandemic.
In the end, maybe it doesn't matter. What matters is that Gonzales is healthy and ready for the 2020-21 season.
Yes, Shaylee Gonzales is back.
"I wanted to be fully recovered and just be very patient with it," said Gonzales, who averaged a team-high 17.0 points and 5.6 rebounds on 45.1% shooting as a freshman. "Things can happen, and you can hurt it again. So I didn't want to rush anything, and I knew I would be way more prepared (for 2020-21) if I waited the full nine months and came back even stronger, if I was able to."
Of course, that didn't make sitting on the bench, being relegated to the practice squad, and taking her time in the recovery room any easier.
"Sitting out last season was really hard for me," Gonzales said. "I've never had that experience before. I've really missed being out on the court, of traveling, and being part of it all."
If fully healthy, what the sophomore from Gilbert, Arizona, brings back to BYU is pretty apparent. Gonzales was a star in her first season in college basketball, averaging 17.0 points, 5.6 rebounds and 4.1 assists per game in leading the Cougars to the second round of the NCAA women's basketball tournament.
She also joined a Big Three — also including Johnson and Drollinger — of double-digit scorers that gave BYU a unique amount of firepower.
Drollinger has graduated, but Johnson — now Paisley Johnson-Harding after her marriage to BYU men's basketball wing Connor Harding — went from averaging 14.8 points per game two years ago to a team-high 15.2 points and 3.8 rebounds per game as a junior.
It's a big reason why the two guards, in addition to Hamson, all found a way onto the All-WCC preseason team. League favorite Gonzaga earned seven of 10 first-place votes from the preseason coaches poll, but the Cougar trio out-paced the Zags' all-preseason honorees Jill Townsend and Jenn Wirth, and took 73 preseason points to Gonzaga's 79.
No doubt, Gonzales is a difference-maker, and a player the Cougars missed last year. Now she gets a chance to prove it.
"I really think it made her more hungry and realize how important basketball was to her in her life," said BYU head coach Jeff Judkins, who has compared Gonzales to "our version" of Utah Jazz star Donovan Mitchell and former BYU standout Jimmer Fredette. "Sitting out and helping the team be successful, especially when we had some games lost down to the wire, she's the type of kid who makes those plays and gets a win.
"But I think she set a great example to her teammates that you need to work hard and be willing to sacrifice time, and a lot of things, to have a successful season. Sometimes when they sit out they get to learn the game more in their mind. That's how it really helped (former Cougar stars) Haley Steed and Lexi Eaton, and I think it will really help Shaylee. Now she understands things a little better."
Gonzales rejoins a team that features ample experience, too. In addition to the Johnson-Harding and Hamson, senior point guard Maria Albiero is back after averaging 5.8 points, 3.1 assists and 2.6 rebounds in 27 games a year ago, all starts.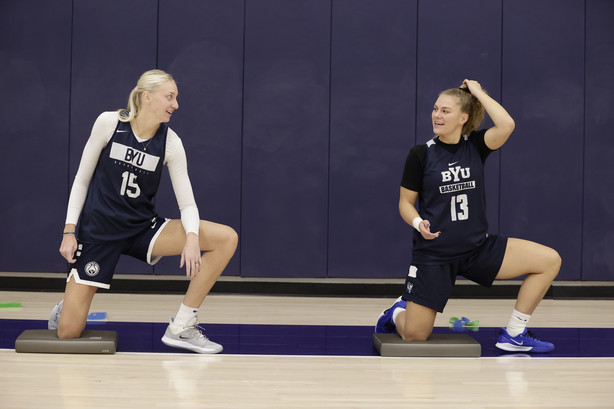 The Cougars also add graduate transfers Tegan Graham and Kayla Belles-Lee from Colgate and Michigan State, respectively, and welcome back former Mountain View standout Tahlia White from an 18-month mission for The Church of Jesus Christ of Latter-day Saints.
"This is probably the most experienced and deepest team I've had," said Judkins, who owns BYU's career wins record with 411 victories. "I can go with a lot of different lineups: big, small, average. Paisley had to do a lot last year, and I think it made her a better player. This year, there won't be as much on her."
But there's no replacing Gonzales.
"I'm really excited to play with Shaylee again," Hamson said. "We missed her last year. That little extra spark and those intangibles, you can't miss that. So I'm excited to have that back."
The Cougars open the season Nov. 27 at the South Point Shootout in Las Vegas, where they will face LSU and Tennessee-Martin. They'll stop in St. George to face the newly christened Division I foe Dixie State, followed by a road trip to Utah State and home games against Montana State, Boise State and Utah Valley.
BYU opens WCC play on Dec. 28 against San Francisco.
After missing a full year, Gonzales will be ready for it. So, too, will her team.
"None of these preseason polls matter. I look at it as a goal," Gonzales said. "I'm excited, and I can't wait to get back with my team, and look to beat that preseason ranking.
"We're No. 2, and we really want to be No. 1."
×
Photos
Related Links