PROVO — BYU women's basketball has shooters, which most longtime fans of the team will recognize in Shaylee Gonzales and Paisley Johnson Harding, among others.
But new to the team may be something even more pivotal to the Cougars' success in 2020-21: a clutch rebounder. And former Salem Hills standout Lauren Gustin checks all the right boxes.
Gustin totaled 15 points, 17 rebounds, two assists and two steals to help BYU to a 70-46 win over San Francisco in the West Coast Conference opener for both teams Monday afternoon at the Marriott Center.
"Lauren was a beast in there, rebounding for us," BYU head coach Jeff Judkins said of Gustin, who collected her fourth double-double of the season for a team that outrebounded the Dons 47-34. "There are three things she does well: she's in unbelievable shape, she's the strongest girl on the team, and she has a real knack for rebounding."
BYU missed its first seven 3-pointers against the Dons, but Gustin's work down low never let the Cougars trail in improving to 5-1. BYU led by as much as 27 points in overwhelming USF (4-3, 0-1 WCC) to open conference play.
Gonzales added 16 points, six rebounds and six assists for the Cougars, and Harding supplied 15 points on 6-of-10 shooting.
The Cougars (5-1, 1-0 WCC) missed on their first seven 3-point attempts but never let the Dons find their footing with defense and a glass-cleaning performance to rival any team in the conference.
And a lot of that goes back to Gustin.
"She's just a beast. I know she's going to work her butt off, and I can always count on her to work inside or get rebounds," said Gonzales, who played with Gustin when the two teamed up for one year of high school ball — and won a state championship. "She's going to average a double-double for us.
"She's going to be so good for us this year."
Gustin was one point shy of a double-double with nine points and 10 rebounds at halftime, pacing the Cougars on the boards to outrebound the Dons 21-14. The 6-foot, 1-inch sophomore from Salem was tenacious on the glass, as she's been all season.
The younger sister of Cleveland Browns defensive end Porter Gustin averaged a double-double of 13.4 points and 11.8 rebounds through BYU's five-game nonconference season, a portion of the schedule that saw Gustin put up double-digit rebounds in four games. With a guard line that features shooters like Gonzales, Harding and Maria Albiero, the Salt Lake Community College transfer has been more than content with her role on the glass. It's a role that could spark the Cougars to a special season in 2020-21.
In many ways, Gustin goes after a rebound like her older brother diving for a fumble or lunging for a tackle.
"I'm not going to make all my shots, but I feel like rebounding is about effort and going after it," she said. "It's almost a makeup for mistakes I make. I love to go after the ball, and I try to be aggressive. I've liked it ever since I've played."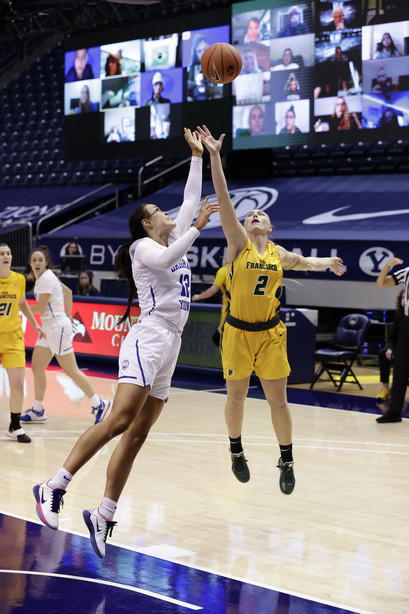 A versatile post player who can play three through five and fit in perfectly alongside 6-foot-7 center Sara Hamson, Gustin's path from Salem to BYU was circuitous, in many ways. It's been the longest 14.8-mile trip in Judkins' recruiting history.
As the 2018 Gatorade Utah girls basketball player of the year and Deseret News Ms. Basketball, Gustin initially passed on signing with BYU, where her mother played from 1987-89. Instead, she signed with Idaho and enrolled at the Big Sky school to start off her freshman year.
But something didn't feel right for Gustin in Moscow, Idaho, and she transferred back home after one semester. While playing one season with the Bruins, Gustin averaged 19.1 points and 13.1 rebounds en route to NJCAA All-America honorable mention honors.
That's when BYU suddenly came back into the picture. This time, Judkins didn't miss.
"We saw her in practice and knew this was the kid we needed," said Judkins, who compared her to former BYU rebounding sensation Kalani Purcell. "If we can hold people to one shot and get the rebound, we're a good team. She's got a knack."
Due to academic restrictions involved with transferring from junior college to Division I, Gustin sat out the 2019-20 season with a redshirt. That allowed her to practice with the team every day, watch from the sidelines, and sit near the coaches while she reworked her game into the rebounding force that she is.
Judkins likes to say if she were 6-foot-5, Gustin could average 20-plus rebounds per game — a mark that would make her the best rebounder in the country. But at just 12.6 boards per contest, she'll settle for No. 3 nationally.
"Sitting out is obviously really hard. But I think it taught me a lot and made me view things differently. It made me appreciate the game a lot more.
"In high school, I was always the five. But taking a year out, it helped me learn to move better and develop a better outside shot. I got more comfortable with the flow of the team, and the players. Even though it was really hard sitting out, I think it was really beneficial — a kind of blessing in disguise to get more comfortable with the team."
The Cougars host Santa Clara on Wednesday before beginning a three-game Southern California road trip at Pepperdine, LMU and San Diego beginning Monday, Jan. 4.
Wednesday's tipoff is scheduled for 2 p.m. MST and will be broadcast on BYUtv.
×
Photos
Related Stories