Estimated read time: 4-5 minutes
This archived news story is available only for your personal, non-commercial use. Information in the story may be outdated or superseded by additional information. Reading or replaying the story in its archived form does not constitute a republication of the story.
STANFORD, Calif. — The BYU women's basketball team walked into Maples Pavilion at Stanford on a practice day before the second round of the NCAA Tournament.
But the Cougars didn't have a ball in their hands, a gym bag with shorts and sneakers, or even video to break down.
Instead, each one wore a skirt, a dress or similar attire, and a few even opened the Gospel Library scripture app on their phones.
Today was Sunday, and BYU — as the foundational university of The Church of Jesus Christ of Latter-day Saints — does not practice or play on Sunday, as has been well-chronicled.
So when the Cougars saw Stanford practicing in the next gym while Shaylee Gonzales, Paisley Johnson and Sara Hamson moved across the hallway to address the media, they took note.
Stanford is doing it; should we?
"We've had opportunities like this before in the NCAA," said BYU coach Jeff Judkins, whose team will face No. 2-seeded Stanford for a spot in the Sweet 16 at 9 p.m. MT Monday (ESPN2, BYU Radio). "We've had this during our conference tournament.
"Tomorrow is when we are going to pound it. So we're kind of lucky the game isn't until 8:00 (local time). That gives the coaches more time, it gives us time to get a shootaround and a walk-through. We believe, and I think all of us do, that we've done this before, we've prepared for it, and we will be blessed by doing it in the way that we need to do it."
The Cougars (26-6) won their first NCAA Tournament game since 2014 a day earlier with a 73-64 victory over Auburn.
The Tigers were athletic, scrappy, and utilized a full-court press unlike most that BYU had seen all year.
But BYU survived, thanks to timely shooting by Brenna Chase, a career-best performance by Caitlyn Alldredge, and a defense that held Auburn to just five field goals in the third quarter.
For that win, the Cougars advanced to face Stanford, a women's basketball power under veteran head coach Tara VanDerveer. The No. 2 seed in the Chicago region, the Cardinal (29-4) advanced with a 79-54 rout of UC Davis in the second game of the Stanford subregional.
Monday's game gave Stanford a chance to practice, to focus, and to fine-tune its game Sunday — and the Cardinal took advantage, with a few media obligations, as well.
But the Cougars turned down that chance to practice. It's just not in their DNA.
It's not what they valued the most out of Sunday.
"I think it's a love experience because sometimes when we come in after a long week during the season, Monday practices weren't always the best," said Johnson, a sophomore guard who is a member of The Church of Jesus Christ of Latter-day Saints that sponsors the university. "I think having the focus of us all being here together this afternoon, after we all went to church together, as a program — I thought it was lovely that we could come and bring the spiritual side of our school to the tournament with us.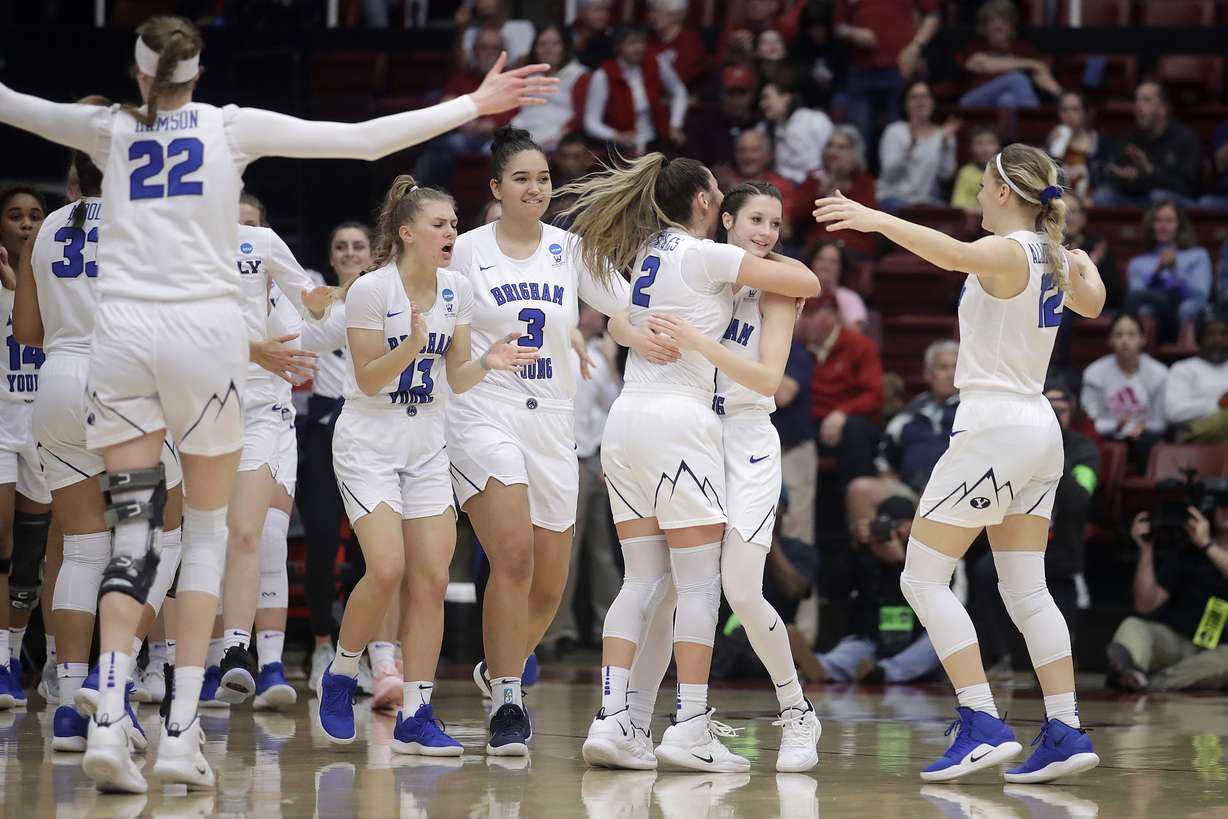 "Maybe we weren't able to prepare on the court. But we've been preparing all season and just preparing with God to bring the excitement for the game tomorrow. It's a good experience, no matter what."
The Cardinal (29-4) have advanced to 11-straight Sweet 16 appearances.
Coach Tara VanDerveer hopes to make it a dozen.
"You have to really be well prepared at this level," she said. "Everyone is really talented. What we kind of have asked for in women's basketball is more parity, and we have it. There are closer games, more competitive games, more upsets.
"I think that in order to play at the Sweet 16 level, you have to do the basic things. You have to rebound, you have to play well, you have to play the scouting report defense. You'd better know what you're doing out there and work hard to make it happen."
NCAA Women's Tournament: BYU (26-6) vs. Stanford (29-4)
When: Monday, March 25 at 9 p.m. MT
Where: Maples Pavilion in Stanford, Calif.
TV: ESPN2
Radio: BYU Radio
×
Related stories
Most recent BYU Cougars stories