SALT LAKE CITY — Here are 10 stories you may have missed over the weekend. As always, click on the headline to read the full story.
1. Skiers injured in avalanche near Pfeifferhorn
Four skiers are now safe after being swept by an avalanche south of the Pfeifferhorn Sunday.
2. Judge rejects Utah death row inmate's claims against attorney, church meddling
A judge in Ogden has rejected an ineffective counsel argument from a death row inmate appealing his second death sentence, a decision that now goes to the Utah Supreme Court for review.
3. Who run the Grammys? Women. Beyoncé, Swift make history.
Beyoncé and Taylor Swift had a historic night at the Grammys, where the top four awards were won by female acts.
4. Demonstrators call for justice, reforms a year after Breonna Taylor's death in Kentucky
Hundreds of demonstrators gathered for a rally and march in Louisville, Kentucky, on Saturday to mark the one-year anniversary of the killing of Breonna Taylor, whose death helped fuel U.S. protests against police brutality.
5. First US stimulus payments to hit bank accounts this weekend
Americans will see the first direct deposits from President Joe Biden's $1.9 trillion COVID-19 relief package hit their bank accounts this weekend, Treasury and Internal Revenue Service officials said on Friday.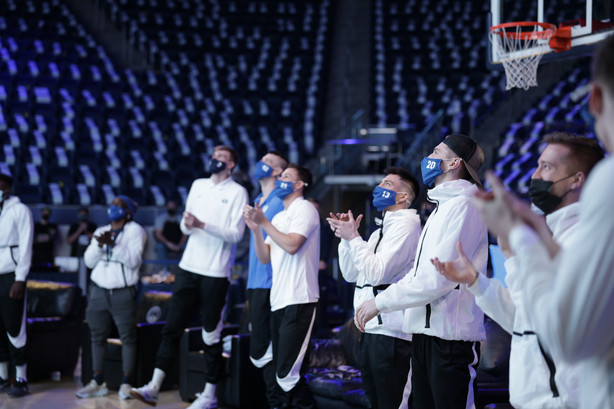 Sports
1. BYU basketball earns first NCAA Tournament bid since 2015
After finishing the season with a 20-6 record and a loss to No. 1 Gonzaga in the West Coast Conference Tournament championship game, BYU will open the NCAA Tournament as a No. 6 seed Saturday against the winner of a First Four game between Michigan State and UCLA (7:40 p.m. MDT, CBS).
2. Steph was Steph, but that's not the only reason the Warriors beat the Jazz on Sunday
On Friday, it didn't truly matter the Utah Jazz played poorly. That's the advantage of playing what resembled a G League squad.
They weren't so fortunate on Sunday. Steph Curry is no G League-level player.
Curry had 32 points to lead the Golden State Warriors to a 131-119 win over the Jazz Sunday at Chase Arena.
3. Tears shed, excitement heightened as Utah State earns NCAA Tournament bid for 3rd straight year
The 11th-seeded Aggies are scheduled to open the tournament Friday against sixth-seeded Texas Tech at Assembly Hall in Bloomington, Indiana (11:45 a.m. MDT TNT).
4. Strong second half leads Weber State past visiting UC Davis, 18-13
After being held scoreless in the first half, the Wildcats scored 15 unanswered points in the second half against the visiting UC Davis Aggies to pull away for an 18-13 win at home.
5. Duncan's 4 TD passes help Tarleton beat Dixie State
Dixie State backup quarterback Kobe Tracy threw two touchdown passes, including a 49-yarder, to David Fisher. Tracy came on late in the third quarter and finished 6-of-17 passing for 123 yards with no interceptions.
×