Editor's note: This article is a part of a series reviewing Utah and U.S. history for KSL.com's Historic section.
SALT LAKE CITY — Monday marked this year's International Women's Day, which is in the middle of Women's History Month.
Women have played a vital role in Utah history, and some firsts in U.S. history also occurred in the Beehive State. For example, Salt Lake City was the site of the first election in modern U.S. history to be open to both men and women. Martha Hughes Cannon was also the first woman in U.S. history to serve as a state senator.
But it's not just limited to the past. Women continue to play a vital role in leadership, the workforce, social movements and other key roles in Utah today.
Here's a look at some of the many women whose roles in Utah history are still very much relevant.
Lucille Bankhead
Bankhead was a descendant of one of the first African American pioneers in Utah. She served as a secretary for the Daughters of the Utah Pioneers and later served as the first Relief Society president of The Church of Jesus Christ of Latter-day Saints' Genesis Group after it was founded in 1971, according to women's history nonprofit Better Days 2020.
In 1939, Bankhead led a protest against a legislative push to segregate housing based on race. The bill would have removed her and other Black Utahns from their Salt Lake City homes.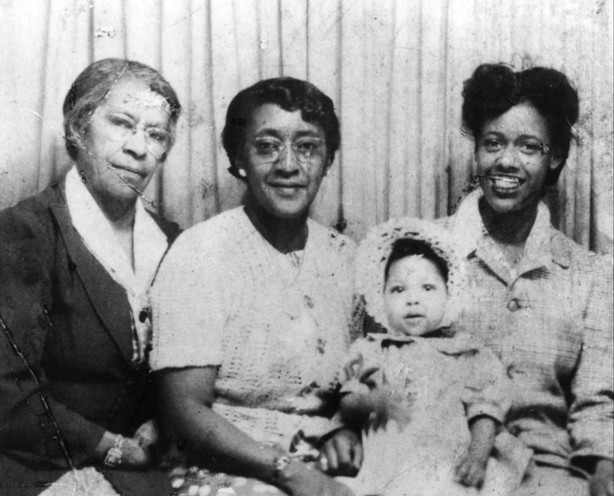 "My mouth's bigger than anybody else's, and we told them what we wanted and we was not going to move," Bankhead later recalled in a 1983 interview documenting state history for the University of Utah. "And that was the first time that we ever been up to the Legislature. But we sat up there and we set up with them and it didn't go through. We weren't going to move and give up our land out here for something like that."
Her efforts thwarted the bill.
While other discriminatory housing practices existed in Utah beyond 1939, Bankhead's efforts to stop the 1939 bill showed the influence of protest and the power of the First Amendment. That's something always relevant in U.S. history but became even more so last summer with the protests against systemic racism and social injustice that emerged following the killing of George Floyd in Minneapolis.
Lex Scott, the founder and president of Utah's Black Lives Matter organization, was one of the most instrumental leaders of last year's protests in the state. In addition to pushing for injustice reforms, she also helped develop the Black History mobile museum aimed to teach more about Black history in Utah, which first opened last month.
Reva Beck Bosone
Women began holding office within various ranks of local and state government since Utah became a state, but Reva Beck Bosone broke several barriers in her lifetime.
Following a stint as a state legislator, in 1936 she became the first woman to serve as a judge in the state. A little more than a decade later, she became Utah's first-ever congresswoman.
As noted by Better Days 2020, Bosone's platform included attempts to improve citizenship for Native Americans and attempts to improve conservation funding in Utah and other Western states. In fact, she turned down a role in the House Judiciary Committee to land a spot on the Public Lands Committee, according to a biography compiled by the U.S. House of Representatives Archives.
Her policy interests went beyond those issues.
"Congresswoman Bosone supported a range of legislation that did not always accord with her conservative-leaning Salt Lake constituency," House Archives pointed out. "She favored extension of Social Security and funding for public housing for military personnel, as well as the creation of a national health care system."
Following her service in Congress, she went on to host an award-winning Utah television show called "It's a Woman's World" before returning to work in Washington.
She worked as legal counsel to a House subcommittee before she became the first woman to serve as chief judicial officer in the U.S. Post Office Department.
Many women have gone on to serve as Utah judges and in Congress since Bosone's time, and many of the issues she fought for — especially health care and conservation — remain key issues in Washington today.
Margene Bullcreek
The talk of picking up nuclear testing became a big political issue in the 2020 election, especially in the 4th Congressional District race. The idea remains controversial due to its impact on U.S. history.
Nuclear tests conducted in the 1940s exposed radiation to thousands of "downwinders," which, in turn, led to numerous health issues for many Utahns. Utah's former U.S. Sen. Orrin Hatch was among those opposed to nuclear testing when the idea returned.
"Since 1945, thousands of downwinders — the men and women who lived nearby the military's nuclear testing facility — have developed severe forms of cancer and respiratory illness as a result of radiation exposure. Many of them are still suffering to this day," he said in 2020.
These tests began a few years before Bullcreek's birth but were nevertheless an inspiration for her work against nuclear testing.
As noted by Better Days 2020, she worked her way up to become secretary of the Skull Valley Band of Goshutes' tribal council and later the president of the Native Community Action Council. She also became a large activist in opposition to nuclear waste dumping and nuclear testing after learning of the impacts it had in the past.
After her death in 2015, activists told KUER that her most influential work as an environmental activist may have been a facility that was never built. She fought against a nuclear storage facility to be on Native American land in Tooele County. The Nuclear Regulatory Commission announced the site in 2006 but later abandoned the plan.
Martha Hughes Cannon
Cannon's story has become more widely known in recent years, especially because of the state's push to add a statue of her at the U.S. Capitol. She was the first woman to serve as a state senator in U.S. history. The statue commemorating that accomplishment could be on display in Washington as early as this year.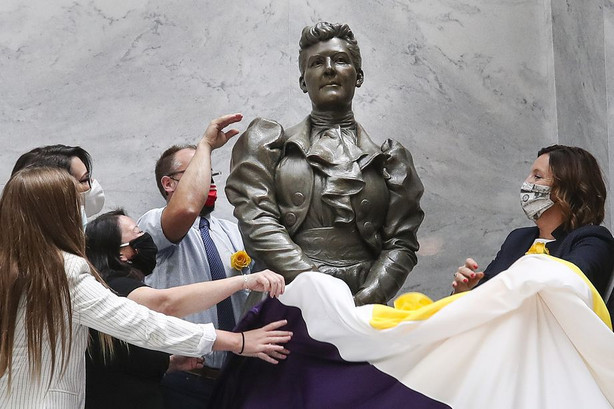 But she also did something that set the stage for a state organization that's played a critical role in the COVID-19 pandemic. Yes, Cannon played a large role in creating the Utah State Board of Health; today it's known as the Utah Department of Health.
Cannon may be more widely known for her role in the legislature, but her background was in medicine. She was a graduate of the Michigan Medical School before she returned to Utah and became a resident physician at Deseret Hospital, PBS Utah noted.
She first took office as a state senator in 1897. One year later, she crafted and championed the bill that created the state's board of health. It's why the Department of Health's current office building is named after Cannon.
More than a century after its creation, Dr. Angela Dunn, an epidemiologist for the Department of Health, has become the most recognizable face for the department during the COVID-19 pandemic. For the past year, she's provided the most insight into disease as medical experts raced to figure out what it was and other disease trends.
Mary E. Woolley Chamberlain (and the Kanab town council)
While Cannon was the first woman to serve in Utah's state legislature, Chamberlain became the first woman to serve as a mayor of a Utah municipality. In 1911, she was elected the mayor of Kanab — sort of.
Chamberlain served as Kanab's council chair beginning in 1912, which made her the mayor of the community. But what made the election even more significant in history is that the entire board was composed of women, which was also a first in Utah history.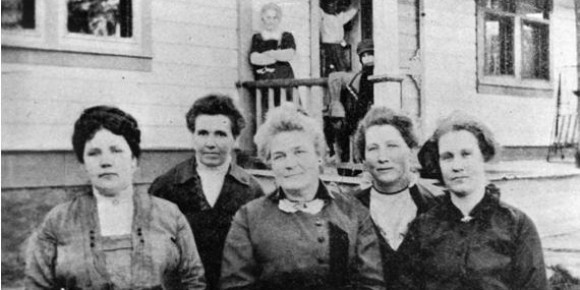 Per Better Days 2020, none of the women intended on running in 1911. In fact, Chamberlain said in a 1936 interview that the election was intended to be a "joke."
"When election day dawned, there was no ticket in the field; no one seemed interested in the supervision of the town, so the loafers on the ditchbank (of which there were always plenty) proceeded to make up the above ticket as a burlesque, but there was no other ticket in opposition, so, of course, we were elected," she said of the election, as reported by the Deseret News.
But the women took on the task nevertheless. Chamberlain added that the council was "besieged with letters" from all over the country after the election results were reported on.
As noted by Better Days 2020, the women created several city ordinances during their two-year tenure in office. Among them was a ban on gambling and the creation of the town's cemetery plat. They took on the historic challenge and proved doubters wrong.
Today, women serve as mayors of two of the three largest cities in Utah. Women also serve on city and county councils all over the state.
Claire Ferguson
Law enforcement is an occupation that has long been considered male-dominant. In fact, the Washington Post reported last year that women account for just 12.6% of police officers nationwide. But there has been progress over time.
One of the pioneers in this field was Ferguson, whose story was chronicled last year by the "This Is Her Place" podcast. She was just 20 when she was appointed a deputy sheriff in Salt Lake in 1897 — one of the first in U.S. history.
As historians noted, most of her career involved transporting female patients to an asylum or serving legal papers — but she was also known as a good shooter and once stopped a prison breakout attempt by threatening to shoot. Her work garnered several newspaper articles before she left the force.
More than a century later, Salt Lake County Sheriff Rosie Rivera became the first woman to serve as a sheriff in Utah.
"We did make history today, and that's another thing that's important," Rivera said after she was voted sheriff in 2017 in a special election. "You know, being a female in law enforcement hasn't always been the easiest thing. But I worked my way through the ranks. I did my time, boots on the ground, and I think I'm now ready to lead Salt Lake County as sheriff."
Alice Kasai
Kasai is another example of important community advocates.
When she died in 2007, Kasai was remembered as a "community advocate and peace activist." Her role in leadership began in the 1940s after her husband was arrested and sent to a Utah internment camp during World War II, according to Better Days 2020.
During the 2½ years he spent in jail, Kasai took over as the president of Salt Lake City's Japanese American Citizens League chapter. In that role, she helped coordinate help for the thousands of families who were relocated.
Following the war, the Kasais lobbied for citizenship and civil rights for Japanese immigrants, Better Days 2020 noted. Kasai served as the president of the Utah United Nations for a stint in the 1980s and worked with all sorts of different groups in Utah throughout her life.
There is a testament to her work still very visible in Utah today. She and her husband helped create the Japanese section of the International Peace Gardens at Jordan Park in Salt Lake City after World War II ended. They also worked on a sister garden in Japan.
Barbara Toomer
Toomer lost the use of her legs after contracting polio following the birth of her first child in the 1950s. That ultimately led her toward a life fighting for disability and civil rights that lasted all the way up until her death in 2018.
Toomer lobbied for laws and other public accommodations to allow people with disabilities the ability to fully participate in communities. She co-founded the Utah Independent Living Center in 1981 and then became involved with the Americans Disabled for Accessible Public Transit in 1983.
"She organized 'crawl-ons' demanding that the Utah Transit Authority make its buses accessible to those with disabilities," wrote Rickie Crandall, a program specialist for the Utah Developmental Disabilities Council, in a history piece for Better Days 2020. "The protests shut down every bus route in Salt Lake City when protesters chained themselves to the buses. She was jailed at least 35 times due to her activism, yet she never backed down."
She was also a key advocate in Utah for the Americans with Disabilities Act, which was signed in 1990. Toomer continued to make headlines well after that, as she continued to fight lawmakers for more disability rights.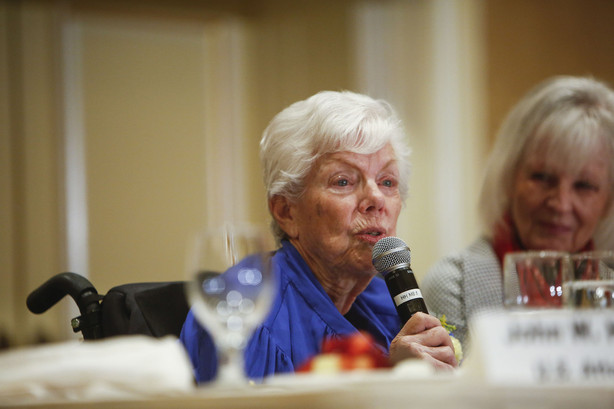 Her work led to her receiving all sorts of awards from local and national organizations.
Seraph Young
Young's story also became more well-known in recent years. Last year, the state celebrated the 150th anniversary of her becoming the first woman to cast a vote in an election open to both men and women. It's now considered a key moment in the history of women's suffrage in U.S. history — even though it wouldn't be until 50 years after that barrier was broken that the 19th Amendment was ratified, prohibiting states or the federal government from denying or abridging the right to vote on account of sex.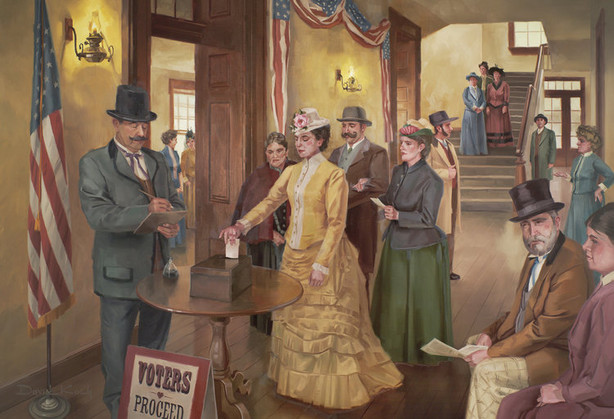 Young went on to live a pretty quiet life after 1870. Katherine Kitterman, a historian for Better Days 2020, told KSL.com last year that records from the era indicated that Young's role in history was noted at the time but it wasn't clear if it was really celebrated at all. It's likely why her name slipped through the cracks of history for so long.
"I think we can better understand the significance of Seraph's vote now, looking back 150 years later. … As the first voters with equal suffrage in the United States, they opened the door for lots of women who would follow afterward," Kitterman said.
In addition to celebrating her achievement in women's suffrage history, Utah leaders also worked to correct a wrong at her final resting spot at Arlington National Cemetery: replacing her headstone with one that correctly spelled her name during a ceremony there last September.
Olene Walker
Deidre Henderson became the second woman ever to serve as Utah's lieutenant governor when she was sworn into office earlier this year. The first? Olene Walker.
Walker was a champion of education during her lifetime. She was a consultant for the U.S. Department of Education, created the Salt Lake Education Foundation and served as the director of the Utah Division of Community Development before becoming a state legislator.
She became lieutenant governor in 1993 before she became the first woman to serve as Utah governor in 2003. She continued her passion for education in all of her political roles, creating an elementary school reading program and defending public education spending.
That legacy still resonates every legislative session when it comes to state budget proposals, where it's a field considered a top priority. The Granite School District also named an elementary school in South Salt Lake after her just last year.
×
Related Stories