Estimated read time: 8-9 minutes
This archived news story is available only for your personal, non-commercial use. Information in the story may be outdated or superseded by additional information. Reading or replaying the story in its archived form does not constitute a republication of the story.
Editor's note: This article is a part of a series reviewing Utah history for KSL.com's Historic section.
SALT LAKE CITY — One hundred and fifty years ago Friday, just two days after lawmakers made Utah the second U.S. territory to allow women to vote, Seraph Young woke up and got ready for work.
It just so happened that Salt Lake City had a municipal election that day, so Young went to her local voting center before heading off to her job as a school teacher. Her pit stop to vote gave her a spot in American history.
So who was Seraph Young and what led her to be the first woman to cast a ballot in the United States? Her place in history starts with a growing movement for women's suffrage nationwide, which moved westward.
The push for women's suffrage in Utah
It should be mentioned there is a record of a woman voting in Colonial America before the U.S. was founded. That happened when Lydia Chapin Taft cast a ballot in a Massachusetts election in 1756 after her husband and eldest son had died, according to the New England Historical Society.
However, there weren't any particular laws allowing women to vote until Wyoming became the first U.S. territory to do so on Dec. 10, 1869. By the end of January 1870, Utah's legislators took up the movement amid concern federal lawmakers were nearing passage of a bill that could bar citizenship rights to anyone practicing polygamy, explained historian Katherine Kitterman, who works with the nonprofit Better Days 2020.
Earlier that month, about 5,000 Utah women held a massive meeting to strategize how they could quell the bill and show federal lawmakers they were free, independent thinkers. It's believed the idea of suffrage came from that meeting.
Related:
A committee was formed to look at the legality of women's suffrage. While Wyoming had just allowed women to vote, Kitterman said that Utah lawmakers had to revisit the law that created the territory of Utah to see if it had given them any form of an ability to allow women to vote.
"As a territory, they're concerned with 'do we have the authority to make this law?' But what we don't see in the records that are available is a big debate about whether or not women should vote," she said. "It seems like they're all in favor; they're just trying to decide if they can do it legally. And they do discuss whether to let women hold public office, and they decide to not go that far."
A new law
On Feb. 12, 1870, less than a month after the massive meeting held by women, Stephen Allison Mann, Utah's acting governor, signed into law a bill that allowed women the same voting rights as men did at the time. The legislation was passed unanimously. Orson Pratt, who was Utah's Speaker of the House at the time, praised the bill in a letter printed in the Deseret News that day.
"The spirit and genius of the age point directly to an early day when women everywhere throughout this wide Republic will enjoy the right of suffrage," Pratt wrote.
We brought the original document from 1870 to the gold room today! @GovHerbert is going to speak! #BetterDays2020#UtahHERitagepic.twitter.com/XqQjCnCaXF

— Utah State Archives (@UtahArchives) February 12, 2020
At the same time women were granted suffrage, Salt Lake City residents were gearing up for a mayoral election that was to be held on Monday, Feb. 14, 1870.
The stage was now set for Seraph Young.
Breaking down a barrier
Seraph Young was born in Nebraska in November 1846 — just before her great-uncle, Brigham Young, led Mormon pioneers to Utah. Her family reached the Utah settlement in the fall of 1847. The oldest of nine children, she likely spent her childhood helping with housework and helping her younger siblings, Kitterman said.
"We don't know much about her personal life before her vote," Kitterman said.
Seraph Young was 23 years old and a teacher at a primary model school at the University of Deseret at the time when a political revolution transformed Utah's elections. Kitterman pointed out the political parties had formed just a few days before the election, as well.
There actually isn't exact proof of who the first woman to vote was. It's believed to be Seraph Young because of her work schedule. She would have made her way downtown to the Salt Lake City Council Hall — which still exists in a new location near the Capitol — to cast her vote and then head to what is now the University of Utah. The Deseret News reported on the election that day and pointed to Seraph Young as the first woman to vote.
"A few ladies exercised their right to vote under the law published Saturday; and we believe the first one who recorded her vote was Miss Seraph Young, daughter of B.H. Young Esq," the newspaper reported.
The outlet reported 2,301 people voted that day; according to Kitterman, about 25 voters were women.
Life after the vote
Seraph Young lived a long, relatively quiet life after making history. In 1872, she married a printer and Civil War veteran named Seth Ford. They had three children, one who died as a toddler in 1874. Ford suffered from disabilities related to his military service, and the couple moved east to be back with his family in New York in the late 1870s.
The family eventually moved to Maryland, where Ford and Young spent the rest of their lives.
"They really struggled financially for the rest of their lives. Seraph cared for him and they ended up near (Washington, D.C.)," Kitterman said.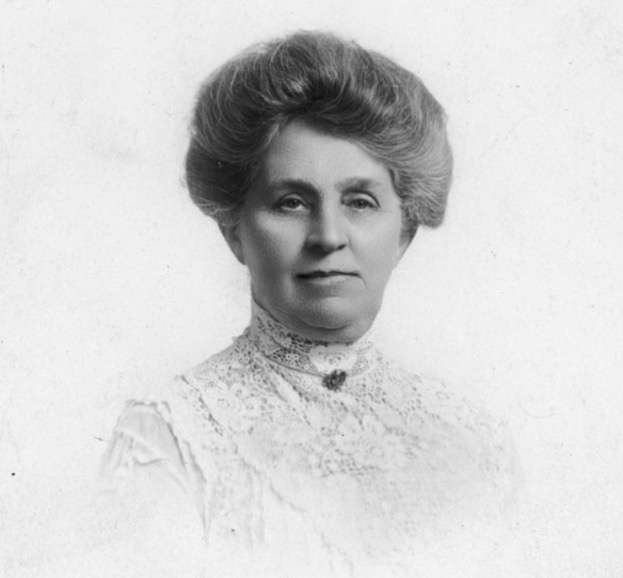 Seraph Young wasn't done helping Utah women, though. Her name appeared in records when female members of The Church of Jesus Christ of Latter-day Saints traveled to the nation's capital to lobby for various causes.
"You could tell she was someone who wanted to be involved but the circumstances of her life made that difficult," Kitterman added.
Ford died in 1910. Seraph Young lived long enough to see the states ratify the 19th Amendment and allow all U.S. women the right to vote in 1920. She died in Maryland in 1938, at the age of 91, and was buried alongside her husband at Arlington National Cemetery.
A lasting legacy
A lot has changed politically in 150 years. On Wednesday, Utah Gov. Gary Herbert signed HJR12, which was a joint resolution celebrating women's suffrage history. It was sponsored and co-sponsored by 20 women who now hold public office in the state. The resolution recognizes Seraph Young as the first woman to vote.
Sen. Mitt Romney also honored Seraph Young and Utah's suffrage movement in a speech on the Senate floor Thursday.
While her role in history may not have gotten the same attention as other suffrage trailblazers during her lifetime, it's not forgotten all these years later. On Friday, exactly 150 years to the day she made history, Seraph Young will be honored at the Utah Capitol — which stands a few hundred feet from the building she made history in.
"I think we can better understand the significance of Seraph's vote now, looking back 150 years later. At the time, newspapers talked about her being the first woman to vote, but they weren't really making a big deal. It seems like Utah women, themselves, didn't understand their role history in history almost," Kitterman said. "As the first voters with equal suffrage in the United States, they opened the door for lots of women who would follow afterward."
×
Photos
Related Stories