SALT LAKE CITY — Here are 10 stories you may have missed over the weekend. As always, click on the headline to read the full story.
1. Family of 12-year-old Utah County boy killed in farm incident remembers him for bringing joy to others
A tragic farm incident that took the life of a 12-year-old boy has left a Utah County family and community in mourning.
2. Biden marks Selma anniversary with order to expand voting access
President Joe Biden issued an executive order on Sunday designed to make it easier for Americans to vote, the White House said, as Republicans across the country seek to limit voting rights in the wake of the 2020 election.
3. NASA's new Mars rover hits dusty red road, 1st trip 21 feet
NASA's newest Mars rover hit the dusty red road this week, putting 21 feet on the odometer in its first test drive.
4. Dozens rally against proposed luxury apartments in SLC
Dozens of residents rallied in Salt Lake City to protest a new luxury apartment complex in the downtown area that would displace at least seven high-risk families.
5. Pandemic created optimal conditions for Utah organ transplant patients
Intermountain Healthcare experiences record number of transplants in 2020.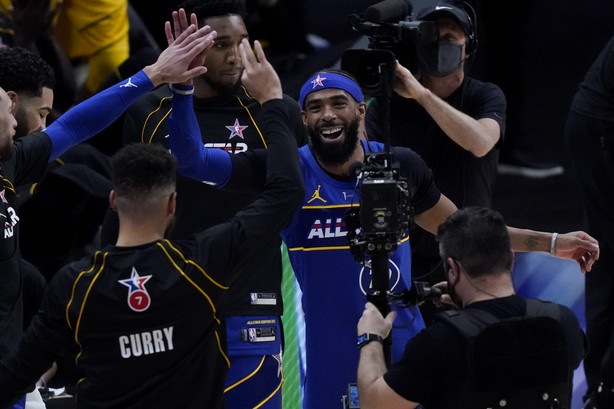 Sports
1. 'A lot of fun': Jazz players, coach revel in being most represented team at All-Star Game
The Jazz were well-represented in Atlanta. Mitchell, who played for Team Durant, had 15 points, four rebounds and four assists in 28 minutes; Rudy Gobert had 10 points and seven rebounds in 13 minutes for Team LeBron; and Mike Conley, who made his long-awaited All-Star debut, had 3 points and two assists in 12 minutes for Team Durant.
2. 'No patting ourselves on the back': FCS newcomer Dixie State falls on final-minute touchdown at FBS New Mexico State
Freshman Quali Conley poured in 193 all-purpose yards and two touchdowns to lead the Trailblazers (1-1), including 95 yards and a touchdown on the ground. The 6-foot, 190-pounder from Fresno, California, also broke free for a 75-yard touchdown from quarterback Kody Wilstead with 5:52 remaining that tied the game at 29-29 after a 2-point conversion.
3. Former Orem High WR Puka Nacua intends to transfer from Washington
Former Orem High star Puka Nacua has entered the transfer portal and intends to leave the University of Washington, he told the Seattle Times on Sunday.
4. Utah State earns 2nd seed in MWC tourney by beating Fresno State in regular-season finale
Alphonso Anderson and Rollie Worster hit back-to-back triples in the final 1:34 of the game as the Aggies overcame a 12-point deficit to beat Fresno State 57-51 in their final tuneup for the Mountain West Tournament in Las Vegas.
5. UHSAA state basketball championships
×