TAYLORSVILLE — Every day during the 2020-21 season, Davis junior Rex Sunderland has looked up his school in the Utah High School Activities Association record book.
He's searched for the Darts' total basketball titles so many times that he has memorized the starters and years of Davis' most recent state conquest.
So when he was asked how long it's been after the Class 6A state championship game Saturday afternoon at Salt Lake Community College, the junior was ready.
"2002, the last time they won. Brody VanBrocklin's year," Sunderland said. "That fuels us. We know it's been a while, but it's time to bring one back."
For the eighth time in program history, Davis is bringing a title back to Kaysville.
Chance Trujillo scored 19 points, including five 3-pointers, and Sunderland added 14 points, five rebounds, three assists and two steals as Davis eradicate a two-decade championship drought with a 60-55 win over Westlake for the Darts' first state title since 2002.
Colby Sims added 14 points and four assists for Davis (22-4), which shot 66% from the field and got 6 points and seven rebounds from Max Painter.
"About halfway through region (play), Chance kind of had everything put on his shoulders," Davis coach Chad Sims said. "We've been riding him ever since.
"Chance has always been a competitor and a really good basketball player. He told us last year at the state championship that we were coming back; he made a promise. I didn't know if I believed him at first, but he came through on his promise."
The Darts have been close to breaking the futility streak for several years — Davis lost to Region 1 rival Fremont 55-52 in last year's 6A championship — but they've never made the breakthrough.
"I owed it to those guys last year," Sunderland said. "We deserved it last year. It's just always fueled me this year.
"This one's for them."
Led the school's starting quarterback and three-sport athlete Trujillo, Davis' final breakthrough featured a senior class that has seen it all in those close-but-not-quite moments for four years.
Which made the breakthrough all the sweeter.
"They've won at every level," Sims said of his seniors. "It is kind of fitting for this senior class to win it. I remember watching the four seniors that started when they were young, and they just always won.
"For them to finish it off is really special for them. I'm really happy for them."
Will Jensen had 16 points and five rebounds off the bench to lead Westlake, the No. 1 overall seed making its first-ever appearance in a state title game since the school's opening in 2010.
Kaleb Furey added 13 points and four rebounds for the Thunder (21-4), and Noa McCord added 12 points and seven rebounds.
But Westlake simply became the third consecutive Region 4 team to fall to Davis on its title run, joining Corner Canyon and American Fork before Saturday's championship.
"To be honest, we've been sick of hearing about Region 4 teams, and all that," said Sunderland, whose team is the second consecutive Region 1 title winner. "We've had a chip on our shoulder; everyone's sleeping on Region 1. We came out here and proved it.
"It feels fantastic. Those three teams are great teams, and they have players who can play. But if we come out here and play our game, we feel like nobody can beat us."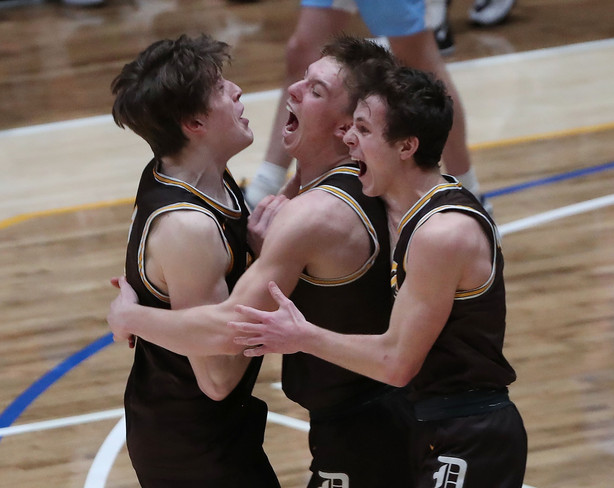 Both teams were looking to eradicate long title droughts — Davis at nearly 20 years, since before Westlake existed — but the Darts took control of the game early.
Trujillo drained three 3-pointers in the first quarter en route to 11 points as Davis jumped out to an 18-10 advantage, and the Darts never looked back.
"The whole tournament, we've come out a little flat," Trujillo said. "We'd get down in the first half, or first quarter. And this game, we knew if we came out fast, Westlake would be clawing its way back.
"Getting up to a quick lead kept us calm the rest of the game."
Even when Westlake found more offensive rhythm in the second quarter, the Darts still took a 31-23 lead into the break after Sims made three 3-pointers after being fouled on a 3-point attempt with 0.3 seconds left in the half.
Trujillo drilled a three that stretched the Darts lead to 40-30 in the third quarter, but Westlake responded with a 7-0 run in the final minute of the period that would've pulled the Thunder within three, 40-37 on Will Jensen's triple with 10 seconds left.
The only problem? A foul on a desperate heave gave the ball back to Davis under the Darts' basket with one second left.
There was only one person who could take the shot — Trujillo nailed a fadeaway jumper to give Davis a 42-37 lead ahead of the fourth.
Not even a fourth foul earned in the first minute of the fourth quarter could stop the QB.
"He won't tell you this," Sims joked of Trujillo, "but I think he likes basketball better than football."
KSL 6A Boys All-Tournament Team
MVP — Chance Trujillo, Davis
Rex Sunderland, Davis
Kaleb Furey, Westlake
Noah McCord, Westlake
Jaxon Kohler, American Fork
Carter Welling, Corner Canyon
×
Photos
Related Stories