Estimated read time: 5-6 minutes
This archived news story is available only for your personal, non-commercial use. Information in the story may be outdated or superseded by additional information. Reading or replaying the story in its archived form does not constitute a republication of the story.
TAYLORSVILLE — One of the first calls Quincy Lewis made when he took the head coaching job at Lehi High School was to Noa Gonsalves, the Pioneers' up-and-coming senior star who recently signed with Dixie State.
Gonsalves couldn't believe that Lewis — the coach with seven state championships at Lone Peak, including MaxPreps' mythical national championship in 2014 — would be his coach. More so, however, he couldn't believe something he told Gonsalves before the year even began.
"As soon as he came in, he called me up and said 'we're winning a state championship.' I thought he was crazy, at first," Gonsalves said. "But then as we went along, I started believing him."
By Saturday evening, Gonsalves was a full believer.
Noa Gonsalves poured in 19 points, 13 rebounds and four assists, and Peter Amakasu added 21 points to help Lehi counter Farmington's furious second-half rally with a fourth-quarter spurt of its own en route to a 61-57 victory in the Class 5A state championship at Salt Lake Community College.
Tyson Hawkins added 9 points and two assists for the Pioneers (17-8), who won their first state championship since 1998.
Collin Chandler had a game-high 23 points and four rebounds to lead Farmington, which had won 15 of 16 games to advance to Saturday's championship.
Caleb Mordue added 13 points and three rebounds for the Phoenix (19-8), and Truman Hendry had 12 points and seven rebounds.
With the win, Lewis tied former Provo legend Craig Drury for first place in UHSAA history with his eighth state title. The former Lone Peak skipper and BYU assistant finished a run of four consecutive titles from 2011-2014, then stepped away to join former Cougar coach Dave Rose's staff in Provo.
"He's literally the best coach in high school basketball," Gonsalves said. "A lot of people don't know that, but I think he's the best to ever coach high school basketball."
Amakasu had to look up Lewis' resume when he first found out about the hire. When he did, he gasped: Lehi got a good one.
"I just remember finding out who he was, and it was crazy," Amakasu said. "It was really cool.
"You get to know his resume, and know the championships he won at Lone Peak; we trust him from day one, and knew he was going to get us here."
To get back into the high school coaching game, Lewis would've had to have a good situation. And at Lehi, the situation couldn't be much better. Good coaches need good players, after all — and Lehi had that, starting with Gonsalves.
"I'm fortunate I got some really good kids, and walked into a great situation here at Lehi," Lewis said. "The more I'm around them, the more I realize how lucky I am to have these guys.
"I watched them from last year, and knew we had some good players. We had a lot of work to do, and the thing I told them was we may not be the best team July 1, or even Sept. 1, but we want to be the best by March 1.
"We weren't the best team Feb. 1. But we are now."
Gonsalves echoed his coach: it wasn't always easy.
"We lost a lot of easy games that we shouldn't have lost in region," Gonsalves said. "But we stuck together and fought through adversity. It all turned out good in the end.
"This is the best day of my life. What better way to cap it all off, than with a state championship."
The two teams exchanged blows in the first quarter, with Lehi pulling away from a 7-7 stalemate midway through the period to a 16-12 advantage.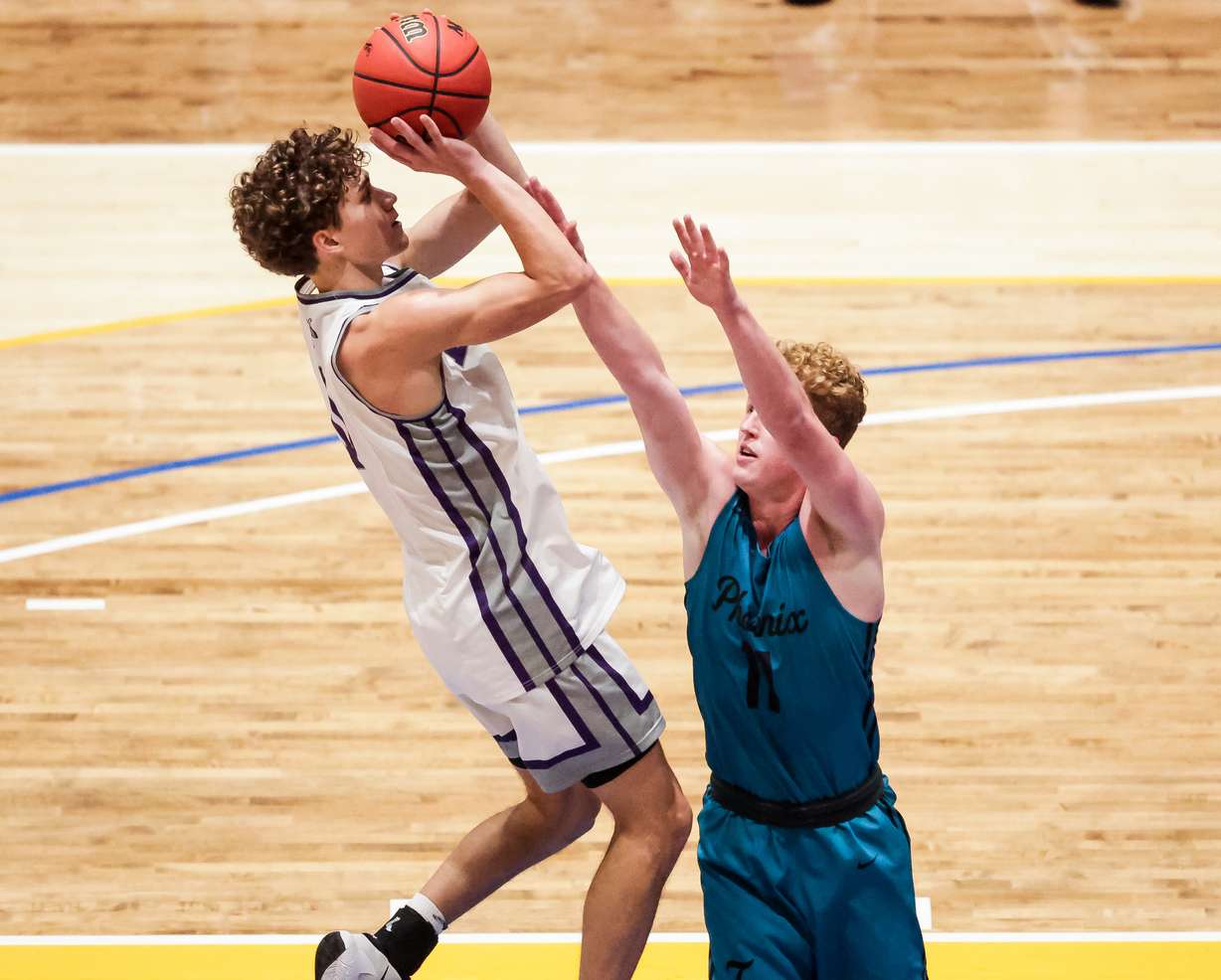 The Pioneers stretched the lead to eight, 24-16 on Amakasu's 3-pointer with less than four minutes remaining in the half. Amakasu had a game-high 13 points at the break, and the Pioneers scored 8 points on seven turnovers to take a 27-21 advantage at halftime.
"Peter has a lot of confidence in himself, and he just fits in," Lewis said. "He doesn't force it, but the thing about Peter is he can make hard plays. You've got to have guys who can make the hard play, and he can do that."
Chandler buried a 3-pointer that pulled the Phoenix within two, 36-34 midway through the third quarter. The 6-foot-4 junior then pulled down a defensive rebound on one end moments later, and buried a triple to cap a 12-1 run to give Farmington its first lead of the second half, 40-37 in the final minute of the period.
The Phoenix held down Gonsalves for much of the game, and the Dixie State-bound senior was silent for more than five minutes to end the third.
But they couldn't keep him down for long.
"They were playing great D," Gonsalves said. "But I just had to keep attacking. That was my mindset."
Gonsalves opened the fourth scoring off the glass 45 seconds in. He then pulled up with 4:03 left, and capped an 11-2 run moments later by dishing to Blake Hill for a score through traffic to go up 50-45.
Farmington cut the deficit as low as three on two separate occasions, but the Pioneers never trailed again.
When Gonsalves hit Amakasu for a dunk with 38 seconds left, the purple-clad crowd and a student section that stretched to the rafters went crazy. It wasn't just the dunk. It wasn't just the talent.
It was 23 years without a championship, finally spilling over.
KSL 5A Boys All-Tournament Team
MVP — Noa Gonsalves, Lehi
Peter Amakasu, Lehi
Collin Chandler, Farmington
Caleb Mordue, Farmington
Jake Wahlin, Timpview
Jack Wistrcill, Olympus
×
Photos
Related stories