Estimated read time: 5-6 minutes
This archived news story is available only for your personal, non-commercial use. Information in the story may be outdated or superseded by additional information. Reading or replaying the story in its archived form does not constitute a republication of the story.
SALT LAKE CITY — Utah's two Republican senators have staked out opposite positions on the impeachment trial of former President Donald Trump that starts today in the U.S. Senate.
That became clear again Tuesday as Sen. Mike Lee and Sen. Mitt Romney were on different sides of the vote on whether it is constitutional to hold the trial after nearly four hours of argument by House impeachment managers and Trump's lawyers.
Romney was among six Republicans who joined all 50 Democrats in voting that Trump is subject to a court of impeachment in the Senate. Lee voted against the measure, which passed 56-44.
"The Senate has the power to try all impeachments, and it is particularly clear in this case —where the House impeached the president while he was in office — that this trial is constitutional," Romney said in a statement after the vote.
"As the trial proceeds, I will follow my oath to do impartial justice according to the Constitution and laws, and consider all facts and evidence."
One more GOP senator, Sen. Bill Cassidy, R-La., crossed party lines in voting for the trial to move forward than last month when the Senate considered a resolution to declare the trial unconstitutional.
House managers will make their opening arguments against Trump on Wednesday.
Lee, of Utah, a conservative Republican, suggested on Tuesday that former President Trump be given a "mulligan" for exhorting an angry gathering of supporters to march on the Capitol on Jan. 6.
Lee, appearing on Fox News, was asked if he thought Trump's speech was "different" from comments made by Democrats encouraging their backers to confront Republicans, as the show's hosts played video clips of Democrats including Speaker Nancy Pelosi and Sen. Cory Booker of New Jersey.
"Look, it is not different," Lee said, hours before Trump's second impeachment trial began in the Senate.
"Look, everyone makes mistakes, everyone is entitled to a mulligan once in a while," he said. "And I would hope — I would expect that each of those individuals would take a mulligan on each of those statements."
Lee said from the outset that he doesn't believe there should be a trial at all. He voted with 45 GOP senators in a failed resolution in January declaring the trial unconstitutional.
"If the Senate were to adopt a broad interpretation of the impeachment power — one allowing federal officials to be convicted on impeachment charges even after leaving office — the result would not only be problematic, but also contrary to the text, structure and historical understanding of the Constitution," Lee said.
Lee will be among the Republicans voting to acquit Trump, who is charged with "incitement of an insurrection" for inflaming the mob that attacked the U.S. Capitol Jan. 6. He worked behind the scenes to help clear Trump in his first impeachment trial. It is unclear if Lee has been involved in Trump's defense this time.
Related:
Lee, though, acknowledged that had the House delivered the articles of impeachment to the Senate before Trump left office, the situation would be different.
"They didn't bother to deliver them until nearly a week after President Trump had left office," he said last month. "Had they done so earlier, then the Senate, by my reading of the Constitution, would have had jurisdiction to conduct an impeachment trial."
Romney was among five Republicans who joined Senate Democrats in thwarting the effort led by Sen. Rand Paul, R-Ky., to declare the trial unconstitutional last month.
Romney's vote then and on Tuesday, however, don't necessarily signal how he will vote in the trial, even though he directly blamed Trump for the insurrection.
"I believe that what is being alleged and what we saw, which is incitement to insurrection, is an impeachable offense. If not, what is?" he said.
Had Romney been a House member, he clearly would have voted to impeach Trump. But conviction is another matter. As a Senate juror, he sees his role as hearing the evidence and then making a decision.
"During the course of the impeachment trial, Sen. Romney will again be bound by his oath to 'do impartial justice according to the Constitution and laws: So help me God.' He will consider all of the facts and evidence presented," said Romney spokeswoman Arielle Mueller.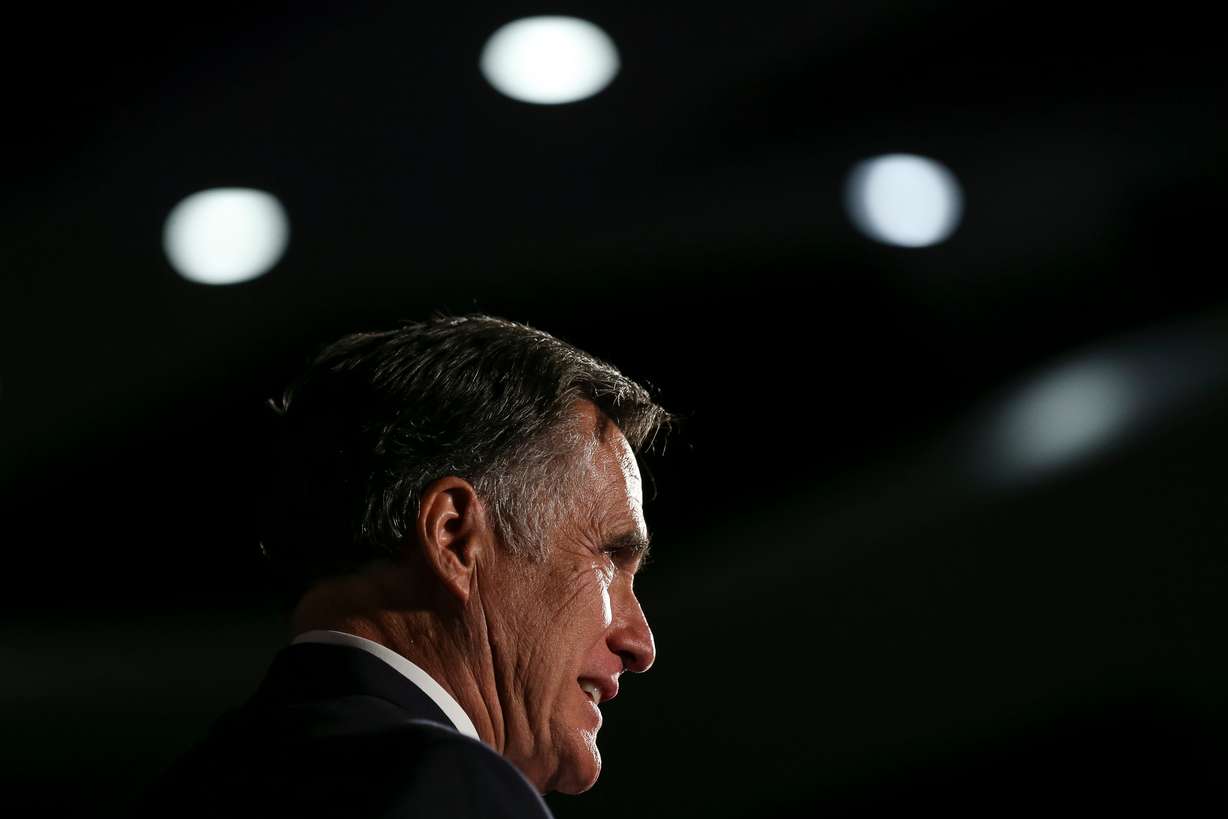 The House voted to impeach Trump a second time in December, mostly along party lines. Ten Republicans crossed over to vote with the Democrats.
In addition to being the only president to be impeached twice, Trump is the first president to go on trial after leaving office. The Senate previously held an impeachment trial for a Cabinet official who had left office.
Romney was the only Republican senator to vote to remove Trump from office in the Senate impeachment trial last year. His vote was inconsequential as Democrats were not able to muster the two-thirds majority needed to oust Trump.
Romney could again vote to convict Trump, and again his vote might not matter. At least 17 Republicans would have to join the Democrats to find the former president guilty. That doesn't appear likely to happen. If convicted, Trump could be barred from running for federal office again.
After the Senate convened Tuesday afternoon, it passed a bipartisan resolution governing the structure of the trial. It also heard nearly four hours of arguments on the constitutionality of the proceedings by House managers and Trump's lawyers.
"We have the opportunity to interpret this," Lee told Fox News on Monday.
One reading of the Constitution that allows for a trial after a person leaves office could lead to endless impeachments, he said.
"Imagine the next red wave election bringing a big wave of impeachments of former officials," Lee said.
A more "narrow and constrained" interpretation would say it is more appropriately used with respect to those who are in office at the time of impeachment and trial, he said. Lee said before Tuesday' vote that he expected at least 45 senators would say that is the reading the Senate ought to embrace, like they did in the failed vote last month.
×
Photos
Related stories
Most recent Utah stories