PROVO — BYU had three full days to prepare for its tipoff against top-ranked Gonzaga after both teams' West Coast Conference opponents forced a mid-week scheduling adjustment.
The Cougars were in the game for three full minutes.
Corey Kispert had 23 points on 9-of-16 shooting, and Jalen Suggs added 16 points, five rebounds, five assists and four steals as No. 1 Gonzaga blasted BYU 86-69 in the McCarthy Athletic Center in Spokane, Washington.
Drew Timme added 12 points and four assists for the Zags (11-0, 2-0 WCC), and Andrew Nembhard supplied 12 points, three rebounds and two assists off the bench.
"This team has steamrolled four teams in the top 20; they're really, really good," BYU coach Mark Pope told BYU Radio. "I'm not trying to take anything away from the Zags, but they didn't get the best BYU team in the first 10 minutes of this game. And that's my job.
"They're really good. I'm really excited to get this out of the way in the first game of the conference; it just shows us some areas where we clearly need to get massively better. You like that, because it gives you something real and tangible to shoot for every day in practice. And I have a group of guys who can do that."
Freshman Caleb Lohner was one of the few bright spots for BYU with 13 points and five rebounds, his second straight game with a new career-high in scoring. Gideon George added 11 points, five rebounds and a block for the Cougars, for a BYU bench that outscored Gonzaga 39-19.
ɢɪᴅᴇᴏɴ ɢᴇᴏʀɢᴇ is heating 🆙 on @espn@BYUbasketball | #WCChoopspic.twitter.com/i8ECck2E8G

— WCC Basketball (@WCChoops) January 8, 2021
"Gideon George is a legend," BYU's Richard Harward said. "He works so hard every single day, and it's a different play style from most of the other guys on our team.
"Caleb Lohner is a freak of nature. He's unreal, and he always brings it on the court."
Matt Haarms had 13 points on 5-of-6 shooting for the Cougars (9-3, 0-1 WCC), with all but 3 points coming in the second half for the Purdue transfer.
BYU's Alex Barcello was held to 9 points, including 3-of-11 shooting with five assists. One of the top 3-point shooting teams in the country, BYU made just four triples against the Zags.
More surprising? The Cougars attempted just 16 treys, going 1-for-4 from deep in the second half.
BYU's bench outscored the Zags 39-19 including 12 points and four rebounds from Harward.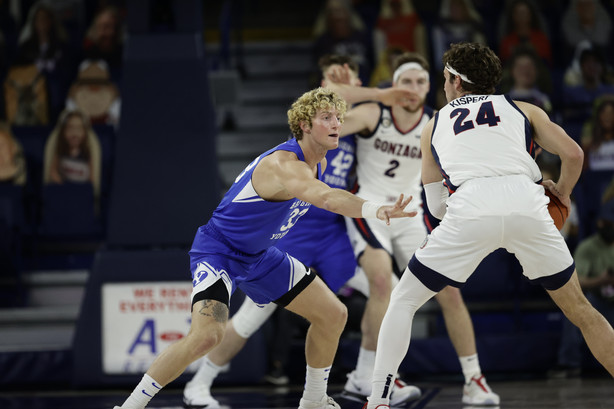 Of course, with the start Gonzaga put on the Cougars, it's scarcely a consolation.
"I know why coach Pope puts me in a game: to get rebounds and to get stops," Harward said. "If a bucket comes, a bucket comes."
BYU was playing its first game since an 87-79 win over Weber State on Dec. 23. The Cougars had three consecutive games postponed to open WCC play, including at Pepperdine and at San Diego.
Then, instead of opening at home against Pacific, the Cougars were on a flight for Spokane to face the No. 1 team in the country.
"It was just an emotional roller coaster," said Harward, who accidentally dropped a word unfit for print — as well as the postgame radio airwaves — when describing teammate Wyatt Lowell's first-half ankle injury. "Coach Burgess had Pepperdine and San Diego scouts, so he had us ready to go. But then both got canceled.
"It was just an up-and-down roller coaster, but I don't want to make excuses. We should've brought more energy tonight."
The game, in what has been one of the more competitive series Gonzaga has faced since BYU joined the conference, was never really competitive. The Zags opened the game forcing five turnovers to spark a 20-2 run, and led by as many as 32 points in the second half.
No offense to the Cougars; Gonzaga is simply that good.
"They have a chance to be a generational team, and they started out that way with top 20 teams and nothing else. And we started out really poorly," Pope said. "Their length really affected us, and I did a poor job on it. It wasn't that our guys weren't excited to play, but the moment for this group was too big for us to start. The length and the athleticism was different when you feel it — and we did not respond well early on."
Dimes @JalenSuggs2020
pic.twitter.com/Me9qdMRa8N

— Gonzaga Basketball (@ZagMBB) January 8, 2021
Poor start? The top-ranked Zags were just getting started.
Gonzaga lit up BYU's defense, shooting 60% from the field en route to a 23-2 lead on Nembhard's triple with just under 13 minutes to go. BYU made just one of their first 10 attempts.
Lohner capped a 10-2 run to cut a deficit that soared as high as 23 points to 39-26 with 4 minutes left in the half. But Gonzaga held the Cougars scoreless from the field until the final minute of the half to take a 52-29 lead into the break.
The Zags shot 54% from the field in the first half, forced 11 turnovers, and poured in 26 points in the paint against the last team to beat them — on Yoeli Childs' senior night in Provo back in February.
Give BYU credit for attempting to play a team as good as Gonzaga — a team many believe may be Mark Few's most talented squad in his 21 years in charge — but the Bulldogs were on another level.
Three players — Kispert, Timme and Suggs — had double figures in scoring by the first media timeout of the second half, and three more — Joel Ayayi, Anton Watson and Nembhard — had at least 8.
Ayayi also finished with a game-high six assists.
Seven Gonzaga players scored, or every player who played more than one minute in the first 25 minutes of the game, as the Zags led 67-40 with 14:34 remaining.
"I was really proud of the guys. At no point in the game did they walk away; that is not consolation for losing, but it is the DNA of a team that has a chance to be really good," Pope said. "We clearly didn't start out well against the best team in the country, and for the guys to stay locked in trying to compete and get better, we're going to get better."
BYU travels to play at Saint Mary's next Thursday, Jan. 14, at 6 p.m. MT. The game will be broadcast on ESPN.
Gonzaga plays at Portland on Saturday.
×
Photos
Related Stories