PROVO — BYU basketball will have another week off.
Two days after the Cougars' conference opener was postponed due to a positive case of COVID-19 within Pepperdine's program, BYU's second scheduled game of the weekend at San Diego was also called off.
The Toreros (1-4, 0-1 WCC) lost to San Francisco 70-62 in the West Coast Conference opener for both teams Thursday night. By Friday afternoon, a "COVID-19 concern" within USD's program forced the school to call off Saturday's game and temporarily put the program on pause.
BYU (9-2) and San Diego will work with the conference to reschedule the game, much as the Cougars and Waves will also try to reschedule their game.
The contest is the fifth game in the WCC's opening weekend to be called off due to COVID concerns. Besides USF's win over San Diego, the Dons are also scheduled to play at top-ranked Gonzaga on Saturday in the only currently scheduled league game of that day (7 p.m. PT, ESPN2).
The league is rated among the best mid-major conferences in the country, according to KenPom, but will have limited exposure on the first weekend of 2021 and none beyond a pair of contests featuring the undefeated Zags. Gonzaga leads the country with a 9-0 record, while 9-2 Saint Mary's (64), 9-2 BYU (65) and 7-4 San Francisco (77) are top-100 teams.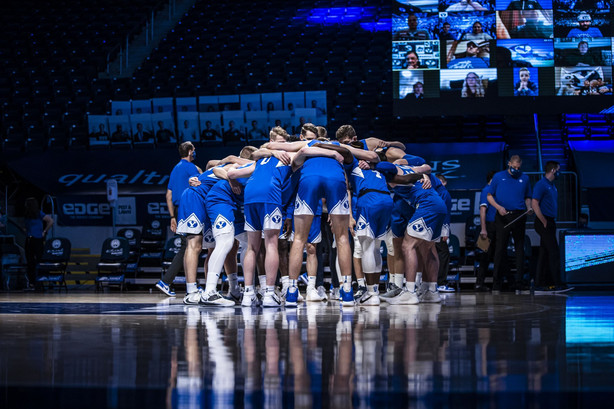 "From top to bottom, I think everyone is better this year ... with only one team is in the 200s (in KenPom)," BYU assistant coach Cody Fueger told BYUtv before the Cougars left Wednesday for Pepperdine. "It's a heck of a league, and from my standpoint, it's probably the best it's ever been — the league as a whole."
Several weeks ago, the conference had early conversations about establishing a "league bubble" in Las Vegas to play out its conference season within a controlled environment. Those talks evaporated, sources revealed to KSL.com, and the league instead pushed for a normally scheduled season played in home arenas but with limited or no fans in attendance.
Added to the scheduling challenges and complexities are California's coronavirus restrictions that require all sporting events to be held before a state-sponsored curfew designed to help curb the spread of the virus. BYU's game at Pepperdine, for example, was scheduled to tip off at 4 p.m. MT on ESPN2.
The Cougars are scheduled to open WCC play next Thursday, Jan. 7 against Pacific. But the Tigers (3-1), who have had five games canceled, postponed their league opener Saturday against Portland and "temporarily suspended team activities after a Tier 1 member of the program has tested positive for COVID-19," according to a news release.
Under university policy, Pacific would not be able to resume activities for at least 14 days or "when it is deemed safe by appropriate medical professionals."
BYU is also scheduled to host Saint Mary's on Thursday, Jan. 14, meaning it could be possible the Cougars' conference opener comes after a three-week break. BYU wrapped up nonconference play last Wednesday, Dec. 23 with an 87-79 win over in-state foe Weber State in Salt Lake City.
×
Related Stories