PROVO — After a run of three straight postponements due to COVID-19, BYU basketball will get a shot at the best team in the West Coast Conference — and the country.
The Cougars (9-2) will finally open West Coast Conference play this week against No. 1 Gonzaga after contests with Pepperdine, San Diego and Pacific were postponed due to COVID-19 issues within those team's respective programs.
Instead, they'll open against the Zags, the undefeated No. 1-ranked team in the Associated Press Top 25 that opened conference play with an 85-62 win over San Francisco last week. Tipoff between the Cougars and Zags is scheduled for 6:30 p.m. MT on Thursday in Spokane, Washington, and will be broadcast on ESPN.
Thursday's game will replace the Feb. 6 game scheduled for Spokane. The two teams are also scheduled to meet in the regular-season finale Feb. 27 in Provo.
"I really believe that we can't just expect to put all these games off and then get them back," said BYU coach Mark Pope during his coach's show Tuesday night on BYUtv. "We started a massive dialogue with the league and coaches around the league, and talked to probably 20 different people.
"Our hope was when we found out our game was canceled on Friday (against San Diego), we could find some other team to play. It's been like that — just trying to find teams to play."
Gonzaga was initially scheduled to host Santa Clara on Thursday, though the Broncos — who have been playing away from home due to coronavirus restrictions in Santa Clara County — have had their most recent games against New Mexico State and Loyola Marymount canceled and postponed, respectively, and paused team activities due to COVID-19 concerns.
Santa Clara (6-2) has been in quarantine since last week's cancellations, and while the program could potentially have had a roster available Thursday to play the Zags, rescheduling the dates allows the Broncos to have a more full complement of players for Saturday's now-home conference opener against Saint Mary's.
The Cougars' game with Gonzaga will be the first between the two programs since a BYU home win on Senior Night back in February. The Zags haven't lost a game since, winning the WCC Tournament in Las Vegas before the NCAA Tournament was shuttered as a result of the pandemic.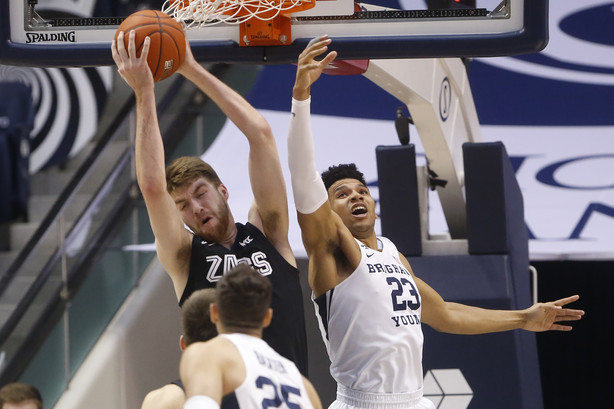 "When everything else fails, the one coach and program in America that you know is going to be like, 'Bring it, man, we're not scared,' is the Zags," Pope said. "I couldn't love them more right now just for the fact that they're like, 'Let's play.' We desperately want to play and they desperately want to play."
Gonzaga (10-0) was the top-rated team in the NCAA's first NET rankings of 2020-21, emerging with a flawless record that includes four wins against Quad 1 opponents. The Zags are led by senior Corey Kispert, who averages 21.6 points and 4.5 rebounds per game on 63.4% shooting, and junior guard Joel Ayayi, who had three double-doubles for 56 points, 31 rebounds, nine assists, four steals and a block last week en route to WCC Player of the Week honors.
BYU was the second-best team in the conference by the NET at No. 52, one spot ahead of Saint Mary's. The Cougars are 2-0 on the road, but just 1-2 in Quad 1 games that include a home loss to Boise State and a neutral-site loss to USC at the Roman Legends Classic in Uncasville, Connecticut.
The Broncos were rated No. 13 in the first NET rankings, the top-rated team in the Mountain West. Colorado led the Pac-12 at No. 14.
For comparison, Utah State (6-3) rates 85th in the NET, followed by Utah (4-3) at No. 120, Southern Utah (4-1) at No. 135, and Weber State (2-3) at No. 162. Dixie State (2-2) and Utah Valley (2-5) both follow at No. 254 and 277, respectively.
After finishing an 11-game nonconference schedule with minimal interruptions, BYU had its first three games of WCC play postponed due to COVID-19 concerns. The Cougars haven't played since Dec. 23, an 87-79 victory over Weber State in Salt Lake City prior to the Christmas break. Their next scheduled game wasn't originally until facing Saint Mary's on Jan. 14, a week from Thursday.
Now they'll open conference play against the best team in the country.
×
Related Stories